Are You Using These Can't-Miss Recruitment Strategies in 2023?

Mogul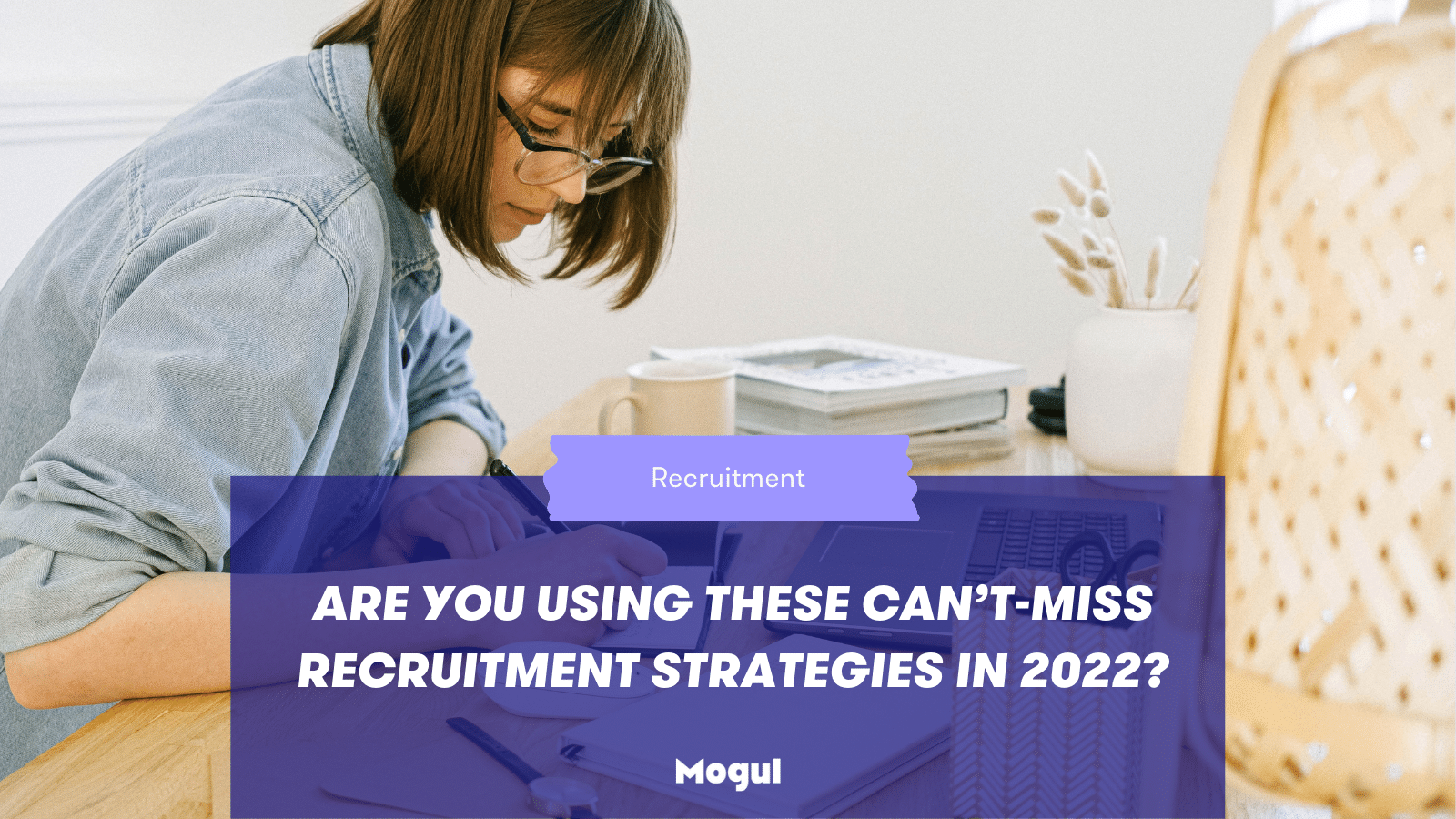 Recruit faster and never miss out on a perfect hire again
You have a job to do.
You are tasked with recruiting the best people to create a team that boosts productivity, accelerates innovation, and provides first-class customer service. (No pressure.)
But how will you make the best team if diversity isn't a pillar of your recruitment strategy?
If you want to upgrade your recruiting strategy, you have come to the right place. Here at Mogul, we help companies like yours source and hire diverse talent, and place board members faster than ever before.
We recommend these top strategies to upgrade your recruitment and sourcing strategy in 2022.


Build your Employer Brand
Today, your brand is everything.
Much like marketing's goal to build a brand and generate repeat customers, it's your goal to do the same on the talent side – to generate a continual talent pipeline.
Developing your employer brand is best done in collaboration with your marketing team.
Collaborate with your content and copywriting team to develop a strategy to promote your employer brand. Try promoting your:
Unique company culture
Distinct company values
Personal company story
The more you can use storytelling, the better. (Storytelling is what your marketing team should excel at.)
Find the online channels your ideal candidate hangs out in and create content for that platform.
Take the time to build your brand honestly and authentically.
Not every article or post you make should be about your open jobs. You are demonstrating your company culture every time you press 'post.'
You want your brand to be something that people in your industry engage with way before starting their job search. That means you'll be top of mind when they make their next career move.
An impeccable employer brand drastically cuts down time-to-hire and cost-per-hire, boosts employee morale, raises retention, and will build credibility with your customer.


Create inclusive job descriptions
Make your job descriptions engaging, list more about your culture and why someone should work at your company, and make sure the must have are truly required, not to discourage diverse talent.
Today's top talent needs to feel like you are pursuing them personally and that they are the right person for the job.
The way you do that is with inclusive job descriptions. Read our deep dive on inclusive job descriptions here.
And whatever you do, don't make these job description mistakes.


Showcase your DEIB practices
Diverse teams are 2x more innovative than non-diverse teams.
A company with equitable advancement opportunities keeps top talent engaged. And inclusion is rocket-fuel for company productivity.
Diversity, equity, and inclusion equal belonging. When employees feel they belong, they will be inspired to do their life's best work.
Showcase your DEIB practices in your acquisition channels. Highlight the diversity of your team on social media. Share your unconscious bias in hiring and advancement practices in your job descriptions.
Potential candidates today are savvy. They can sniff out a fake within a few sentences.
Ensure your DEIB practices are up to industry standard, and then boast about it to your prospects.


Source with intention
We don't have to tell you how critical sourcing is to your company.
In fact, we believe sourcing is the most critical aspect of a recruitment sourcing strategy.
You must get sourcing right if you want a continual flow of diverse talent.
Read our seven sourcing best practices here.
Looking for a partner in diversity recruiting?
We built our sourcing tool that gives you access to 430MM candidate profiles with patent-pending diversity sourcing you won't find anywhere else.
Schedule a demo with us - we'd love to show you how we can help.


Write top-notch cold emails
Have you ever found what looks like the perfect-fit candidate?
Someone who checks all the boxes. Your must-haves, nice-to-haves, and then some – only to send them an email to receive no response.
Well, you're not alone.
Many of our partners share with us their frustrations about cold email outreach.
Cold emails are necessary to recruit without relying on inbound applications. The best cold emails are the start to a personalized relationship with prospects.
To help our partners (and you!), we wrote a deep dive on cold email best practices – with templates, too.


Implement employee resource programs
In recruiting, there is strength in numbers.
Every recruiter loves a good, warm lead. Some of the best leads can come from your own employees.
Employee referral programs can literally shave days off your recruiting timeline.
Your employees can reach out to their respective networks and spread the word. Nothing beats a personal recommendation.
Encourage employee recommendations with referral programs.

Referral programs are a great way to improve your hire quality, expedite hard-to-fill roles, and create engagement with current employees.
Your teammates want to help. They want to work with excellent people, same as you. Let them help, compensate them for it, and watch engagement go through the roof.


Lean on your ERGs
As founders of International ERG Day, we know how beneficial employee resource groups can be to a growing organization.
There are many ways ERGs can help with your recruiting strategy. We wrote about how ERGs and recruiting work together.
If you're not yet using ERGs, consider starting your first. We strongly recommend it.
Unsure of how to start your first Employee Resource Group? Don't worry, we got you.


Drive with data
Do you know your top recruiting channels? Which channels provide the highest quality leads? On average, how long does it take you to fill a role?
These are just some crucial questions you must answer if you want to stay ahead of the curve on recruiting trends.
Successful recruiting in today's rapidly-changing recruitment environment means making data-driven decisions.
Collecting data takes time. But if you have started yet, there's no time like the present.
Data-driven recruiting is the only way to improve every aspect of your recruiting strategy tangibly.
As you know, there are many steps in the recruiting process. Data allows you to optimize each step to ensure you make the right decisions and the best possible hires.


Unlock your recruitment's potential
You will be on your way to building a high-performing, diverse team that accelerates past your competition with these recruitment strategies for the modern workforce.
Want to learn more?
Subscribe to Mogul Resources and never miss up-to-date best practices on talent acquisition, retention, advancement, and leadership.