Cold Recruiting Email Best Practices in 2022 [w/ Templates]

Mogul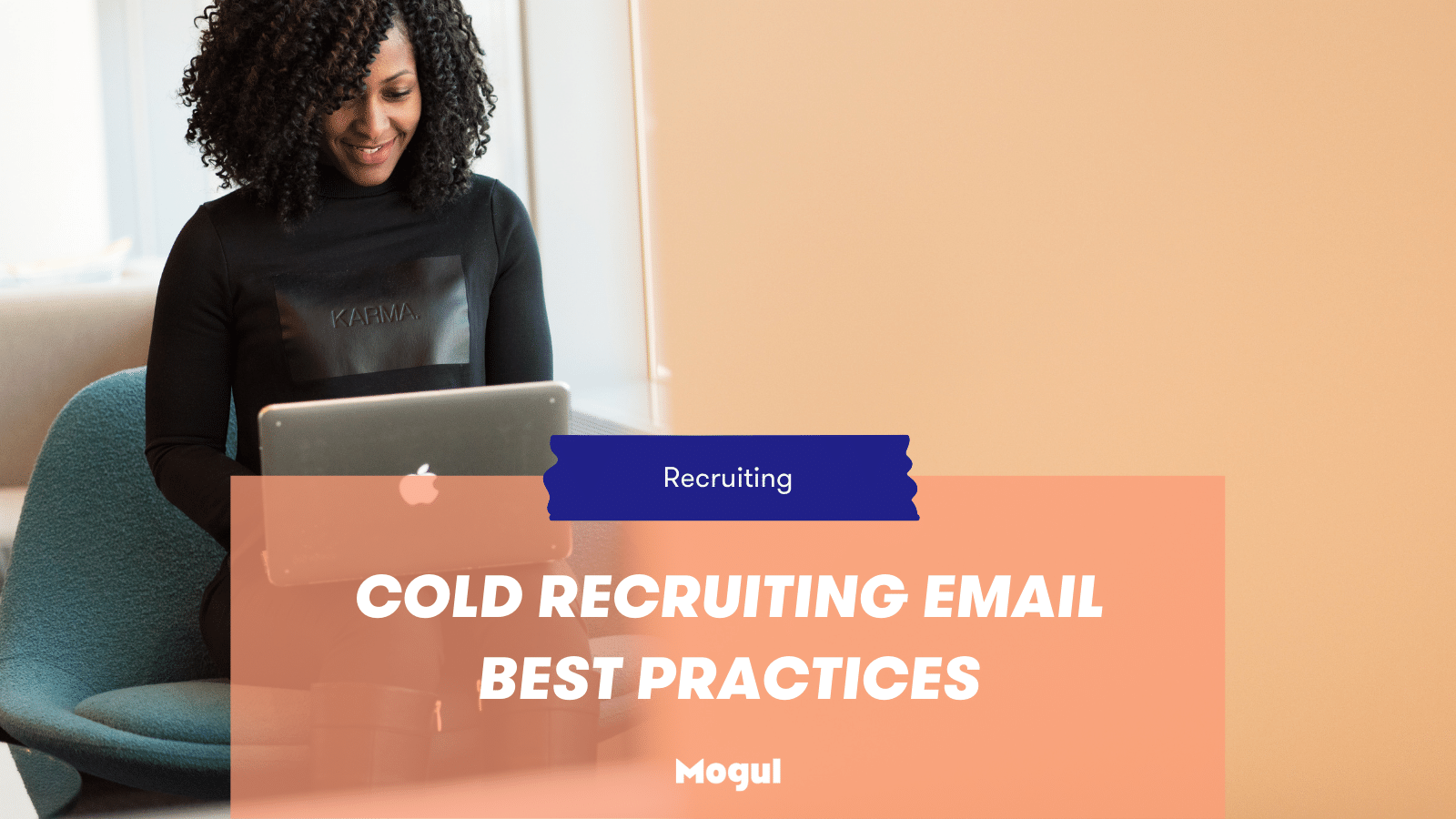 Low open rates, even lower response rates, and slow response times from candidates. Sound familiar?
We're in a candidates market. Top prospects are being bombarded with cold recruiting emails.
It's time to upgrade your recruiting email outreach.
Below, you'll find our tried and true cold recruiting email templates and the best practices we've found while working with the Fortune 1000.


The power of personalization
Candidates can smell a generic email blast from a mile away.
The way to cut through the noise is with personalization.
Personalization can increase response rates by 20%.
A personalized introduction email demonstrates that you've taken the time to actually learn about your prospective candidate. It tells them that you value their time and expertise and are serious about wanting them on your team.
Skip canned statements like, "Hey, you have a great background, and I think you could make a great fit."
For your initial cold outreach email, find out the following about your prospect:
Previous employment experience
Break the ice with something personalized. Maybe you went to the same college, grew up in a nearby town, or share similar interests.
Knowing this information increases your chances of earning your prospects' most scarce commodity – their attention.
Then, explain exactly why you reached out to them and how you see them fitting into your company.
The drawback to personalization: it doesn't scale.
There's no way to personalize an email to 100 prospects, place them in an outreach sequence, put your feet up and let the best and brightest fill your inbox.
You will have to roll up your sleeves and get your hands dirty with each prospect. But done right, you will reach higher caliber candidates and will shorten the process from interview to onboarding.


Keep it short and sweet
Stay away from the trap of making your cold recruiting outreach emails too long.
With your initial outreach, brevity is key.
There's sound science that suggests three paragraphs is the optimal number. We recommend splitting your paragraphs into:
Introducing yourself and your company

Why you're reaching out to them

A CTA with next steps (more on CTAs below)
Keep your message between 200 to 400 words, tops. Especially for the initial email, you don't want to bombard your prospects with so much information they feel overwhelmed.
Just give them enough information to spark their curiosity and compel them to respond.


Leverage multiple touchpoints
Once you've reached out to your prospect, it's time to nurture them.
You may not receive a reply after your initial outreach. This is why leveraging multiple touchpoints is crucial in today's recruiting environment.
Use a multi-step approach with sourcing sites like Mogul.
Don't overthink the message. It can be as simple as:
"Hi (Name). I'm with (Company), and I just sent you an email about possible employment opportunities. I think you would make a great fit for the team."
From there, turn their notifications on so you can see when they post.
See a post of theirs where you can add something to the conversation? Do so. Demonstrate your interest in them as a person.
A word of warning - use this sparingly and be careful not to reply to every post they make. Use common sense.


Make your email visual
One of the most effective (and still under-used) ways for your cold emails to stand out in a crowded inbox is with visuals.
Pick an image, a short video, or an eye-catching GIF.
This could be a picture of your team, a video walkthrough of your office, a brief employee testimonial, or even a personalized hello from you.
We've found that including a video in your email can improve click rates by 65%.
The key with visuals is to be relatable and show a human behind the message. Don't be afraid to show your silly side.
Remember, you're speaking with a potential colleague, not a customer. So it's ok to lean toward business-casual.


Win with eye-catching subject lines
Your subject line is crucial.
Here's an eye-opening stat for you: 35% of talent open emails based on subject lines alone based on a Lever study.
Think about it – if your subject line doesn't drive engagement, your email won't be read, your prospect won't reply, you won't schedule an interview, and you won't fill your desired roles on time.
For your subject line, think like a marketer. Put yourself in your prospect's shoes and think, "should I open this email?"
Here's a shortlist of effective email subject lines that you can borrow and make your own:
(Company Name): Your dream job is here."

"What do you look for in an ideal company?"

"Greetings from (Company Name)! We have an open role for you!"

"Let's connect about you reaching your career goals at (company)."

"(Name), we have a new career opportunity for you"

"(Company Name) is looking for someone like you!"

"Hi (Name), I reviewed your resume, and I'm very impressed."

"Hi (Name), ready for a career upgrade at [company name]?"

"We think you'd be the perfect fit for our upcoming job opening."

"(Name), I saw your profile, and we'd like to discuss an opportunity."

"(Name), your skills are just what our company needs."

"How do you feel about contributing to an expanding startup?"

"Do you have time to discuss our job opportunity at (Company Name)?"

Use clear and concise CTAs
We've seen many hiring managers overthink their CTA. They try to be clever or ask the prospect to do too many things.
A compelling CTA is clear and concise. Use only one CTA. Make it clear what the next step is.
Put yourself in the prospect's shoes and think about the candidate's journey.
Whether you use a calendar service like Calendly (no affiliation) or simply want them to reply with availability, make sure your prospect can go from reading your email to scheduling a call in as few clicks as possible.
This will ensure the candidate doesn't overthink scheduling a call or feel like they have to jump through hoops just to see if there's alignment with your company.


Make emails mobile-friendly
Once you've crafted the perfect outreach email, send a test email to yourself before hitting send.
Over 50% of emails are opened with a mobile device.
To ensure your email is mobile-friendly, make your sentences short and paragraphs no more than three lines on mobile. Your message should be skimmable.
Don't be afraid of single-line paragraphs.
Your prospects' time is valuable, so ensuring they can read, reply, and schedule all from their phone creates a frictionless experience, reducing drop-off rates.


Timing is everything
Many hiring managers forget how important it is to time their messages effectively. Assuming your prospect is a busy professional like you, they probably have a flood of unread emails to check.
Through our research, we've found two times that average the best open rates:
Emails sent at 9 am Monday - Friday perform 5 - 8%

better than the average.

Emails sent Wednesday evenings and Thursday afternoons/evenings perform 5 - 6%

better than the average.


Measure and adjust
If you can't measure your outreach process, you can't adjust what's not working.
There are main metrics we suggest keeping track of:
Source of hired applicant
Track each candidate's progress through your sourcing funnel.
Where are your prospects dropping off? What is preventing them from moving further through the process? Where are your best candidates sourced from?
Every part of your cold recruitment email outreach can be tested to find what works best for you.


Source top, diverse talent with Mogul
Before you can email a prospect, you need to source them.
We'd love to help you with that.
Mogul is the largest platform for diverse talent worldwide and one of the leading search firms for the placement of diverse Technical, General Manager, Director, VP, Chief Officer, and Board-level talent.
Our network of 430MM diverse talent is the most comprehensive worldwide and includes women, minorities, veterans, and people with disabilities across the Fortune 500, Big 3 Consulting, and the fastest-growing startups.
Mogul's approach includes:
Leading diverse network
Proven technology process
Most affordable retainer
Disruptive approach
Global leadership presence
Industry-leading experts
Our clients include (Company) and 510 Fortune 1000 and the world's fastest-growing startups like Nike, Amazon, UnitedHealth Group, Paramount, StanleyBlack&Decker, The Honest Company, and Softbank Vision Fund portfolio companies.
Want us to work with you directly in improving your recruitment, sourcing, and hiring? Schedule a call with us today.