Recruitment Trends: Stay Ahead of the Curve

Mogul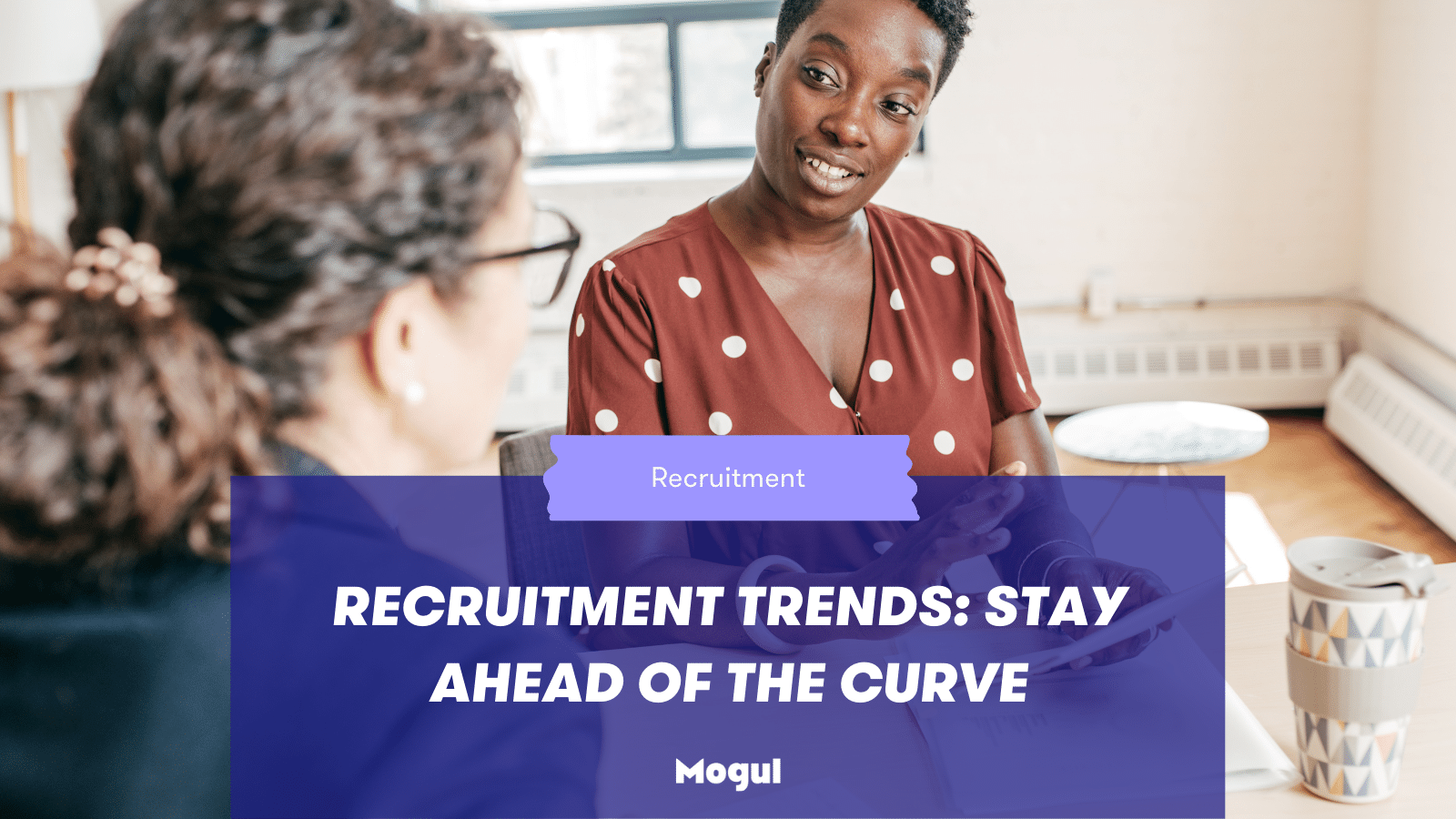 The ripple effects of the pandemic have not yet settled. We're now seeing what the "new normal" might be in our everyday lives.
But what about the talent recruitment market?
We're seeing a large number of open jobs and candidates being recruited for open positions. But now more than ever, candidates want to find the right company that openly champions diversity, equity, and inclusion throughout the organization.
That's especially true for diverse candidates.
At Mogul, we've provided access to top diverse talent worldwide. In addition, we work directly with C-suite and board-level leaders to fill some of the most crucial and technical positions.
This year, we've noticed a few top recruitment trends that you should know as you source your perfect next hire.


1. Diversify your talent pool
In an increasingly competitive talent market, building a robust pool of diverse talent is crucial for rapidly growing organizations.
That's why we created the Mogul Recruiter Tool.
Build your talent pipeline so that you can source with a diversity focus from the start. Expedite your fill-time for each desired role by expanding your reach beyond traditional sources.
Schedule a demo to see the Mogul Recruiter Tool in action. We will discuss your recruitment roadmap and strategize with you to help identify hard-to-recruit or in-demand skill sets.


2. Digitize your process
Gone are the days of flying back and forth to meet with candidates. Make use of this digital shift to find and contact candidates you wouldn't be able to reach otherwise.
Adding sourcing and recruiting software to your process can:
Make the entire process faster, cutting the average fill time to between 4 to 8 weeks (our average is one month).
Broaden your applicant pool with untapped talent.
Better focus on culture fit and diversity.
Leverage AI sourcing technology.
As the pandemic wanes in many countries, we're seeing companies wanting to adopt a hybrid recruitment model.
This often entails doing the first round of interviews via video conferencing, with later interview stages still meeting for in-person interviews.
Decide if the in-person interviews are really necessary for this position - especially if the role is entirely remote. Candidates and recruiters alike prefer a shorter interview process.


3. Provide flexible working arrangements
Remote and hybrid work is here to stay.
Candidates are placing high importance on flexible working arrangements and it's great for your company too.
Not only is working from home often productive for top performers, but a remote role also allows you to source talent from beyond your state or country's borders.

A good remote-first workplace is also more inclusive for those who need more flexibility in their working hours, including people who have children, people with disabilities, and people who are neurodivergent.
As our world becomes more globalized, so will our organizations. We see this trend staying in 2022 and beyond.


4. Make recruiting social
Candidates enjoy a personalized experience.
You can leverage professional social media networks by reaching out to potential candidates on an individual basis.
That's why we created the Mogul community. It's a place for not only diverse professionals to connect with each other, but also a platform to amplify available positions. We connect recruiters with potential candidates.
When you use our sourcing tool, we will build you a fully customizable Workplace Profile on our Talent Acquisition Platform so you can highlight your open roles, post content, and showcase your D&I initiatives.


Be in the know
Right now, it's a candidate's market. So if you're looking for new talent to help steer your business into the future, now is the time. Schedule a call with us to find out how we can help you find your next perfect-fit hire.