7 Ways to Build Employee Resource Groups to Unlock Your Potential

Mogul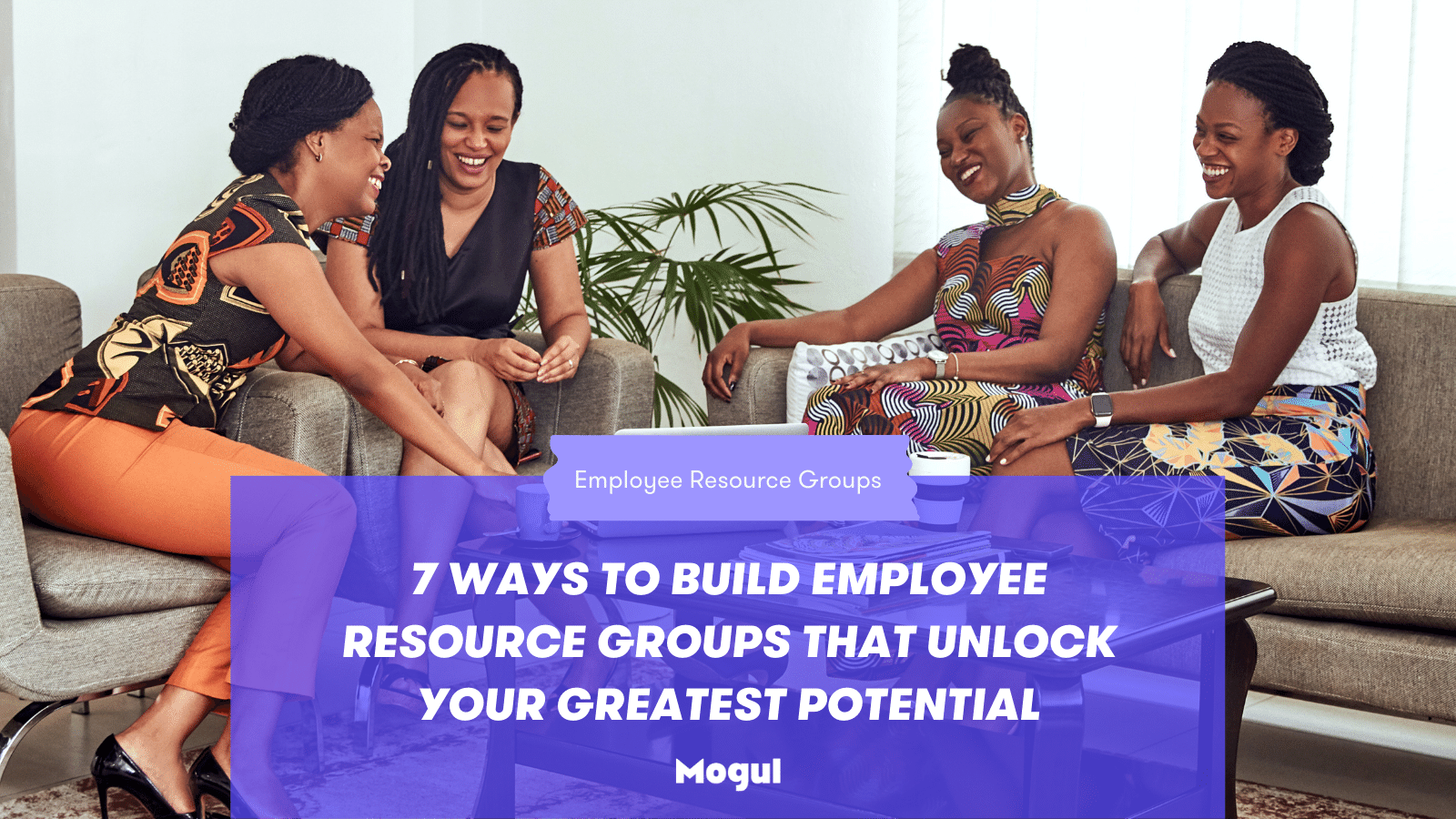 It was in Rochester, New York, in the late 1960s. Joseph Wilson met with every Black employee in his company in the wake of the Race Riots.
As the founder and CEO of Xerox, he aimed to create a workplace affinity group to support Black employees.
At the time, Xerox already had a progressive hiring program. But many Black employees still faced discrimination in the workplace, and it was clear more was needed.
Two years of work later, Wilson and Xerox's employees launched the National Black Employees Caucus. Their mission was to create a safe space for Black employees to discuss race-based tensions and advocate for organizational changes.
This caucus was America's first Employee Resource Group.
The Evolution of ERGs
Ten years after Wilson and his employees, Xerox expanded its efforts by initiating the Black Women's Leadership Caucus, sparking the creation of ERGs nationwide.
Today, Employee Resource Groups (ERGs) have exploded -- you can find them in over 90% of the Fortune 500 companies.
ERGs are known by various names: affinity groups, employee networks, and diversity councils. They are voluntary, identity-based communities formed by employees and for employees.
There are a number of different types of ERGs. Some examples of ERGs at work are the following:
AAPI network
LGBTQIA+ network
Black women's network
Working parents network
Veterans support network
Mental Health Advocacy network
Community Impact network
Youth mentorship programs
Their purpose is to foster a sense of belonging and build high-trust relationships at work. But these groups are much more significant than a support network.
Here at Mogul, we are proud to be the founder of International ERG Day.
We created International ERG Day to celebrate and amplify the voices of ERGs across industries. So if you're looking for employee resource groups' best practices, you've come to the right place.
The Benefits of ERGs
Before we jump to the first step, let's talk why the benefits of employee resources groups.
Many executives agree they are now vital for gaining deeper insights into the ever-evolving global consumer. According to the Society for Human Resource Management, 70% of organizations rely on ERGs to build a workforce to reflect the demographics of their customer base.
ERGs benefit a company by:
creating an inclusive and welcoming work environment upon onboarding

building relationships around shared identities and values

providing a voice for employees with executive leadership

giving opportunities for employees to show leadership regardless of managerial status

fostering a sense of belonging and acceptance
Step 1: Define Your Mission
Your first action item is to create your ERGs mission statement. The mission statement should act as your group's North Star. Consider it the formal announcement of the aims and values of your group.
We'll give you three examples:
Example 1. Let's say you want to start a resource group for your Latina employees. Your mission statement could be:
"The Latina's Leadership Network seeks to make a difference for the company by researching and recommending solutions affecting Latina women and teens in our community, amplifying their voice, and providing leadership and career development opportunities."
Example 2. An LGBTQIA+ affinity group:
"Pride and Allies provides a resource network for gay, lesbian, bisexual, queer, and non-binary employees to foster awareness and highlight their contributions, and serve as an advisor to our company's HR leaders and their DEI efforts."
Example 3. A veteran employee resource group:
"The Veteran and Military Community group aims to provide information on the needs of veteran employees, embrace our local veteran community, and offer support through veteran-specific recruitment initiatives and career development opportunities."
To define your mission statement, ask yourself the following questions:
Who are we trying to reach?
How can we educate, problem-solve, provide resources, and inspire our community?
What can we offer that is critical to the business? Short-term? Long-term?
What unique, transformational role can we play in the organization and community?
Step 2: Establish Your Goals
Goals are very group-specific, so the best way to explain how to establish your goals is to share a real-world example.
In a 2017 interview, our friends and frequent collaborators at Asana explained how they emphasize their ERGs' contributions to support their overall DEI strategy.
Some of their goals included:
Drive inclusion with engagement
Understand what matters to colleagues
Promote personal and professional development
Involve the external community
Contribute to the business
Connect with company leaders by soliciting sponsors
It's important to get your goals right. Don't assume employees will join just because they are part of a certain demographic. Whether it's support and/or addressing specific company issues, the group's goals are what will attract and retain members.
Step 3: Find Your Champion
"Ultimately, developing a successful ERG requires support from the leadership teams," says Mogul founder and CEO Tiffany Pham -- and the luminary of International ERG Day. "The top executives understand the immense contributions they can provide for their business and the greater good of the community."
Finding support from executive leaders is critical.
Your champion can illustrate how your ERG will help yield financial returns, develop company-aligned events, and promote increased innovation based on long-term insights. You can also expect them to help your ERG steer toward their North Star.
Once you have your business-aligned goals, your executive sponsor will make it easier to pitch your group's needs and advocate for you to receive proper funding.
Step 4: Recruit and Promote
Before you launch your ERG, you'll want to recruit employees that you feel will make great leaders. You want a team of leaders who are already passionate about the issues the ERG will address and be willing to go above and beyond regular member meetings.
Take a grassroots approach to your recruitment process. Engage potential group leaders by discussing the mission and sharing what you feel the group can accomplish with their help. Aim to inspire.
Gather a sense of how much time they can commit to running the group and when they can meet. Most pre-launch ERGs meet once or twice a month to discuss short-term goals, long-term goals and create the first initiatives and events (more on that below).
Next, you and your leadership team will get ready for launch.
Once you're ready to start promoting and attracting members, create a brief presentation that you'll send to the entire organization -- even people not in your member profile (More on that in step 6).
Create a short PDF or video and distribute it. If you're not a design specialist, a simple document with bullet points can be just fine. It doesn't have to look like a state-of-the-art premium product. Just focus on showcasing your ERG and your goals authentically.
The important information you will want to highlight in your presentation are the following:
Mission
Values
Events
Initiatives
Start date
At the end of the presentation, include a call to action for where employees can go to join.
Step 5: Build an Immersive Experience
The cornerstone of ERGs are events, whether it's hosting them or sponsoring your member's attendance.
The best events are immersive, educational, and encourage participation. They should empower your members, capture the hearts of your allies, and emphasize company objectives.
This is much more difficult to accomplish now in our post-pandemic world. We know this for a fact.
In 2020, as we planned the first annual International ERG Day, we understood the importance of creating an immersive environment during the virtual event. Live events, like our Mogul X events in New York City, can generate engagement with unique ambiance, tasty appetizers, and guest entertainment. With virtual events, you have to get creative.
To give you an idea of how to create an immersive virtual experience for your members, let us walk you through how we are planning this year's International ERG Day.
This year, we decided to host four sessions. We want to leverage each session to create a story arc that builds from one session to the next.
Our first session is a deep dive into the evolution of ERGs and what's to come in 2022. Guests will use this first session as a framework that will highlight the overall landscape of ERGs.
The second session takes a closer look into how to leverage ERGs during the talent acquisition process.
The third builds on the second to share best practices for launching and nurturing your own ERG.
The fourth and final session is on key metrics and measuring your ERGs impact.
Sessions one and two are panel discussions. Sessions three and four are presentations. We feel it's important to vary the experience, so everyone stays upbeat and engaged.
Step 6: Include Allies
Consider making your group open to everyone so you don't have to be a member of the demographic to be a member of the group.
Including potential allies in events opens a new dialogue and a chance to incorporate teachable moments.
People who are of the demographic understand their experience. The key is getting other people to understand that experience. That is what drives inclusion.
The goal is to give people who often don't have those experiences the opportunity to learn about different groups. It will increase the impact of your employee resource group.
Step 7: Track and Measure
There are five crucial metrics to ensure you're getting the most out of your ERG.
This metric is pretty straightforward. But it's the one your sponsor and leaders will want to know about most.
You can calculate ROI by dividing the investment made to start the ERG and revenue it helped bring in, either through events or innovation.
How many total members do you have? How many show up to meetings and events? How has that number changed over time?
If your turnout is low compared to the total number of members, that is a clear sign your ERGs mission is not resonating with your members.
Active engagement shows your members believe they're making a difference.
You can check active engagement by finding the percentage of members actively involved in meetings, special projects, and events.
If you find you have a lot of passive members, try giving them ownership of a project or a lead role in a future event.
ERGs are not just for lower-level employees. Having many organizational leaders as members or allies is a great sign the group is resonating with the company.
Overall employee retention
Employee retention is a great way to measure the inclusion of your organization. You can measure the retention of your group as well as the retention of your members in the overall company workforce.
Employee Resource Groups Make An Impact
ERGs are one of the most effective ways to make an impact. If you follow these seven steps, you'll be well on your way to creating an Employee Resource Group that unlocks your employee's greatest potential.
Join us on November 17th for International ERG Day and help us celebrate Employee Resource Groups all over the world.