Diversity and Inclusion in the Workplace: Best Practices for 2023

Mogul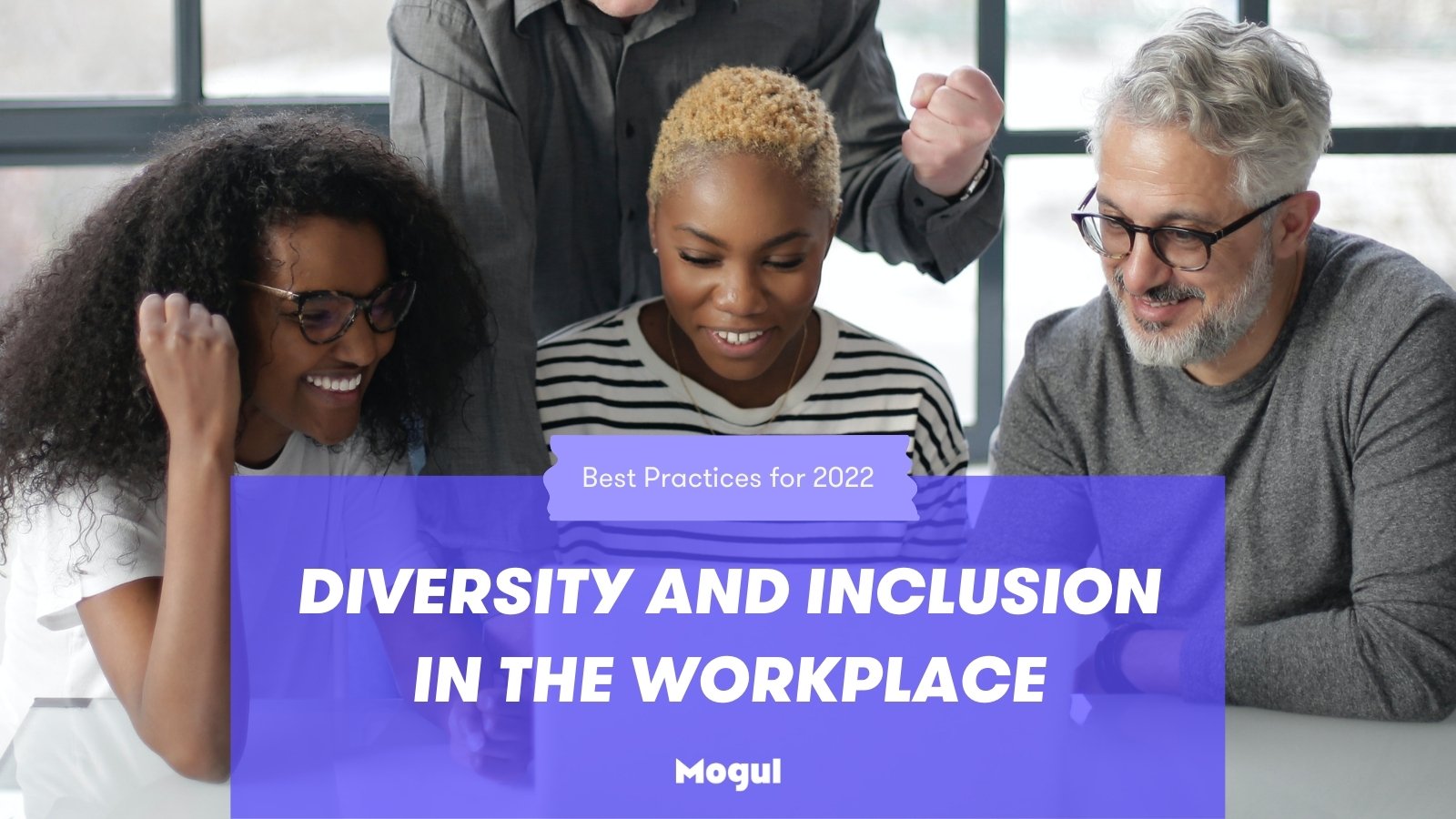 If you're looking for how to increase your diversity in the workplace, you've come to the right place.
In today's rapidly evolving and globally competitive workforce, diversity wins. The fastest-growing businesses understand two key factors:
The importance of diversity and inclusion best practices in the workplace.
How to nurture top talent and create inclusive teams.
The data is clear—organizations with a diverse and inclusive workforce experience greater productivity, enhanced creativity, and sustained innovation. In short, diversity and inclusion in the workplace is no longer just the right thing to do. It's now a business imperative.
So how do organizations design diverse teams in ways that do more than check the boxes? At Mogul, we work with the fastest-growing businesses and help hire diverse talent through our Talent Acquisition Platform, diversified search, and board placement services.
We've created this guide of diversity and inclusion best practices to help you achieve a competitive advantage with your next D&I strategy in the workplace.
Evaluate your current team
No diversity and inclusion strategy in the workplace is complete without deciding on the winning metrics. But you can't implement a D&I plan until you understand your starting line. We suggest asking yourself the three following questions to get the general makeup of your workforce as it currently stands.
Are your diverse teammates staying or leaving?
High employee retention is an excellent sign that your organization is getting inclusion right. If you have a high turnover rate, there's likely to be a discrepancy in management. After all, people don't leave their job—they leave their managers.
What is your percentage of diversity across functions and levels?
The top-performing organizations are diverse throughout—not just at the entry level. Look at diversity across leadership levels down to wage positions. Do you see diversity numbers drop the higher up you go? This could be a sign that improvement is needed for hiring and promoting from within your organization.
What is the percentage of your diverse employees vs the percentage of diversity in your talent pipeline?
If you have plenty of diversity in your hiring pipeline, but your diversity employee numbers are low, this is an indicator of unconscious bias seeping into your hiring process and will need to be addressed in training your hiring managers (more on training below!).
Find company buy-in
Diversity and inclusion best practices in the workplace is a top-down effort. The only way diversity and inclusion initiatives can move the needle is to get company-wide buy-in. Here's what to keep in mind:
Find executive sponsors
An executive sponsor is your champion when getting leadership buy-in. Not only can they be a mentor in planning and leadership, but they will also help advocate for the budget where needed.
Hire a D&I specialist
If your organization is large enough, speak with senior leadership and recommend hiring a D&I-specific role. Having one dedicated person to focus on diversity and inclusion strictly can dial in how a workforce "works" together and will identify your team's current blindspots.
Highlight the data
The numbers show that companies that focus on D&I perform better. Expect resistance from your team? Show them the data. For example, diverse management boosts revenue by 19%. Additionally, ethnically diverse companies are 35% more likely to outperform the competition. And we're not cherry-picking stats! We'll get into the latest data further below.
Make D&I an integral part of your culture
Once you evaluate your team and receive buy-in, it's time to bake diversity and inclusion into your existing culture. Follow these three steps:
Create your company's code of conduct
A code of conduct is a fundamental key to retention. Make it a living, company-wide document that new hires see on day one. It can say things like:
We lead with empathy.

We believe in collaboration and support.

We are generous in giving or receiving feedback.
This framework helps place everyone's professional true north in the same relative direction.
Establish your anti-discriminatory policy
An anti-discriminatory policy is a document that provides clarity to your employees on acceptable behavior and ensures compliance. Your policy can be a short statement highlighting your company's stance against discrimination or a longer document that includes actionable items, such as where to report an employee experiencing discrimination (more on that below).
One of the most important aspects of your policy is to illustrate that the rules apply to everyone -- from individual contributors to tenured high-performers and senior leadership.
Share your document with new hires during onboarding and leave room to discuss your policy openly to ensure they understand and formally agree via a signature.
Keep everybody accountable
Keeping everyone accountable is crucial for ensuring your workforce works well together. Create a clear process for reporting bias or discriminatory acts, so your team knows exactly what to do after an incident.
You can create a specific email that somebody regularly checks or a reporting form on an internal-only landing page. If possible, create a system that allows anonymous submissions for employees who are uncomfortable speaking up. Make sure there are processes for both reporting incidents and resolving them.
Hire for D&I
D&I hiring best practices is a relatively analytical process. You evaluate your current team and set diversity goals and numbers. But what about hiring for inclusion? Here are a few things to remember:
First, aim to find a new hire who will be a culture add rather than over-prioritizing candidates you feel would make a good culture fit. The difference between a culture fit and a culture add is important to get right.
A culture fit will work well with their colleagues, but their ideas will often be more similar. You want innovation and growth. A culture add is somebody who brings their unique skill sets to the team. Their unique perspectives will complement and round out the expertise of their teammates.
Second, eliminate bias in the hiring process. The goal is to make our operations and D&I recruiting best practices bias-free. Some of the best ways to do that are the following:
Create an interview panel

Write gender-neutral job descriptions

Conduct blind skills challenges
Third, source your candidates in online communities. Professional online communities are your hiring secret sauce. Demographics on larger, more traditional platforms generally tend to skew white and male. You want to put more diverse candidates into your talent pipeline at the very start.
But how do you reach those online communities at scale? With resources like the Mogul Recruiter Tool.
Our Recruiter Tool allows you to source candidates from the diverse Mogul community ecosystem. You can search by location, title, keywords, company, and industry, and we included diversity filters to allow you to accelerate your diverse hiring. Schedule a demo to see the platform in action and kickstart your diverse hiring.
Develop Employee Resource Groups
Employee Resource Groups are employee-led groups within an organization aiming to foster a diverse and inclusive workplace that aligns with business goals. These ERGs offer a chance for diverse groups to network and socialize, work on professional development, and raise awareness of relevant issues.
Currently, 90 percent of the Fortune 500 have ERGs in their workforce. But the vast majority of ERG leaders say they are underutilized and underfunded.
When utilized properly, ERGS can double as both an employee resource and an internal focus group that can bring tangible business innovations. The benefits of ERGs include:
Better ability to identify and develop future leaders

Increased employee engagement

Higher employee retention rates

Expanded marketplace reach with ERG feedback

Additional support in educating employees on D&I — including senior leadership — through internal events, panels, and more
To learn more about how to leverage Employee Resource Groups, sign up for International ERG Day.
Conduct training to teach inclusive practices
The future of work is here, and it's always evolving. That's why conducting continual training throughout the organization can make all the difference against the competition.
The goal of D&I training is to create a team of experts. A team of experts is a team that continually innovates.
Inclusion is an active practice. Empower your teams with the tools to champion inclusivity, so that becomes embedded in your culture.
Lead inclusive leadership training across the entire organization. Yes, the entire organization. Leadership is a continual process and continual practice. From individual contributors to board-level executives, everyone should learn how to lead (and interact with each other) inclusively.
Organize unconscious bias training. Over the last few years, studies have shown that we can't eliminate our unconscious biases. The best we can do as business leaders and individuals is mitigate them. But that still works worth doing.
Unconscious bias training helps employees understand their unconscious thoughts' nature and highlights areas where potential problems could arise. That awareness can reduce biases over time and will round out your team's D&I knowledge on catching biases early.
Data-driven takeaways - diversity in the workplace
The best diversity strategies are data-driven. And it is one of the best ways to show your team the effectiveness of diversity and inclusion strategies and the latest diversity trends that make the most business impact.
We've scoured the web and put together the essential must-know data on diversity and inclusion in the workplace.
So, how can diversity and inclusion in the workplace make a difference? Studies show that diverse teams:
Outperform the competition
Racially diverse teams outperform competitors by 35%.

Ethnically diverse companies are 35% more likely to beat their competitors.

Companies with high reported diversity and inclusion levels are almost 2x more innovative.

Diverse companies are 70% more likely to capture new markets.
Increase profits and revenue
Companies with higher rates of diversity experience 2.3 times higher cash flow per employee.

Companies with near-equal men and women earn 41% more revenue.

Gender-diverse companies are 15% more likely to notice higher financial returns.

Gender-diverse companies are 15% more likely to have higher performance.

Organizations with high racial diversity experience 15x the sales revenue.
Innovate with diverse executives
43% of companies with diverse boards generate higher profits.

Companies in the top quartile for ethnic/cultural diversity on executive teams were 33% more likely to have industry-leading profitability.

Diverse management boosts revenue by 19%.

Gender-diverse executive teams are found to be 21% more likely to outperform on profitability.

A diverse leadership team boosts revenue by 19% vs the competition.



Diversity and inclusion in the workplace has never been more important
Developing a diversity and inclusion strategy for your business has never been more important. Our world is only getting more diverse.
For example, by 2025, Millennials and Gen Z workers will make up roughly 65 percent of the entire labor force. That number will jump to 75 percent by 2030. In roughly 25 years, traditionally underrepresented populations – Asian, Hispanic, and multiracial groups – will hit majority status.
And by 2065, one-in-three Americans would be immigrants or have immigrant parents. They will see no racial or ethnic majority group.
Companies that don't embrace diversity and inclusion in the workplace will be left behind. Now's the time to act so you can be the business that's ahead of the curve.
So are you ready to unlock your company's potential? Here at Mogul, we help organizations attract top, diverse talent from all over the world. Schedule a demo now, and let us show you how we increase the diversity in our partners hiring pipeline by nearly 75% year over year.