Checklist: How Strong is Your Employer Brand?

Mogul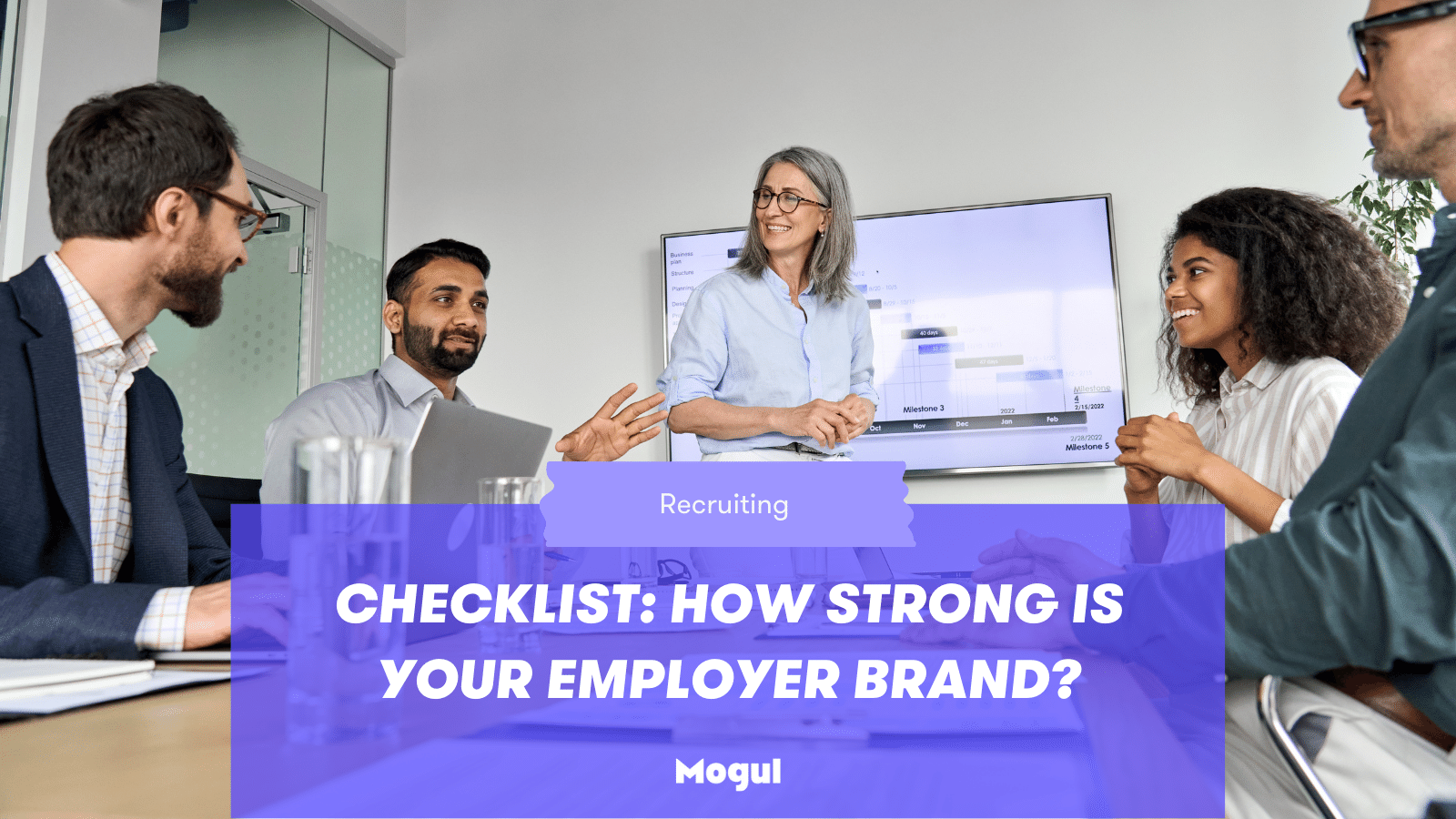 Your branding affects more than just sales of your product. You are also selling the company to potential new hires.
But more than that, today's talent is diverse and wants personal and professional alignment with their employer.
Your employer brand is consistent when developed effectively– from your job descriptions, hiring process, and how you provide inclusive leadership.
So how do you know if your company has a strong employer brand?
At Mogul, we help employers elevate their employer brand to showcase their diversity efforts. This is our checklist to determine where your brand stands.


Do you have high employee engagement?
Employee engagement is critical.
The reason: every metric in this checklist can only work optimally with high employee engagement.
Engaged employees are more likely to be productive and high-performing.
Here are a few signs of high employee engagement:
Employees feel they are adequately compensated with salary and benefits
Employees feel comfortable bringing concerns to leadership
Employees feel they are informed of company news and direction
Employees feel there is a strong sense of camaraderie and teamwork
Employees feel empowered and ownership of their work
Employees feel the company is respected in the industry
Employees feel the product or service is competitive in the industry
Employees feel their work matters, and they enjoy their role

The best way to learn if your employees are engaged is to ask them.
Send an anonymous survey to everyone in your company and ask for a grade between one and five on each of the sentiments above.
Don't skimp out on this step. Your employee engagement indicates productivity rates, turnover potential, and ultimately, your future growth trajectory.


Do your employees refer their network?
When your employees are champions of your company, they willingly act as brand ambassadors for your company and will refer their network to open positions.
This should empower you to create an employee referral program for your willing ambassadors.
Your employee referral program should be structured, making it easy for employees to recommend candidates.
Why are employee referrals a recruiting game-changer? Employee referrals:
Speed up time-to-fill
Cut down on hiring costs
Increase overall retention
Further increases employee engagement

When creating a recruiting program, you must get a few things right.
First, have a process in place to make referring a candidate easy. Here at Mogul, we have a Slack channel dedicated to referrals. If possible, we ask employees to provide basic contact information (and a resume).
Next, create incentives for employees. Provide a cash bonus or other reward for employees who refer candidates that receive offers. (This usually also comes with the caveat of the employee staying a member of the team for some amount of time - this prevents abuse of the system)
Finally, track your results. You should already (track hiring metrics). Add a column for referrals and note how many referrals you're receiving vs. the hirings you're making.
This will help you tune your referral program as you go.


Have you earned a diversity award?
You can't have a strong employer brand without a diverse workforce.
DEIB (diversity, equity, inclusion, and belonging) is much more than a passing trend.
A diversity award shows employees and potential candidates that you follow inclusive hiring and retention best practices, and accept all talent – regardless of race, gender, or other group identifiers.
We host four diversity awards at Mogul annually, highlighting top companies worldwide who cultivate diverse and inclusive workforces. Check out our latest award list.
Want to submit your company to be considered? Join our mailing list to be the first to hear when our next list begins accepting admissions.


Do you have strong social interaction?
Social media interactions show how many people pay attention to and interact with your brand daily. New hires will be closely examining what your brand is sharing.
Social metrics show your employer brand's story.
Building your social interactions can increase overall brand awareness, making attracting new, high-quality candidates easier. And high-quality candidates are what we're all searching for.


Do you have a large number of applicants?
Every company wants a pipeline filled with high-quality candidates. But many struggle to keep pipelines full.
We suggest a few tried and tested ways that will help:
Define the perfect candidate for the role
Don't make (these four job description mistakes)
Highlight workplace benefits and perks
Conduct effective (cold outreach)
Share salary ranges in your job descriptions
Leverage social media channels to promote open roles
Use diversity sourcing tools to reach candidates


Do your candidates report a positive interview experience?
A positive candidate experience is a great way to build your reputation as an inclusive company that treats people respectfully - whether you hire them or not.
How you move candidates through the interview process matters.
Even if you deny a candidate, if you do so with compassion and professionalism, they may still refer someone in their network to apply – saving you precious time sourcing diverse candidates.
To gauge candidate experience, spend a few minutes asking each candidate for feedback after the interview.
If you don't feel comfortable requesting feedback during the interview, send them an email with your request.
But consider asking in the interview. You will get more authentic feedback and instantly learn how the candidate thinks on their toes.


Do you have high offer acceptance rates?
We all say we want high-quality candidates. But how do you measure that?
Look at your rates of candidates that make it to the interview process. And once you make the offer, how many of those candidates accept?
A high offer acceptance rate speaks for itself. Candidates with a strong employer brand should want to work for your company.
To learn more about uncovering high-quality candidates, read our articles about soft skills and how to interview.


Do you have a low cost per hire?
If there's one golden metric to rule them all regarding employer brand, low cost per hire it.
To keep your cost per hire low, you must dial in every aspect of your hiring process – cold outreach, interviewing, acceptance rates, and onboarding. Everything must be firing on all cylinders.
A low cost per hire keeps money and resources in your company to reinvest in other crucial growth opportunities.
And in our rapidly-changing, globally competitive world of work, being more efficient can make all the difference.


Final thoughts
Ultimately, a strong employer brand comes down to the authenticity of company leaders. Your clients, customers, and employees care about the people that work at your company
Your brand should be authentic.
If you find yourself lacking in any of the metrics in this checklist, consider it an area of opportunity.
Employer branding requires collaboration between all of your teams. You will especially want to bring in your marketing team to assist.
Continue your journey to improving your talent pipeline - sign up to get our next resource articles right to your inbox.