How to Hire Diverse Executives (Step by Step)

Mogul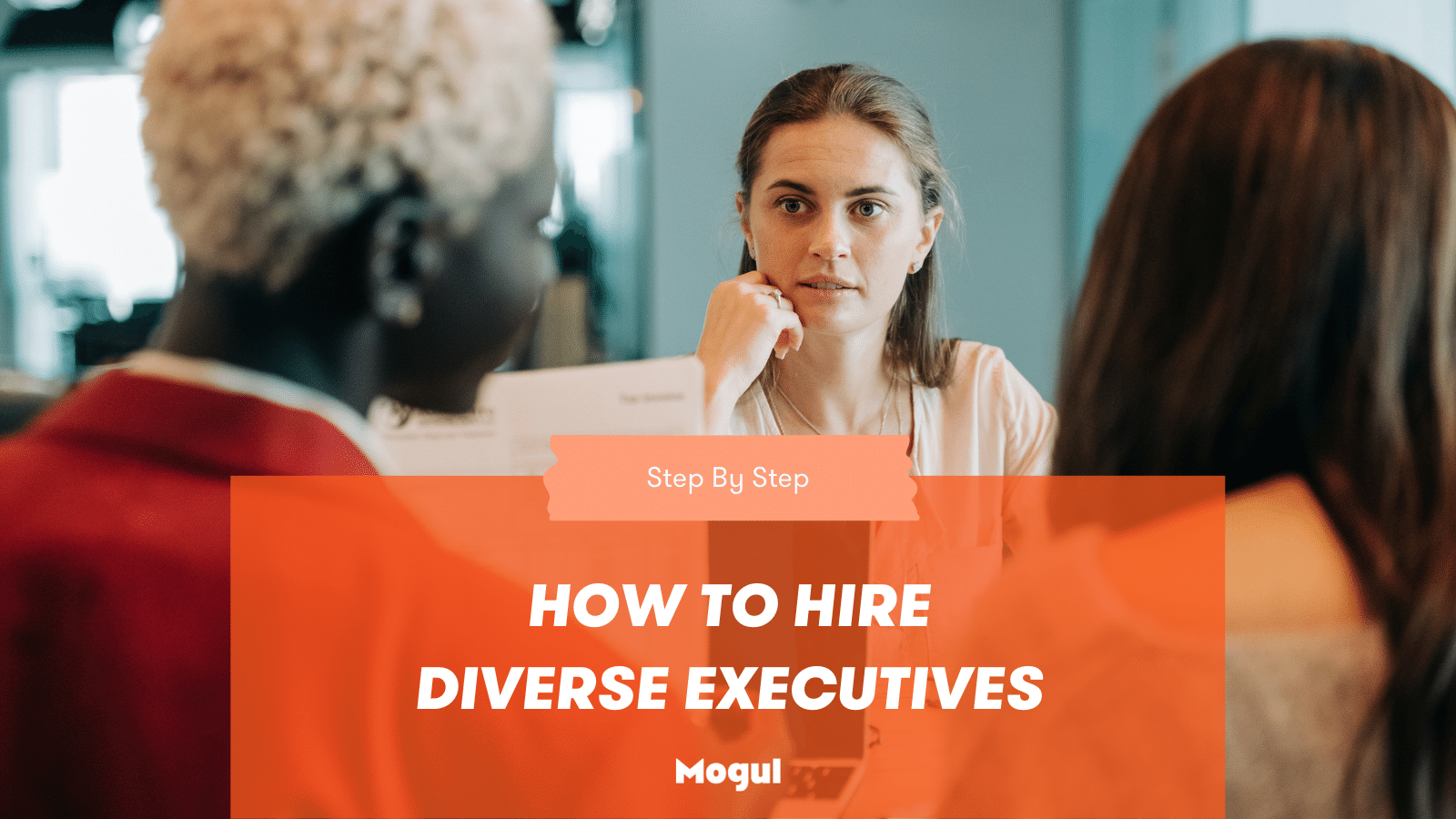 Hiring for your next executive can be a struggle. Since the executive talent pool is frustratingly small, potentially qualified candidates can get snapped up immediately by a competitor.
But executive recruitment doesn't have to be a daunting process or take up all of your valuable time.
At Mogul, we work with the Fortune 1000 and the fastest-growing startups to find them top diverse executive talent. In this guide, we'll provide you with everything you need to know about how to find and hire your next perfect-fit executive.
You're about to learn:
How to widen your executive talent pool
About the different types of executive search firms
Whether you should be looking for specialized or generalist executive recruiters
Our innovative five-step executive recruitment process
Diversify your executive talent pipeline
If you are going through the usual networks for executive talent, the number of potential candidates will seem small. You can unlock a large and untapped pool of excellent executives by starting with diversity-focused searches. Diverse talent doesn't appear on the standard platforms, so you will need to target them directly.
Diversity will not only expand your talent pipeline - it will get you high-performers. Diverse executive teams are more productive, creative, and innovative. The latest studies show:
43% of companies with diverse leadership gain higher profits.
A diverse leadership team boosts revenue by 19% vs. competition.
Diverse companies are 70% more likely to capture new markets.
When choosing an executive recruitment firm, make sure they explain how they will provide you with a diversified slate of candidates. If their talent pipeline isn't intentionally diverse at the start, you will end up with homogeneous results.
Widen your talent pool
Many organizations limit their executive search only to candidates who have done a specific job before. But considering VPs and directors from complementary industries or transferable skills can lead to finding a diamond in the rough.
They may not have the resume on paper as more tenured candidates, but many leaders in adjacent industries can bring a fresh perspective. Save roughly 10-20% of your slate for candidates from similar industries. This will ensure you're covering all your bases.
Another great way to widen your talent pool is to add manager talent within your organization into your recruitment process. They already know the ins and outs of your business. If nothing else, it will show you the potential of your team. And your team will notice your willingness to retain and develop them, even if they aren't chosen for the role.
Reduce your time to hire with an executive search firm
The industry standard for hiring an executive is roughly four months to 1.5 years. If you're feeling the pressure to hire someone fast, consider an executive search firm to accelerate the process.
Executive search firms have access to large talent pools and can dramatically reduce time to fill. For example, Mogul's average executive time to hire is just over one month.
Types of executive search firms
There are two types of executive searches you will need to consider:
Retained search: You (the client) pay the recruitment firm a percentage of the fee upfront to begin the search process.
Contingent search: You hire the firm without paying any upfront fees.
So, which executive search firm should you choose? Here are the pros and cons of each:
Retained search
| | |
| --- | --- |
| Pros | Cons |
| A personalized touch. Retained search firms limit the number of clients to ensure that you get their full attention. Retained search can support you in defining your ideal candidate's qualifications and provide real-time updates on the search. | Higher cost. Firms usually charge 30-35% of the position's salary, so you'll want to ensure you make room for a proper budget. |
| Candidate support. They will liaise between your brand and your candidates and will be involved in the signing process. | Upfront fees. Retained searches require an upfront retainer fee to begin searching. Retained searches that end without a filled position can be an expensive loss. You'll still be required to pay fees for search firms regardless of whether or not there is a resulting hire. |
| Exclusive candidates. You will have a higher probability of finding the right candidate with a rare skill set. Retained search firms have exclusive access to highly vetted talent pools of top executives. | |

Contingent search
| | |
| --- | --- |
| Pros | Cons |
| No upfront fees. In a contingency search, you'll only pay if the firm successfully places a candidate. | Less personalization. If you have specific or niche requirements for your candidates, this option may not be for you. The candidate sourcing process will be less exclusive and personalized to your needs. |
| Lower cost. Contingent search fees typically amount to 20% of the candidate's salary. | Non-exclusive agreement. You will be one of many clients. A contingency firm may have less time to focus on your search than other types of executive search firms. |
| No commitment. You can work with multiple contingent search firms at once. Whichever firm makes the placement gets the agreed-upon fee. | |

Identify whether you need a specialist or a generalist
Some executive recruiting firms do it all - they will find candidates for a variety of functions, industries, and locations. Others are specialists that focus on specific demographics, job functions, or industries.
When you should choose a generalist:
When you need a very large pool of candidates
Need to hire for many roles across your organization
Are looking for candidates with transferable skills
When you should choose a specialist:
When you want a smaller list of candidates to interview directly
Need to hire for particular roles or teams
Are looking for candidates with specific skills
The most significant difference between the two is the number of candidates they provide. If you are willing to cast a wide net and go through the results, a generalist may be for you.
If you want a depth of expertise in one field, a specialist will be able to speak the language of that niche to bring you a more qualified shortlist. Some specialists can act more like executive search consultant than a headhunter.
How executive search works
To better understand how executive recruitment works, let's take an insider's look into how we recruit at Mogul.
Our disruptive approach has proven to accelerate the diversity recruitment process. Mogul reduces executive time-to-hire from 1.5 years to 2 months (that's an 88% decrease in time to hire).
Phase 1: Define and assess
First, we will meet on a discovery call to uncover the exact role specifications you need to fill. We'll help you prioritize what you're looking for to define your ideal candidate.
Phase 2: Identify
Next, we assemble an extensive, diversified list from the Mogul talent ecosystem. We will conduct preliminary reference checks on their competencies, skills, and experiences and send you a shortlist. After your approval, we will approach the candidates on your behalf.
Phase 3: Evaluate
We will start the interview process from your candidate shortlist. We conduct extensive evaluation interviews. Our report on each candidate will include qualitative and quantitative assessments on past experience, present readiness, and future potential. Once we have our top picks, we introduce you to the finalists.
Phase 4: Close
The exciting moment - sending your offer to your top candidate. We will liaise with the candidate for you and you will have our full support during negotiations. We also continue to provide ongoing introductions to new candidates until there is a formal close.
Mogul's support doesn't stop once you've hired your executive. We will work with you to create external communications plans and market announcements using our wide press reach.
Phase 5: Integrate
Over the next 6 months, we support the integration of your new executive. We've found this phase is crucial to keeping your business moving while setting your team up for success.
We will check in and provide feedback sessions over the next 6 months. We also provide your team with free unconscious bias training to further your DEI initiatives.
Wrap up
The big takeaway is that executive recruitment takes a diligent, leave-no-stone-unturned approach. When you are already pressed for time, it's wise to find an executive recruitment firm that can handle the process for you. They have the tools to find the right person to bring your team to the next level.
Ready to begin? Schedule a consultation with our team at Mogul now. Let us help you accelerate your business by finding you the right executive.