Top 100 Workplaces For Diverse Representation in 2022

Mogul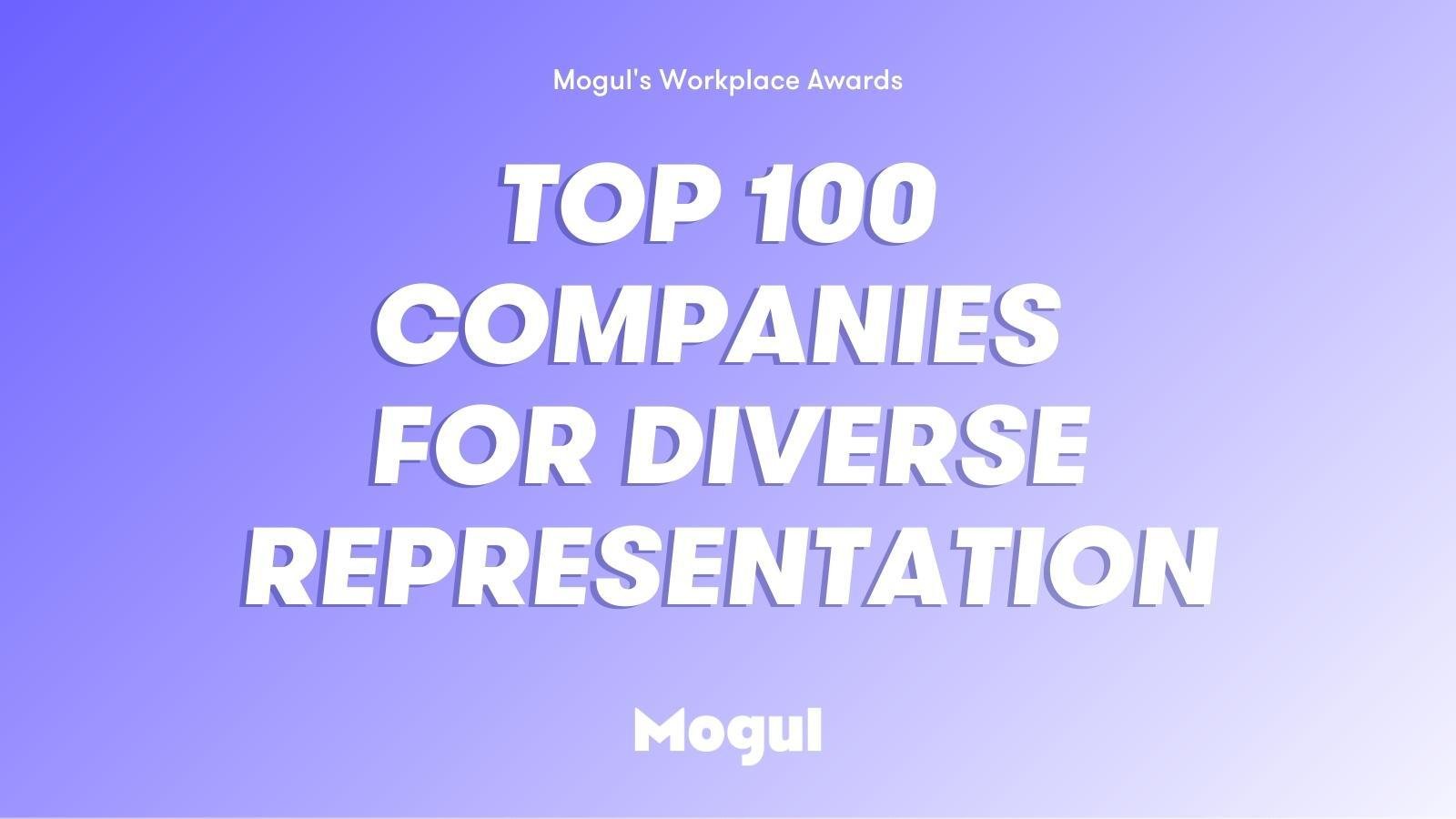 Mogul is honored to celebrate these companies' efforts and continue to invest in their diverse talent.
They have made enormous strides in implementing practices, investing in resources and tools to hire diverse talent, and placing diverse leaders across their organizations.
The Top 100 companies were determined through weighted scoring, taking into account the hiring and investment of diverse employees and the support and resources.
Read more about how Mogul can further support your diversity recruitment and talent sourcing.
Founded in 2005, 2K Games is a global video game company, publishing titles developed by some of the most influential game development studios in the world.
Their studios responsible for developing 2K's portfolio of world-class games across multiple platforms, including Visual Concepts, Firaxis, Hangar 13, CatDaddy, Cloud Chamber, and HB Studios.
2K's portfolio of titles is expanding due to their global strategic plan, building and acquiring exciting studios whose content continues to inspire all of us! 2K publishes titles in today's most popular gaming genres, including sports, shooters, action, role-playing, strategy, casual, and family entertainment.
For more than a decade, 2U, Inc. has been the digital transformation partner of choice to great non-profit colleges and universities delivering high-quality online education at scale.
As the parent company of edX, a leading global online learning platform, 2U provides over 40 million learners with access to world-class education in partnership with more than 230 colleges, universities, and corporations.
Their people and technology are powering more than 3,500 digital education offerings — from free courses to full degrees — and helping unlock human potential. To learn more: visit 2U.com.
Acquire equips enterprise teams with the digital tools to create the best customer experiences.
With features including secure cobrowsing, AI chatbots, live chat, and video calling, Acquire empowers teams to proactively resolve complex sales, service, and support issues in real-time across all channels.
With Acquire, businesses can continuously engage customers while minimizing resolution time and redundancy. Acquire's flexible and scalable software suite meets the customer service, sales, and support needs of any business — on any device.
Afresh is on a mission to eliminate food waste and make fresh food accessible to all. Fresh is the future - and they're building solutions that are ready for it.
They combine AI with human-powered insights into our Fresh Operating System, the first solution built specifically to handle the complexities of fresh forecasting, inventory, ordering, and store operations.
Afresh is hiring people who are passionate about applying their skills to make an impact on climate change and food insecurity.
Air Products is a world-leading Industrial Gases company in operation for nearly 80 years. The Company provides industrial gases and related equipment to dozens of industries, including refining, chemical, metals, electronics, manufacturing, and food and beverage.
Air Products is also the world's leading liquefied natural gas process technology and equipment supplier. The Company develops, engineers, builds, owns, and operates some of the world's largest industrial gas projects, including gasification projects that sustainably convert abundant natural resources into syngas to produce high-value power, fuels, and chemicals.
A pioneer in K–12 education since 2000, Amplify is leading the way in next-generation curriculum and formative assessment.
Their captivating core and supplemental programs in ELA, math, and science engage all students in rigorous learning and inspire them to think deeply, creatively, and for themselves.
Amplify's formative assessment and intervention products turn data into practical instructional support to help students at every skill level build a strong foundation in early reading and math.
All of their programs provide teachers with powerful tools that help them understand and respond to the needs of their students. Today, Amplify serves more than three million students in all 50 states.
If you've ever seen a rocket launch, flown on an airplane, driven a car, used a computer, touched a mobile device, crossed a bridge or put on wearable technology, chances are you've used a product where Ansys software played a critical role in its creation.
Ansys is the global leader in engineering simulation enabling next-generation advancements from self-driving cars to electric aircraft to connected cities. They help the world's most innovative companies deliver radically better products to their customers.
By offering the best and broadest portfolio of engineering simulation software, we help them solve the most complex design challenges and create products limited only by imagination.
Avery Dennison Corporation is a global materials science company specializing in the design and manufacture of a wide variety of labeling and functional materials.
The company's products and solutions, which are used in nearly every major industry, include pressure-sensitive materials for labels and graphic applications; tapes and other bonding solutions for industrial, medical, and retail applications; tags, labels and embellishments for apparel; and radio frequency identification (RFID) solutions serving retail apparel and other markets.
The company employs approximately 36,000 employees in more than 50 countries. Reported sales in 2021 were $8.4 billion. Learn more at www.averydennison.com.

Named to Travel + Leisure's list of Top 25 Hotel Brands in the World for 2021, Aparium Hotel Group is a management company that believes luxury is no longer defined by the number of stars a property has but by the uncommon service delivered and the lasting impression left with its guests.
Driven by the belief that all hospitality experiences should be fueled by the poetics of their surroundings, Aparium was born with an intense focus on unearthing the amazing moments unique to every city. Since its founding, Aparium has grown into a new kind of hotel brand, ventures off the beaten path, both geographically and philosophically.
It is a sophisticated hotel brand known for its singular ability to combine the business acumen of large hospitality companies with the charm of boutique hotels, bringing disparate forces together in bustling, smaller markets.
Bain & Company is a global consultancy that helps the world's most ambitious change-makers define the future. They work as one team with a shared ambition to achieve extraordinary results, outperform the competition and redefine industries.
Bain & Company complements their tailored, integrated expertise with a vibrant ecosystem of digital innovators to deliver better, faster, and more enduring outcomes. Their 10-year commitment to invest more than $1 billion in pro bono services brings their talent, expertise, and insight to organizations tackling today's urgent challenges in education, racial equity and social justice, economic development, and the environment.
BORN, a Tech Mahindra company produces unique brand experiences by connecting ten specialisms that serve as the foundation of the digital economy: creative design, content production, commerce enablement, conversions (visitors to customers), cloud technology, cognition (analytics), cohesion (integrating all the systems), consulting and completeness (connecting brand experiences) across all channels.
When insurance first began to spread throughout the U.S., it was a truly communal product. Think farmers in communities all across the country putting money aside to take care of one-another should disaster strike. It was neighbor getting neighbor's back.
When you look around today, that spirit's gone, replaced with giant corporations competing to sell expensive policies that go up in cost every year.
Branch was started to restore insurance to its original intent: a force for communal good. By putting data and technology to work and harnessing the power of community, Branch makes insurance better and more affordable for all. They like to call it, getting back to getting each other's back.
Bristol-Myers Squibb is a global biopharmaceutical company focused on discovering, developing and delivering innovative medicines for patients with serious diseases.
Their medicines are helping millions of patients around the world in disease areas such as oncology, cardiovascular, immunoscience, fibrosis, and others.
Bristol-Myers Squibb has built a sustainable pipeline of potential therapies and is leveraging translational medicine and data analytics to understand how they can deliver the right medicine to the right patient at the right time to achieve the best outcome.
​​Plants have played a vital role in human health for thousands of years, and we have yet to realize the full potential.
Brightseed is a data company with the technology to do just that. They identify the hidden compounds in plants that can impact health and bring these bio-actives to market across industries at a previously impossible rate.
B-Stock is the world's largest online marketplace for returned, excess, and other liquidation merchandise.
Their customers range from SMB to the world's largest brands and retailers (including nine of the top 10 U.S. retailers).
Led by eBay veterans, B-Stock completes over 200,000 transactions per year, selling 135 million items annually, making us a clear leader in the space.
Carbon is a 3D printing technology company helping businesses to develop better products and bring them to market in less time.
The Carbon DLS™ process combines versatile printers, advanced software, and best-in-class materials to deliver functional parts with end-use performance and aesthetics, helping engineers and designers to create products that outperform.
From prototyping and low-volume production to production-at-scale, hundreds of global organizations, including Adidas, Ford Motor Company, and Becton Dickinson Company, use the Carbon process to create a wide range of functional end-use parts and print them reliably wherever and whenever they need them through their production network partners.
Caribou believes that taking control of your car payments should be a simple, transparent process. Too many people are driving around with a bad deal on their auto loans and car insurance.
What's more, many people don't realize it or don't know what to do about it. Through their partnerships with local and community leaders, they bring customers competitive rates and lower monthly payments for both their auto loans and car insurance.
Caribou is built by leaders from the technology, automotive, and finance industries and is proud to be backed by a great team of venture capital investors.
Celonis is the global leader in execution management and process mining technology and one of the 50 most valuable private companies in the world.
The company's Execution Management System (EMS) allows customers to get a comprehensive, real-time, and data-driven overview of their ongoing processes and make recommended changes and improvements directly and easily in their underlying business systems.
By identifying problems with their EMS, Celonis helps businesses unlock their potential, thereby saving billions in inefficiencies and reducing time, waste, and costs.
Celonis has thousands of customers, including ABB, AstraZeneca, Bosch, Coca-Cola, Citibank, Danaher Corporation, Dell, GSK, John Deere, L'Oréal, Siemens, Uber, Vodafone, and Whirlpool.
Center for Equity and Inclusion
Founded in 2015, Center for Equity and Inclusion (CEI) is a BIPOC-owned and led consultancy advancing equity, diversity, and inclusion (E&I) efforts within education systems, organizations, and communities.
CEI is a human-centered learning and strategic partner, and methodologies drive transformative change.
They provide Assessment, facilitated and independent learning, leadership development, coaching, and strategic consultation to organizations across sectors.
ChargeNet Stations is building the electric vehicle charging solution of the future. As more electric vehicles hit the road, their mission is to develop a charging experience that delivers low-cost renewable charging to quick-serve restaurant customers while providing much-needed reliability to the grid, all while providing a clean, super-friendly user experience.
ChargeNet's cloud-based software optimizes and stacks solar, storage, and charging into one consolidated solution that can be seamlessly integrated into retail and restaurant point-of-sale systems.
By further utilizing consumer data, we optimize customer electric vehicle charging, allowing for increased operational efficiency and station utilization.
Citizen is the No. 1 public safety app in the U.S., with a mission to make the world safer. Citizen provides 911 alerts so people can use their phones to keep themselves, and the people and places they love, safe.
Citizen has notified people to evacuate burning buildings, deterred school buses from nearby terrorist attacks, and led to the rescue of kidnapped children and missing people.
Citizen's 911 alerts are accompanied by live stories, real-time updates, and user-generated content, so app users never have to wonder why there are helicopters overhead or fire engines flying by. By broadcasting from the scene of an incident, communicating with one another, and reading live updates, communities are empowered by Citizen.
They act fast, break the news, and give people the immediate information to stay safe. And we're just getting started.
Inspired to make a positive change to the facilities management industry, Willie and Susan Haughey established City Refrigeration Holdings (UK) Ltd in 1985.
Their new enterprise was founded on collaboration and transparency. A ground-breaking approach took City FM from its humble beginnings to building long-term partnerships with leading retailers all over the world.
Under this innovative model, each partner receives a unique strategy, shaped by the needs of their business and implemented by a bespoke, self-delivered model that provides an unparalleled commitment to safety, quality and value.
Colliers is a leading global real estate service and investment management company. With operations in 68 countries, their 15,000 enterprising people work collaboratively to provide expert advice and services to maximize the value of the property for real estate occupiers, owners, and investors.
For more than 25 years, Colliers experienced leadership team, owning approximately 40% of their equity, have delivered industry-leading investment returns for shareholders.
Cummins empowers everyone to grow their careers through meaningful work, building inclusive and equitable teams, coaching, development, and opportunities to make a difference.
Across the entire organization, you'll find engineers, developers, and technicians who are innovating, designing, testing, and building. You'll also find accountants, marketers, as well as manufacturing, quality, and supply chain specialists who are working with technology that's just as innovative and advanced.
Cummin's focuses on understanding your talents, current skills, and future goals – and creating a plan to get you there. Your journey begins with planning your development and connecting to diverse experiences designed to spur innovation.
Welcome to the unexpected delight of plant-based exploration! Daiya is the creator of a revolutionary cheese alternative that tastes, shreds, melts, and stretches like traditional cheese.
Today, as plant-based food grows in popularity, that spirit of innovation continues to inspire their team. They believe in pioneering plant-based breakthroughs that delight people and the planet.
Daiya portfolio of great tasting foods provides an opportunity for everyone to gather around the table, whether you have food allergies, are flexitarian, vegan, vegetarian, or just plant-based curious.
DEC's business is about making customers happy. That's all they do. Since 1982, DEC has helped companies build engaged, pleased, profitable customer experiences powered by our combination of humanity and technology.
On behalf of many of the world's leading iconic and disruptive brands, they talk, message, text, and video chat with millions of customers every day. These exceptional customer experiences start with you.
Deskey is an independent, women-owned, WBENC certified branding agency specializing in strategy and design.
They believe bringing different perspectives to the table is the key to growing your business and propelling your brand into the future.
Deskey seeks clients and organizations who share their belief that their creative team's different backgrounds and experiences make brands more relatable to more people in more places.
DMI is a global technology solutions company that specializes in digital strategy, design, transformation and support.
Utilizing expertise in the areas of AI & Analytics, Commerce, Experience, Managed Services, Transformation, and Government, DMI delivers intelligent digital transformation solutions that meet organizations where they are.
Born digital, DMI has delivered mission-critical, enterprise-grade solutions since 2002 for over a hundred Fortune 1000 enterprises and all fifteen U.S. Federal Departments.
DMI has grown to 2,000+ employees globally and has been continually recognized by top industry analysts as market leader as well as a Top Workplace in the US and Remote.
Duolingo is the world's most popular way to learn a language. Their mission is to develop the best education in the world and make it universally available.
Founded in 2011 by Luis von Ahn and Severin Hacker, Duolingo is the most downloaded education app in the history of the App Store and in 2019 became the top-grossing education app worldwide.
The app has been awarded Apple's iPhone App of the Year and Android's Best of the Best.
Eagle London Agency is a black-owned marketing and communications agency that creates culturally credible moments to help brands grow in new markets and with new audiences.
They do this by supporting their clients with clear branding, videos, websites, messaging, and an inclusive workforce.
The agency was registered as EMH Global Ltd in England and Wales in 2004 and has expanded into new markets, establishing offices in the USA, India, and Ghana. Eagle London is proud to say that they have worked across different sectors with many companies and government agencies such as Toyota, Meta, Dentsu x, King's College London, Paul Robinson Solicitors, Government of Ghana, Ghana Cocoa Board, and more.
A company made up of ENT surgeons, tech geeks, and dreamers, united in the belief that people should be able to hear life to the fullest. Because the world is full of great things to hear.
Eargo wants the best for people, and this is their way to make sure they get it. They don't believe that caring for your hearing health should come at the cost of compromising your lifestyle or appearance. That's why we've created devices that work superbly, are easy to use and – because of their patented Flexi Fibers – are incredibly comfortable and essentially invisible.
Eargo starts with the user, the person who's going to open the Eargo box with eager anticipation and build all of their products and experiences in ways that make them feel understood and cared for. That pays off their eager anticipation.
Elsevier is a world-leading provider of information solutions that enhance the performance of science, health, and technology professionals, empowering them to make better decisions, and deliver better care.
Endeavor Content is a 21st Century Global Entertainment leader in producing and distributing premium film and television content, built to adapt to a rapidly changing industry while putting artists, creators, and producers first by empowering creative freedom and ownership.
A company of superstars, they are passionate about the incredible talent they collaborate with as they are with the amazing work they create. A feminist and anti-racist, platform-agnostic company, Endeavor delivers the best-in-class expertise of a big studio with a bold entrepreneurial spirit and a passion for the content of an indie.
Everything they make shows the power and promise of what creativity can do, featuring a portfolio of work that extends from film and television to documentaries and live experiences.
ENGINE is a new kind of data-driven marketing solutions company. Powered by data, driven by results, and guided by people, they help clients make connections that count—leading to bottom-line growth, an inspired workplace, and business transformation.
With global headquarters in New York and 17 offices across North America, the UK, Europe, and Asia-Pacific, ENGINE offers clients a vast range of marketing solutions—from insights and content to distribution and technology.
At Fetch Rewards, they're committed to upholding remote-first hybrid office model, giving their distributed workforce the option of working from anywhere while providing the infrastructure for in-person collaboration when needed.
Helping customers stay ahead of the curve through transformational technologies and capabilities Firstsource Solutions Limited, a RP-Sanjiv Goenka Group company, is a leading provider of transformational solutions and services spanning the customer lifecycle across Healthcare, Banking, and Financial Services, Communications, Media and Technology, and other industries.
Their 'Digital First, Digital Now' approach helps organizations reinvent operations and reimagine business models, enabling them to deliver moments that matter and build competitive advantage.
With an established presence in the US, the UK, India, and the Philippines, we act as a trusted growth partner for over 100 leading global brands, including several Fortune 500 and FTSE 100 companies.
FM Global is one of the world's largest commercial property insurers. For nearly 200 years, the world's leading businesses have worked with FM Global to develop robust property insurance and engineering solutions that build resilience into every corner of their operations.
These solutions protect against fire, natural disasters, and other types of property risk. They provide more than one-third of Fortune 1000–size companies with engineering-based risk management and property insurance solutions in nearly 150 countries.
FM Global ranks #423 among Fortune magazine's largest companies in America and employs more than 5,400 people in 67 offices worldwide, including 1,800 loss prevention engineers.
Glassdoor empowers job seekers with straight-from-the-source insights, reviews, and corner-office intel so you can make your next career move with total confidence and clarity.
Geisel Software is a custom software development company with a passion for innovation and special expertise in embedded and application software solutions.
Their highly-skilled team designs, develops, and deploys groundbreaking software solutions that incorporate stringent security protocols. They haveworked with some of the most visionary companies to deliver world-class web/cloud, mobile, IoT, AI/ML, and embedded solutions.
Geisel Software's revolutionary thinkers and problem-solvers are embracing innovation to tackle some of the toughest technical challenges in robotics, medical devices and more.
Goodbaby International is one of the world's leading global durable juvenile products companies, headquartered in China.
The Group's core capabilities lie in Research & Development, design and quality manufacturing, marketing and sales of juvenile products, such as strollers, children's car seats, juvenile household products, as well as juvenile toy vehicles.
With nearly 13,000 employees worldwide, Goodbaby owns nine Research & Development centers globally, located in America, Europe, and Asia, and manages sales, marketing, and distribution offices in 11 countries.
They own several globally renowned brands such as CYBEX, GB, and Evenflo, all recognized for products with iconic design, innovative technology, superior safety features, and thoughtful functionality.
About The Goodyear Tire & Rubber Company Goodyear is one of the world's largest tire companies.
They employ about 72,000 people and manufactures its products in 57 facilities in 23 countries around the world.
Their two Innovation Centers in Akron, Ohio, and Colmar-Berg, Luxembourg, strive to develop state-of-the-art products and services that set the technology and performance standard for the industry.
For over 115 years, we've delivered the excellence, expertise, and quality products their customers need to design successful food operations and experiences.
They have grown to become the largest family-operated broadline foodservice distributor in North America by upholding the same business approach since 1897—being passionately committed to the people we serve.
Gordon Food Service believes in the power of good food—to bring people together and make moments special. Every product, every order, and every decision we make is inspired by the people on the other side of the plate.
Greenhouse has 600+ employees around the world supporting over 6,000 customers.
Some of the smartest and most successful companies like HubSpot, Buzzfeed, J.D. Power, Booking.com, Scout24 and The Knot Worldwide use the Greenhouse hiring software platform to improve all aspects of hiring, helping them to attract top talent.
Guild Education is a social impact company on a mission to unlock opportunities for America's workforce through education and upskilling.
Guild works with employers like Walmart, Chipotle, Macy's, and Target to create strategic education and upskilling programs that offer debt-free pathways for employees to gain skills that lead to in-demand jobs.
Guild has taken intentional steps in each phase of the employee lifecycle to ensure prioritization of hiring, supporting, promoting, and retaining diverse talent. Guild reviews job descriptions for biases and exclusionary language before posting within the Talent Acquisition space to ensure all possible identities are welcomed to apply.
Guild engages in partnerships with external organizations to diversify the candidate pipeline and track the aggregate diversity of the talent pool.
HelloFresh is on a mission to change the way people eat forever! Since its 2011 founding in Europe's vibrant tech hub Berlin, HelloFresh is evolving from its leading meal kit company to the world's leading food solutions group.
HelloFresh Group consists of six brands that provide customers with high-quality food and recipes for different meal occasions. Every ingredient needed for their meals are carefully planned, responsibly sourced, and delivered to your door when it's most convenient for you.
Only HelloFresh gives you the tools to achieve something delicious every day. Making a meal a delicious achievement - not just fuel for your day - takes a lot of work and smart people.
From Designers and Copywriters to Data Scientists and DevOps Engineers, potato farmers, pasta makers, and the people who ensure every box is perfectly packed for every customer, they collectively disrupt the food supply chain and the multi-trillion-dollar food tech industry.
Hibob was founded to modernize HR tech. Hibob's intuitive and data-driven platform, bob, was built for the way people work today: globally, remotely, and collaboratively.
Since its launch in late 2015, bob has achieved consecutive triple-digit year-over-year growth and become the HRIS of choice for more than 1,000 modern, midsize and multinational companies who understand that a powerful, agile HR tech suite is mission critical and a key driver of organizational success.
Fast-growing companies across the globe such as Monzo, Happy Socks, Gong, Fiverr, and VaynerMedia rely upon bob to help HR and managers connect, engage, develop and retain top talent.
Hinge is the dating app designed to be deleted. In today's digital world, singles are so focused on sending likes and looking through profiles that they're not actually building meaningful connections and going on dates.
Hinge is on a mission to change that by designing the most effective app experience. On Hinge, there are no rules, timers, or games. Instead, you'll have unique conversations over the text, photos, and audio you've shared on your profile.
And it's resonating with daters. Hinge was the fastest-growing dating app in the US, UK, Canada and Australia in 2019 and 2020.
Horizon Media is a leader in driving business-based outcomes for marketers. The company was founded in 1989, is headquartered in New York, and has offices in Los Angeles and Toronto.
According to convergence data, Horizon is the third-largest U.S. media agency with estimated billings of $8.7 billion and over 2,300 employees. Recognized as one of the world's ten most innovative marketing and advertising companies by Fast Company, Horizon Media has been named Media Agency of the Year by MediaPost, Adweek, and AdAge and is known for its highly personal approach to client service.
Renowned for its culture, Horizon is also consistently named to all the prestigious annual Best Places to Work lists published by Fortune, Forbes, AdAge, Crain's New York Business, and Los Angeles Business Journal; including "Best Workplaces for Diversity," "Best Workplaces for Women," and "Best Workplaces for Millennials" honors.
ICM Partners is dedicated solely to representing artists, content creators, authors, artisans, and journalists. Many of the biggest hits in motion pictures, television, music, and publishing were created on the page, on the stage, in front of, and behind the camera by the agency's clients.
The company has the expertise of a legacy agency, with decades in the business, coupled with the entrepreneurial spirit of its agent owners, who bought the company in 2012 and operate it with its client's best interests at the forefront of everything they do. The firm has offices in New York, Los Angeles, Washington D.C., and London.
With over a quarter of a billion monthly listeners in the U.S. and over 129 million social followers, iHeartMedia has the largest national reach of any radio or television outlet in America.
As the leader in multiplatform connections, it also serves over 150 local markets through 858 owned radio stations, and the company's radio stations and content can be heard on AM/FM, HD digital radio, satellite radio, on the Internet at iHeartRadio.com and on the company's radio station websites, on the iHeartRadio mobile app, in enhanced auto dashes, on tablets, wearables and smartphones, and on gaming consoles.
Joonko is a female-founded tech startup Joonko's talent ecosystem enables talent acquisition managers to enrich the top of their talent pipeline with pre-qualified diverse talent and exchange silver medalist candidates.
Joonko's Zero-touch technology matches candidates' skills and professional background to relevant open positions at its +120 partnering companies.
Amongst Joonko's clients are companies such as Adidas, PayPal, Amex, Booking.com, Intuit, and so many more companies who are successfully manifesting their D&I commitments through Joonko's solution.
Interviewing today is oftentimes unstructured, time-intensive and prone to bias. The technical interview process has become a burden for companies and frustrating for candidates.
Karat has combined rich data and research with their shared experiences across engineering, recruiting, and consulting to create the world's largest technical interviewing solution. They are the trusted, consistent Interview Engineer who conducts the first round of interviews on behalf of top engineering organizations.
By making technical interviewing a dedicated job, Karat highlights its importance to both companies and candidates. The more interviews they complete, the more consistent data they have to help every client build world-class hiring processes.
With over 100 million Keystone lighting components in use since 1945, we believe that lighting should be simple, hassle-free, and transformational.
Keystone, Light Made Easy. Lighting is an essential part of our lives, but to most people choosing, designing, and installing quality lighting is a complicated and frustrating endeavor.
They have a lot of options, including different lighting technologies, product features, and companies with whom to work.
Keystone's mission is to change the way people think about lighting. Based in Lansdale, Pennsylvania, Keystone Technologies services customers across North America with a distribution network and sales organization around the USA.
Kroger believes no matter who you are or how you like to shop; everyone deserves affordable, easy-to-enjoy, fresh food. This idea is embodied in their simple tagline—Fresh for Everyone™.
Kroger ranks as one of the world's largest retailers. They are nearly half a million associates across 2,800 stores in 35 states operating two dozen grocery retail brands and 34 manufacturing and 44 distribution locations, all dedicated to living their Purpose: to Feed the Human Spirit™.
Kroger's own manufacturing plants produce many of their Brands products, including breads, dairy products, meat, and thousands of grocery items. They also believe in and are committed to doing our part to create #ZeroHungerZeroWaste communities by 2025.
The Los Angeles Organizing Committee for the Olympic and Paralympic Games 2028.
Mastercard is a global technology company in the payments industry. Its mission is to connect and power an inclusive, digital economy that benefits everyone, everywhere by making transactions safe, simple, smart, and accessible.
Using secure data and networks, partnerships, and passion, Mastercard's innovations and solutions help individuals, financial institutions, governments, and businesses realize their greatest potential. Their decency quotient, or DQ, drives culture and everything they do inside and outside their company.
With connections across more than 210 countries and territories, Mastercard is building a sustainable world that unlocks priceless possibilities for all.
At Match Group, passion drives us. They are unending in their pursuit to build and integrate technology that will bring people together.
It's the catalyst for everything we introduce—from the Swipe feature® to social discovery.
Match serves all parts of society globally, sparking connections across the spectrum of age, race, gender, sexual orientation, background, and relationship goals.
MyFitnessPal is the leading app for tracking—and conquering—your nutrition and fitness goals. Log meals from a database of 14 million foods, track physical activity and learn how to build healthy habits that stick.
With more than 500 recipes, 150 workout routines, and various expert-guided meal and workout plans, you'll have the support you need for your entire health and fitness journey. Established in 2005, MyFitnessPal is on a mission to empower everyone about nutrition. Joining the Francisco Partners portfolio in late 2020, MyFitnessPal is a remote equal company across the United States with 150 employees.
MyFitnessPal's current executive team is over 50% female. We're building meaningful careers with health and wellness at its core.
ModSquad's ModSourcing is outsourcing modernized. Their movement is to lighten the load of digital engagement for global brands with smart processes, innovative tools, and a customized, fun and flexible workforce.
With operation centers in Northern California, Austin, and Northern Ireland and offices in San Francisco, London, and New York, their 10,000+ Mods around the world moderate content, chat with customers, manage communities, and buzz in social media for the world's coolest brands, 24/7/365, in 50+ languages and dialects.
Munchkin is one of the most innovative and fast-growing consumer product companies in the world!
After 30 years of being a leader in the baby industry, Munchkin is growing up and expanding their business reach to even more consumers with the launch of Curio, a highly curated line of home products inspired by curiosity.
Navitus Health Solutions, a division of SSM Health Care and Costco Wholesale Corporation, serves as the industry's alternative pharmacy benefit manager (PBM) to traditional models.
As such, Navitus is committed to taking the unnecessary costs out of pharmacy benefits to make prescriptions more affordable for plan sponsors (i.e., employers, health plans, unions, governments, etc.) and their members.
By combining a unique pass-through approach that returns 100% of rebates with a focus on lowest-net-cost medications and comprehensive clinical care programs, Navitus helps reduce costs and improve health.
Northrop Grumman solves the toughest problems in space, aeronautics, defense, and cyberspace to meet the ever-evolving needs of their customers worldwide.
Their 90,000 employees are Defining Possible every day using science, technology, and engineering to create and deliver advanced systems, products, and services.
Northrop Grumman careers and internships are as varied as your interests, with a lifetime of potential that will allow people to work together with people from many backgrounds, personal passions, and disciplines. 2020 Northrop Grumman is committed to hiring and retaining a diverse workforce.
They are proud to be an Equal Opportunity/Affirmative Action Employer, making decisions without regard to race, color, religion, creed, sex, sexual orientation, gender identity, marital status, national origin, age, veteran status, disability, or any other protected class. U.S. Citizenship is required for most positions.
On-Location is a global leader in sports, music, travel, culture, and more.
On-Location collaborates with the world's most iconic partners and delivers extraordinary experiences by providing official access and premium hospitality at marquee global sporting events, VIP experiences within global music tours, fan travel services, and proprietary owned-and-operated destination music experiences, and much more.
On-Location is part of the Endeavor network.
Octane is revolutionizing lifestyle purchases by delivering a seamless, end-to-end digital buying experience for customers and dealers.
Its mission is to connect people with their passions by making lifestyle purchases - like recreational vehicles and outdoor power equipment - fast, easy, and accessible. By combining cutting-edge technology and innovative risk strategies with friendly, expert service delivers a simple, seamless experience.
Octane adds value throughout the customer journey: inspiring enthusiasts with their editorial brands, including Cycle World®, instantly prequalifying consumers for financing on dealer and OEM websites, and routing customers to a dealership for an easy closing experience.
Opportunity@Work is a nonprofit social enterprise with a mission to increase career opportunities for the 71 million adults in the U.S. who do not have a four-year college degree but are Skilled Through Alternative Routes (STARs).
For STARs, the American Dream has been fading due in part to an "opportunity gap," in which access to the good jobs required for upward mobility often depends less on people's skills and more on whether and where they went to college, who they know professionally and socially, or even how they look. Opportunity@Work envisions a future in which employers hire people based on skills rather than their pedigree.
They are uniting companies, workforce development organizations and philanthropists in a movement to restore the American Dream so that every STAR can work, learn and earn to their full potential.
Paramount delivers premium content to audiences across platforms worldwide. They connect with billions of people—through our studios, networks, streaming services, live events, merchandise, and more.
Paramount's studios create content for all audiences, across every genre and format, while their networks and brands forge deep connections with the world's most diverse audiences. In streaming, Paramount's differentiated strategy is scaling rapidly across free, broad pay, and premium.
Pernod Ricard is the No.2 worldwide producer of wines and spirits with consolidated sales of €8,448 million in FY20. Created in 1975 by the merger of Ricard and Pernod, the Group has developed through organic growth and acquisitions: Seagram (2001), Allied Domecq (2005), and Vin&Sprit (2008).
Pernod Ricard, which owns 16 of the Top 100 Spirits Brands, holds one of the most prestigious and comprehensive brand portfolios in the industry, including: Absolut Vodka, Ricard pastis, Ballantine's, Chivas Regal, Royal Salute, and The Glenlivet Scotch whiskies, Jameson Irish whiskey, Martell cognac, Havana Club rum, Beefeater gin, Malibu liqueur, Mumm and Perrier-Jouët champagnes, as well Jacob's Creek, Brancott Estate, Campo Viejo, and Kenwood wines. Pernod Ricard's brands are distributed across 160+ markets and by its own sales force in 73 markets.
Pliancy is fundamentally changing how businesses value technology by empowering the next evolution of IT leadership.
They provide white-glove consulting solutions to life science and finance organizations. We invest in employees' long-term success with a culture of mentorship, prioritizing curiosity, empathy, and meaningful challenges that improve the human experience.
Whether streamlining a client's race to a cancer cure or securing the fine details of data integrity, they are driven to help people. Pliancy offers high-touch service from offices in California, Massachusetts, Texas, and New York.
Procore Technologies, Inc. (NYSE: PCOR) provides cloud-based construction software to clients across the globe.
Using its award-winning suite of project management tools, hundreds of thousands of registered Procore users manage all types of construction projects including industrial plants, office buildings, apartment complexes, university facilities, retail centers, and more.
Every day, we speak to construction firms still heavily relying on paper-based documentation, email chains, and spreadsheets to manage their projects. Their goal is to help construction professionals increase their project success by simplifying project management with powerful collaborative software.
PwC is inspiring and empowering their people to change the world. At PwC, you'll learn with purpose, lead with heart and put your skills to work to make a meaningful difference in the world.
As part of a diverse team, you'll build trust and create innovative client solutions in unexpected ways.
Quickbase provides a no-code operational agility platform that enables organizations to improve operations through real-time insights and automation across complex processes and disparate systems.
Their goal is to help companies achieve operational agility – to be more responsive to customers, more engaging to employees, and as adaptable as possible to what's next.
Quickbase helps nearly 6,000 customers, including over 80 percent of the Fortune 50. Visit quickbase.com to learn more.
Ro is a direct-to-patient healthcare company providing high-quality, affordable healthcare without the need for insurance.
Ro is the only company to seamlessly connect telehealth and in-home care, diagnostics, labs, and pharmacy services nationwide.
This is enabled by Ro's vertically integrated platform that powers a personalized, end-to-end healthcare experience from diagnosis to medication delivery to ongoing care. Since 2017, Ro has facilitated more than eight million digital healthcare visits in nearly every county in the United States, including 98% of primary care deserts.
Ro also provides patient-centric solutions, including Workpath, its in-home care API, and Kit, its at-home diagnostic testing service, to other healthcare companies.
At Scott Dunn they live and breathe travel. An insatiable appetite to discover the world runs through every member of their team, whether that's their Travel Specialists who tailor-make extraordinary luxury holidays for their guests, or Marketeers, Accountants, Tech Wizards, or People Team, all are working behind the scenes to ensure everything runs like clockwork.
Scott Dunn traveled to all seven continents, exploring everything from the biggest cities to the smallest rural villages, from vast rainforests to tiny desert islands.
Their mission is simple – to use the specialist knowledge built up from innumerable journeys around the globe to instill in their guests love of travel as voracious as their own. Their experts know their destinations inside out, from unique experiences to the hottest hotels (and everything in between).
Signify, formerly Philips Lighting, is the world leader in lighting for professionals, consumers, and the Internet of Things.
Signify isn't just a lighting company—they help you navigate stores, use office space more efficiently, and develop actionable insights to improve energy usage through their IoT services. Their culture of continuous learning and commitment to diversity and inclusion creates an environment that allows you to build your skills and career.
Signify ensures their 32,000 employees across 70 countries have endless opportunities through continued innovation. Their global brands include Philips, Interact, Philips HUE, Color Kinetics, Wiz, and Cooper Lighting Solutions, a business unit of Signify.
Together they have a shared purpose of unlocking the extraordinary potential of light for brighter lives and a better world.
In 1971, Tom Shane decided to start his own jewelry business. He incorporated his father's and grandfather's commitment to quality, value, and customer service and offered customers a unique educational opportunity.
His vision was to ensure that all of their customers had enough knowledge about their jewelry options to make truly informed purchasing decisions. Since those early days, the Shane Co. has grown tremendously. Yet as we grow, some elements of Shane Co. remain constant:
Shane Co buys their diamonds and other gems firsthand, directly from the cutters in Antwerp, Tel Aviv, Bangkok, and Mumbai. They provide a 60-day Refund & Exchange Guarantee.
Slickdeals is the only shopping platform powered by millions of avid shoppers, where real people interact to share the most up-to-date information on online shopping deals and coupons.
Through the power of crowdsourcing, Slickdeals has saved members more than $10 billion by providing a forum for communication, as well as shopping tools such as its free Android or iOS apps and its browser extension for Chrome and Edge. Slickdeals consistently ranks in the Top 100 most visited sites in the U.S. per Alexa.
Snap Inc. is a camera company. At Snap, we believe that reinventing the camera represents their greatest opportunity to improve the way people live and communicate.
Snap contributes to human progress by empowering people to express themselves, live in the moment, learn about the world, and have fun together.
State Street Corporation is one of the world's leading providers of financial services to institutional investors, including investment servicing, investment management and investment research and trading.
State Street is a global company with diverse people and experiences and a network of more than 39,000 employees spanning more than 100 markets - are responsible for more than 10 percent of the world's total assets.
Their financial technology, insights, and solutions help clients safeguard and steward the investments of millions of people – strengthening markets, building communities, and creating growth opportunities.
State Street is challenging business as usual, from championing gender, racial and ethnic diversity in corporate leadership to leading the conversation on climate change risk.
Sumitovant is the parent company of five biopharmaceutical companies: Myovant, Urovant, Enzyvant, Altavant, and Spirovant.
Their companies have a robust pipeline of innovative drug treatments targeting various diseases. With a technology-enabled approach to drug discovery, development and commercialization, they remove friction from the process of bringing promising new compounds to market.
Sumitovant's Digital Innovation approach integrates key skill sets, data sets and analytic tools to provide real answers to pharma's most critical questions.
With our tech-enabled approach to drug discovery, development and commercialization, we remove friction and accelerate every aspect of the process to bring promising new compounds to market.
We're a plant-forward food company with a vision for a healthier tomorrow, and we're only just getting started. As they continue building, it's their priority to nurture talent from restaurants to their support center, so everyone can be part of the movement.
And the best thing? When you join Sweetgreen, you don't just grow your own future—you grow the planet's.
Tandem Diabetes Care, Inc. is a medical device company dedicated to improving the lives of people with diabetes through relentless innovation and revolutionary customer experience.
Tandem takes an innovative, user-centric approach to the design, development, and commercialization of products for people with diabetes who use insulin.
Tandem manufactures and sells the t:slim X2 insulin pump with Control-IQ technology. The t:slim X2 Pump is capable of remote feature updates using a personal computer.
TELUS International designs, builds, and delivers next-generation digital solutions to enhance the customer experience (CX) for global and disruptive brands.
The company's services support the full lifecycle of its clients' digital transformation journeys, enabling them to more quickly embrace next-generation digital technologies to deliver better business outcomes.
TELUS International's integrated solutions span digital strategy, innovation, consulting and design, IT lifecycle including managed solutions, intelligent automation and end-to-end AI data solutions including computer vision capabilities, and omnichannel CX and trust and safety solutions including content moderation.
Fueling all stages of company growth, TELUS International partners with brands across high growth industry verticals, including tech and games, communications and media, eCommerce and fintech, healthcare, and travel and hospitality.
Tinuiti is the largest independent performance marketing firm across Streaming TV and the Triopoly of Google, Facebook and Amazon, with $3 billion in digital media under management and over 1,000 employees.
With expert knowledge in search, social, Amazon & marketplaces, mobile apps, CRM & email marketing and more, Tinuiti understands success requires both strategy and channel specialization.
Each solution is delivered leveraging Tinuiti's performance planning framework, GAMMA, and enabled by a proprietary suite of marketing intelligence and media activation technology – Mobius.
Trader Interactive is the leading provider of online marketplaces and digital marketing products serving the lifestyle vehicles and commercial equipment segments. Some of their brands include RV Trader, Cycle Trader, Commercial Truck Trader, and Equipment Trader.
Collectively, Trader Interactive reaches a broad base of consumers with over 7 million monthly unique visitors through their online marketplaces, power thousands of dealer websites, and offers smart tools to assist dealers in more effectively running their businesses and serving their customers.
Recognized in 2020 by FastCo as one of the world's most innovative companies, Trove powers resale for the world's most inspired brands and retailers.
Trove provides brands with the technology and logistics to own the secondary market for their products. With white-label capabilities, their partners reap the rewards of managing the resale market by accelerating long-term revenue, increasing customer loyalty, gaining new customers, and boosting store and site traffic.
Resale is a revenue and customer engagement opportunity growing at five times the rate of e-commerce and 21 times the rate of traditional retail. They power in-store and online retail for leaders such as Patagonia, REI, Eileen Fisher, Arc'teryx, Lululemon, and Levi's.
UBS works with individuals, families, institutions, and corporations around the world to help answer some of life's questions – whether through award-winning wealth management advisory, investment banking and asset management expertise, or private and corporate banking services in Switzerland.
UBS is a team of more than 66,000 colleagues, collaborating across all major financial centers in 50 countries. They strive for excellence in everything we do, which has awarded us recognition across their businesses.
UBS offers a collaborative, international, and diverse working environment that rewards passion, commitment, and success – and are regularly recognized as an attractive employer.
At Under Armour, they look for the curious and innovative. Those who want to accelerate their ambitions and create freely and passionately. As part of the Under Armour team, you'll work with people ready to help you reach higher, grow your potential, and do more.
They value every experience, perspective, and skill. That's how they consistently push boundaries and make the things that make athletes legendary—all while bringing their shared mission of helping everyone in their pursuit of better.
Upstream is the leading national provider of outpatient physical and occupational therapy services, as well as practice management services.
Upstream offers a unique suite of services, including free-standing physical therapy clinics, outpatient rehabilitation management services, and a member network of rehabilitation service providers. Upstream is one of the largest and fastest-growing providers in the outpatient rehabilitation market.
Upstream offers a full range of customized services that are unrivaled in the industry, with a distinct focus on clinical excellence, extraordinary service, and superior patient outcomes.
Vitech is a global provider of cloud-based benefit and investment administration software. They help our clients expand their offerings and capabilities, streamline their operations, gain analytical insights, and transform their engagement models.
Vitech employs over 1,300 professionals serving over 100 of the world's most successful insurance, retirement and investment organizations. An innovator and visionary, Vitech has been recognized by Celent as a three-time XCelent award winner.
Their global headquarters are in New York City, and we employ professionals across the world in cities including Toronto, Chicago, Los Angeles, San Francisco, Oklahoma City, Washington D.C., Atlanta, Dublin, Paris, London, and Zurich.
Visual Lease is the #1 lease optimization software provider. They help organizations become compliant with FASB, IFRS, and GASB lease accounting standards, while simultaneously improving the financial, legal, and operational performance of their leases.
Visual Lease is an established SaaS business with the heart of a startup. Their rapidly growing community of diverse and passionate people who love to learn, innovate, achieve excellence, and reach new heights.
At Vistar, we are industry leaders for a reason. They have perfected distribution logistics through their hard work and decades of experience while fostering a company centered around the customer, striving to make every contact with Vistar a positive experience.
With over 40 years of experience, we can proudly say Vistar is the number one national wholesale distributor in numerous industry segments, including Vending/OCS, Retail, Theatre/Concessions, Hospitality, Campus Retail, Office Supply & Corrections.
They don't just deliver great-tasting products; they help businesses thrive with services that exceed expectations. Vistar believes in forming lasting relationships with their customers and business partners, so they can grow together.
Unlike nearby urban schools with largely homogeneous student populations, Valor Collegiate Academies has sought and achieved a student population that is intentionally diverse by both income and race.
50% of Valor's students qualify for free or reduced lunch, and scholars come from 70+ schools. They have no racial majority: 31.3% of scholars are white, 22.2% Latino, 15.2% Black/African American, 14.2% Kurdish, 6% Middle Eastern Northern African, 5.6% Asian, 5.5% other. Nashville has the largest population of Kurdish people outside of Kurdistan.
To increase connectivity, awareness, and engagement, Valor has a family engagement to the team that provides translation services and opportunities for connection, specifically focusing on their Hispanic/Latino, Middle Eastern North African, Kurdish, and African American/Black populations.
Vox Media is the leading independent modern media company. Known for building the best media brands and the technology that enables them, we are committed to building a better future for the industry — and getting the future of media right.
Their portfolio features the most relevant and respected editorial properties across the biggest consumer categories, including: Vox, New York Magazine, The Verge, The Cut, Eater, Vulture, The Strategist, Polygon, SB Nation, Intelligencer, Curbed, Grub Street and Recode.
Off-platform, the Vox Media Podcast Network is one of the largest collections of popular podcasts spanning technology, news, pop culture, futurism, everything women are talking about, and more.
Vox Media Studios is the award-winning nonfiction production and distribution studio for multiple TV and streaming partners.
Western Union Company is a global leader in cross-border, cross-currency money movement. Their omnichannel platform connects the digital and physical worlds and makes it possible for consumers and businesses to send and receive money and make payments with speed, ease, and reliability.
With a global reach, Western Union moves money for the better, connecting family, friends, and businesses to enable financial inclusion and support economic growth.
Headquartered in Los Angeles, The Wonderful Company is a privately held $5 billion company dedicated to harvesting health around the world through its iconic consumer brands.
The company's 10,000 employees worldwide are committed to bringing consumers everywhere the freshest, most wholesome pistachios, citrus and pomegranates; bottling the finest water and wines; and creating colorful bouquets that are sure to touch the heart.
This commitment is reflected in the company's market share: Wonderful Pistachios® is America's No. 1 tree nut and America's fastest-growing snack; Wonderful® Halos® is the No. 1 mandarin orange in America; POM Wonderful® is the No. 1 100% pomegranate brand in America; FIJI® Water is America's No. 1 premium imported bottled water brand; JUSTIN® Wine has the No. 1 Cabernet Sauvignon in California; and Teleflora® is the world's leading floral delivery service.
Yousician is the largest and fastest-growing music education company in the world, with millions of users worldwide.
Headquartered in Helsinki, Finland with an office in New York, USA, Yousician develops high-tech interactive software for learning guitar, piano, bass, vocals, and ukulele.
Yousician provides real-time feedback on how you're playing, combining the addictive features of computer games with songs and exercises to make the learning process easy, fun, and motivating.
ZF is a global technology company supplying systems for passenger cars, commercial vehicles and industrial technology, enabling the next generation of mobility.
ZF allows vehicles to see, think and act. In the four technology domains of Vehicle Motion Control, Integrated Safety, Automated Driving, and Electric Mobility, ZF offers comprehensive product and software solutions for established vehicle manufacturers and newly emerging transport and mobility service providers.
ZF electrifies a wide range of vehicle types. With its products, the company contributes to reducing emissions, protecting the climate, and enhancing safe mobility.