Top 5 Ways Companies Can Better Support Caregivers

Mogul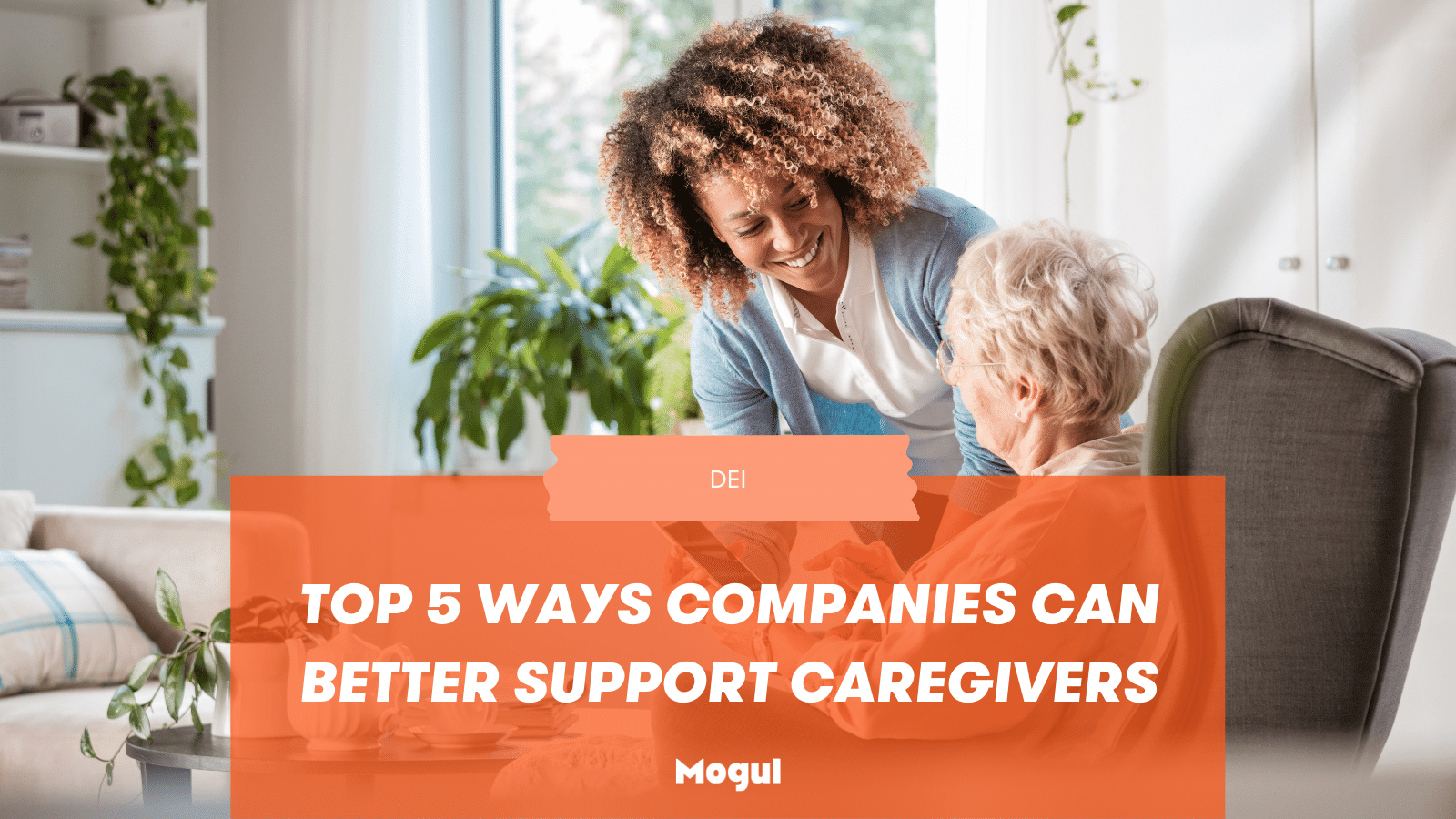 Written in collaboration with Mogul Premium Member Michelle Chaffee

One out of four women report stalling their careers or leaving the workforce due to the effects of COVID-19.
The pandemic disproportionately affected women, especially women of color, and erased much of the equality progress made in the previous five years.
Data from Mckinsey and Lean In's Women in the Workplace report shows that more women are leaving the workforce than men for the first time in six years.


Why are women leaving the workforce?
Women cite lack of paid leave and the high cost of childcare as two main drivers.
According to the CDC, two-thirds of caregivers in the US workforce are women. The 2019 Kaiser Family Foundation survey shows that only 25 percent of employers offer paid leave to employees.
Additionally, the Society of Human Resource Management survey from the same year indicates that only four percent of employers provide subsidized child care programs.
With the stall of women in the workforce, we see just how vital caregiving is to our economy.
Our current system causes unnecessary pressure on caregivers. Far too many employees feel forced into choosing between building a career or caring for loved ones.
Organizations are now losing top talent due to outdated workplace policies that no longer match the unique needs of caregivers.
We need to update how employers support caregivers and create a system that helps employees unlock their greatest potential.


1. Amplify employee resources

For a support strategy to be effective, companies should look for solutions at every stage of the caregivers' journey.
Companies can pull together resources and create an online information portal to make it easier for an employee to manage the challenges that lie ahead.
There are several online Professional Employer Organizations (PEOs) that offer dedicated sections for caregivers. These portals often provide:
Free medical and dental negotiation services.
Access to daycare in their area.
Confidential counseling.
Guidance on navigating a health crisis.
Information about living transitions.
Many employees find themselves abruptly thrown into a caregiving situation, sometimes overnight.
If more employees are aware of available resources, it can dramatically diminish the initial stress of caregiving responsibilities.


2. Leverage Employee Resource Groups

Employee resource groups are employee-led groups that foster an inclusive workplace.
ERGs are often led by employees who share similar gender, background, religious affiliation, or lifestyle and can be a powerful ally for caregivers.
They can provide caregivers with a support network of other caregivers to share experiences, stories, and support.
ERGs also give voice to caregivers to better understand their challenges in real-time.
Developing programs is not a one-size-fits-all solution because many caregivers have their own unique needs.
When companies look to create new workplace policies, ERGs can be leveraged to find out what the caregivers in their organization specifically need to balance work and life successfully.


3. Extend paid time off
One policy to implement is unlimited paid time off to allow working families more flexibility.
Currently, only 5 percent of companies offer unlimited PTO. The average American worker only gets ten vacation days a year.
Unlimited PTO has shown to increase employee productivity, creativity, and overall well-being.
This may not be possible for every organization. For example, wage workers earn vacation as compensation based on working hours. But this can be implemented for any salaried employee.
And, it makes financial sense for employers. Unlimited PTO saves companies money by not being responsible for paying for employees' vacation days.
There is no accrual of time off, so the employer is not obligated to compensate for time owed if an employee leaves.


4. Provide flexible schedules
One of the most important lessons we've learned from the mainstream adoption of remote and hybrid work is that personalization and autonomy are key for retaining top talent.
Flexible schedules allow caregivers the space in their day to ensure family comes first.
This allows parents to help their children with school work, and caregivers of aging loved ones the flexibility to visit a loved one in assisted living.
Today, it's crucial for managers to consider each employee's needs and build schedules that fit their day-to-day lives.


5. Help caregivers prioritize self-care
Developing a system that works for employers and employees is a continuous collaboration.
For employees to be effective at caregiving, they need to prioritize their own physical and emotional health. It's up to company leaders to let employees know it's ok to ask for help.
Asking for help is difficult for many of us, but employers must empower caregivers to prioritize self-care.
Many employees in caregiver roles don't want to feel like a burden to their employers or colleagues, so they elect to push through the difficult times.
But that mindset can catch up quickly and lead to burnout.
Caregivers experiencing burnout is not only detrimental to their productivity, but a lapse in judgment could put whom they're caring for at risk.
Organizations need to train their leaders to spot burnout and make sure caregivers take care of themselves first.


The future of caregivers and work
We need a cultural and systemic shift to move toward sustainable change.
While companies doing their part to expand caregiving policies is a great start, ultimately, real change begins by modeling different behavior for our children so future generations share caregiving duties more equally.
A leadership team that understands what the employee is facing and acknowledges the hardship will create a culture of loyalty and trust.
Organizations that provide resources for caregivers will see the benefits of a more productive workforce and a higher retention rate.


About Michelle Chaffee
This article was written in collaboration with Mogul Premium Member Michelle Chaffee. Michelle Chaffee is a healthcare professional, technology entrepreneur, military mom, wife, and caregiver. She is passionate about transforming the way care is delivered both inside and outside the healthcare system and the need to support working caregivers and the companies that depend on them to prosper and grow.