5 Ways You Can Support Veterans in the Workplace

Mogul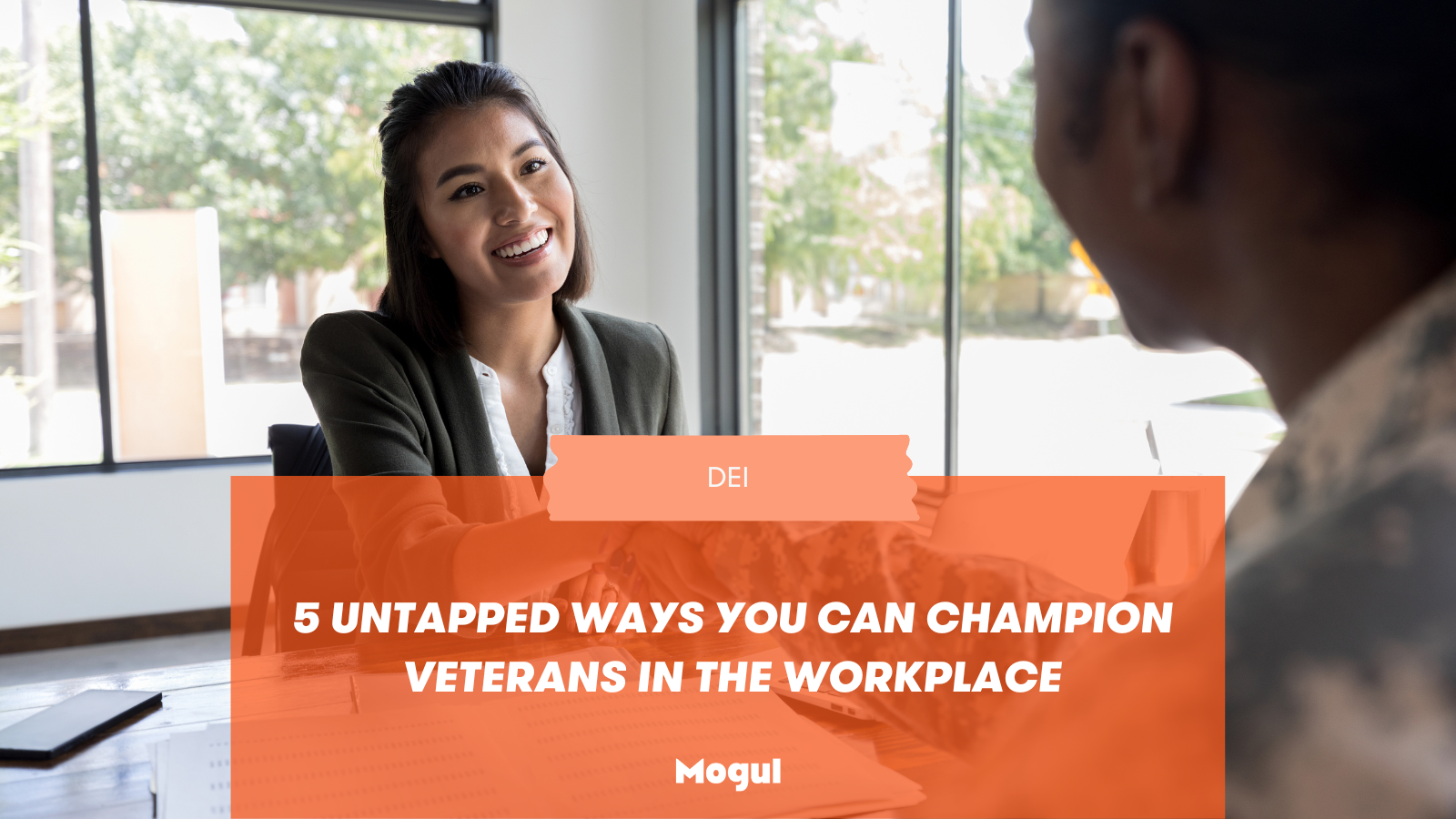 Veterans are natural team players. They are organized, disciplined, and encompass an unmatched work ethic.
Returning from military life and joining the workforce can be a tough transition.
Over 200,000 veterans leave military service every year and return to their families and communities. Today, veterans in the workplace represent 5.6% of the total workforce.
As employers, supporting veterans in the workplace should be a standard part of your DEIB practices.
So whether you're looking to hire veterans or retain them, here are five ways to ensure they can thrive in your company.
Hire purposefully
When sourcing veterans for your workplace, personalization is key.
Develop military-friendly messaging when reaching out to veterans with a cold outreach email.
Emphasize that veterans' strengths are what you're looking for.
Talk about company benefits for military family members.
Explain how your company has initiatives and systems in place to provide support.
An employee referral program is a great way to get veterans in your hiring pipeline. Incentivize your current employees to reach out to the veterans in their network.
Realize that veterans may have never created a resume before and will not have a long work history. You may need to adjust your sourcing criteria to ensure veterans are not being filtered out.
Set clear goals
When veterans struggle in the workplace, it's often due to a lack of direction.
The military is very prescriptive. Veterans are used to clear goals and expectations.

Your goal as a leader is to find ways to connect everyday responsibilities to the organization's purpose.
Everyone on your team will benefit from increased clarity on the why behind their responsibilities and how they impact the company.
Go one step further by explaining how their contributions impact customers, citizens, and the world. Veterans thrive on being a part of a bigger purpose.
Be empathetic of military life
Military life and civilian life are different culturally.
Educate managers and leaders about military culture if you're hiring veterans for the first time.
Be aware that veterans are used to directing communication and may not be accustomed to the nuances and lingo of office life.
Keep in mind that a casual tone in the office while talking about current events or politics can come across as crass and deeply offensive to a veteran who, quite literally, was on the front lines of real-world issues.
Veterans have a lot to adapt to in civilian life, and you must be ready to meet them halfway. The key is to being aware that there will be inevitable culture and communication gaps and being prepared to provide any needed education.
Create a military support ERG
Creating a veteran-specific employee resource group (ERG) will give your veteran employees space and community just for them. It is a great way to provide veterans with dedicated learning opportunities to support their transition.
Another support you can provide comes in the form of benefits, including:
Military childcare
Upskill and training courses
Military family support
Military therapy
Mentor/mentee opportunities
If you haven't yet set up your first employee resource group, or are unsure how to properly support incoming veterans with an ERG, read our step-by-step deep dive on 7 Ways to Build Employee Resource Groups.
Give back to your community
Veterans thrive in service. Giving back to the community is another way to instill purpose in veteran employees.
This is a great opportunity to collaborate with your veteran employees and uncover what social impact initiatives inspire them.
Do some research for social impact opportunities in your area and present ideas to your veteran employees. Encourage them to take on leadership roles to help expand their skills.
Community impact programs are good for the community, good for your company brand, and good for your employees.
Be a champion for our heroes
Transitioning back to civilian life is extremely difficult for many veterans.
Making your company inclusive to veterans allows you to expand your hiring talent pool with untapped, high-quality talent.
A veteran that feels empowered to be their authentic self will be loyal to your company, just as they were devoted to our country. They will be valuable members of your team.
Making your workplace inclusive to veterans is another step closer to making our workplaces inclusive to all.
For more posts like this, subscribe to Mogul Resources.