5 Unstoppable Ways Community Can Accelerate Your Career

Mogul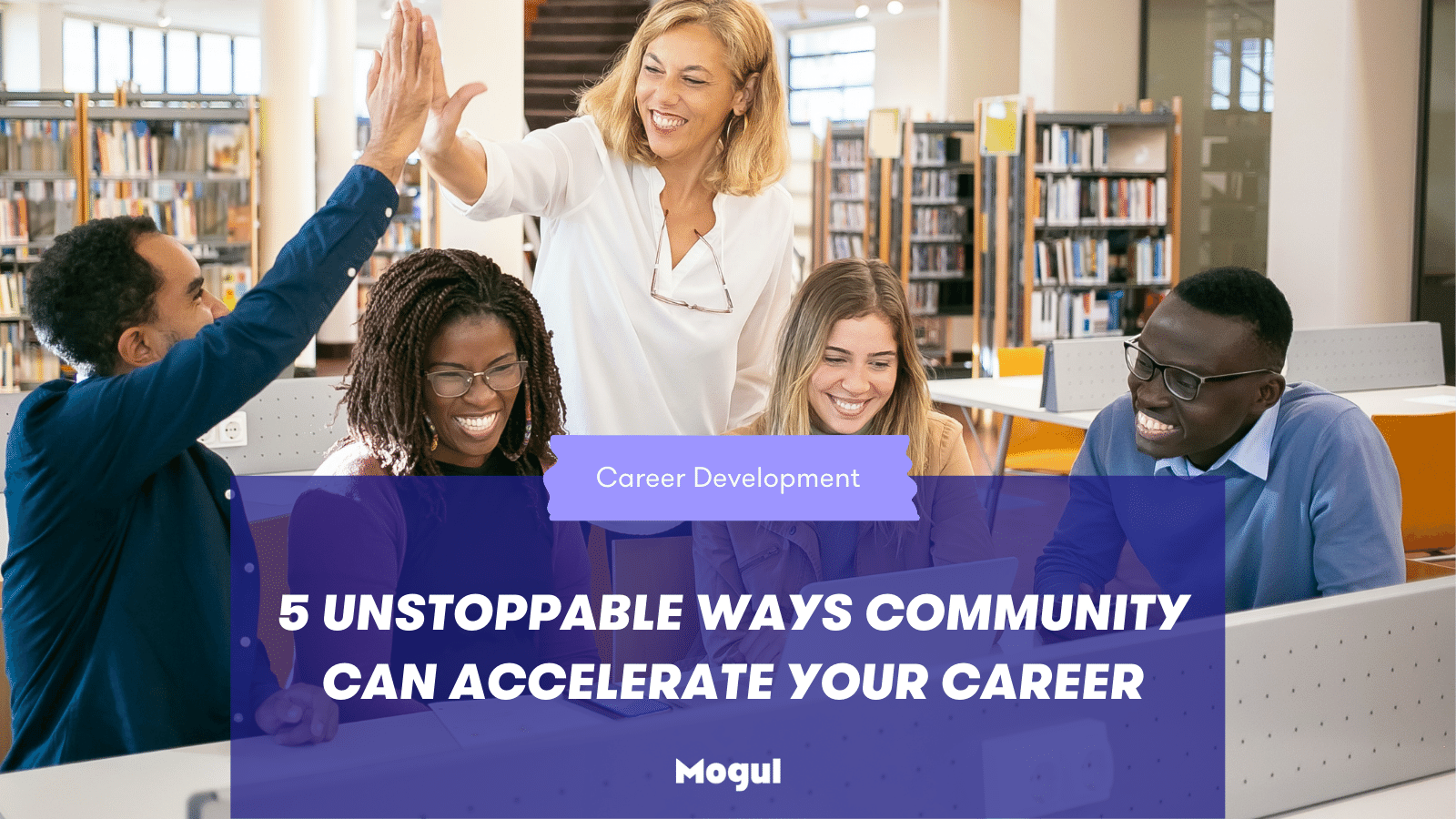 Hi, my name is Nicki. I'm the VP of Global Community for Mogul. I'll be honest, I think I have the best job here at Mogul.
Why?
Because I get to speak with every new Mogul member to learn about their goals and career aspirations.
When I ask about their primary motivation for joining our professional community, there's one answer I hear the most. Members say, "I want to be part of a network where I can learn from others, grow in my career, and help others grow in theirs."
Community is all about reciprocity. Leveraging a community can accelerate your growth if you want to build your professional brand. A community succeeds together when they help each other grow and thrive.
A community can help expand your network, advance your career, and be the platform that helps you make your impact. Let me share with you how.
You Get to Learn From the Best
For any premium community, it all comes down to access.
A premium community can give you access to thought leaders and other successful professionals who can provide you with genuine feedback and support.
A community is a safe space to ask questions that perhaps you wouldn't feel comfortable asking colleagues.
For example, let's say that a colleague speaks to you a little too casually during one-on-one video calls, making you feel uncomfortable.
In this case, you could write a post in the community asking other leaders to offer advice on what you can say in those situations or who you should speak with to address the encounters safely.
Asking questions or engaging in another member's post can lead to continuing the conversation in your DMs. Which ultimately can lead to finding alignment and spark the beginning of a new collaboration - just imagine the potential.
You Can Discover Your Next Opportunity
Large recruiting platforms like Indeed, LinkedIn, or AngelList have a few problems: large and saturated communities where specific demographics get hired more than others.
With premium communities, opportunities are vetted for members. This means that companies often share job opportunities you can't find on any other platform.
For example, our corporate partners know that Mogul is the go-to talent acquisition platform for diverse professionals, so they will post available jobs where they specifically want to hire a diverse candidate.
From wage-level to board-level, a premium community gives you side-door access to something that will accelerate finding your next perfect-fit opportunity.
You Can Build Your Personal Brand
One of the best ways to build a professional brand for yourself is by showcasing your knowledge in the community.
Sharing your knowledge is a way to serve others, help them along in their journey, and demonstrate your skills.
Our CEO, Tiffany Pham, is a two-time best-selling author who often writes articles about ways executive leaders can be more inclusive within their organization. Her articles are in service to help others be more effective leaders. But they also help build her authority.
The best way to showcase your knowledge is to pick a topic you're an expert in and post it to the community as a way to provide value to others.
Continually posting helpful advice can accelerate the growth of your brand and help you become recognized as an industry thought leader.
This allows you to gain another avenue to distribute your thought leadership and further establish your credibility. It can also lead to you being offered speaker opportunities at future events.
We often have Mogul Premium members write a blog post in the community that sparks a discussion that leads to us featuring members in a virtual event.
You Can Expand Your Network
A premium community makes networking easier than ever before.
Historically, the hardest part of networking is finding the right event to go to, or who to speak with while you're there. In crowded ballrooms, you can spend all evening talking to a group of people just to find out there are no authentic connections or collaboration opportunities.
But private communities do the vetting for you.
Dropping somebody a cold DM in a premium community is much more acceptable than in saturated professional sites like LinkedIn and Twitter. You both are members, so you know you already share similar values.
My suggestion: feel empowered to write a message to someone from the community you admire and introduce yourself.
Share that you liked something they said in a recent webinar, or that you appreciate the blog they recently posted.
Once the conversation gets going, a great networking hack is to request a 15-minute video conference to meet and get to know each other. For bonus points, offer to send them five dollars so you both can share a coffee while you meet.
You Can Level Up Your Skills
Our world is moving so fast. That means continual learning is going to be critical to accelerating your career.
A premium community is one of the best places online to upskill because lessons are personalized for experts. There's no fluff because high-performing professionals like you are busy. So learning is fast and concise.
For example, we created Mogul Learning and Mogul Resources to provide world-class teachings you can't get anywhere else.
Topics include finding work-life balance for the busy professional, how to invest your money, how to find a mentor, public speaking 10, and how to fund your dream.
If you want to learn how to craft a compelling executive resume, become a board member, or overcome burnout, we've got deep dives on those too.
Unlock Your Greatest Potential
The above are just a few things you can accomplish when joining a premium community.
On behalf of the entire Mogul Premium community, I'd like to invite you to join and participate in the world's leading community for diverse professionals.
With your Mogul Premium membership, you will:
Gain instant access to an exclusive private network
Connect and collaborate with the world's most successful leaders
Level up your skills with our professional learning and development library
Attend world-class virtual events
Discover early access job opportunities
Accelerate the growth of your professional brand
Stay up to date with the latest DEI trends
Join Mogul Premium today and help unlock the world's greatest potential.