Driving Inclusion Within Your Full Talent Lifecycle

Mogul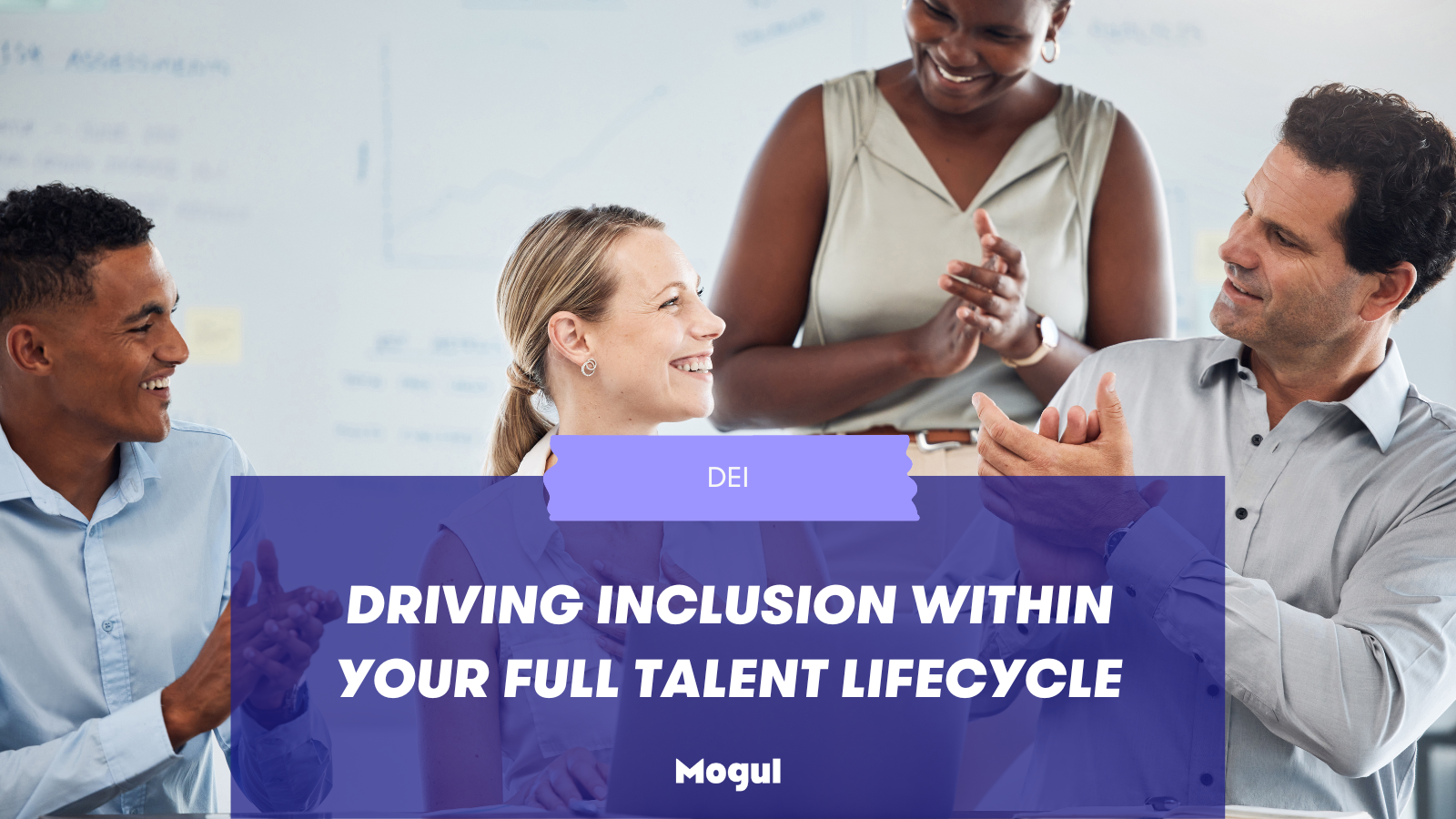 Inclusion is all about creating a work environment where employees can be authentic and provide their perspectives all while being valued by an organization.
We frequently hear diversity and inclusion mentioned together. But there is a noticeable lack of discussion surrounding inclusion itself.
So how can HR Leaders really drive inclusion throughout every step of the employee experience?
At our Mogul event "Driving Inclusion Within Your Full Talent Lifecycle", we were joined by the incredible Kate Migliaro, Principle, Talent Management & Organizational Effectiveness at Apollo Global Management, and our own equally incredible Cindi Boudreaux, Senior Partner Diversified Executive and Board Search.
We heard insights from these HR experts on how organizations can develop a talent lifecycle that highlights inclusion and makes employees feel like they are contributing their voices to the company culture.
Here are our takeaways from their discussion.


1. More Than Just a Number
Create a human-centered approach to how you think about DEIB.
Creating an inclusive culture is about providing psychological safety for employees. In turn, that safety empowers them to do their life's best work.
Understand that an inclusive culture is not only good for business but also for the well-being of your employees.
As leaders, you must spend time getting to know your employees. Learn about their background, family, and hobbies. Find out what makes them tick.
Once you do, leverage that knowledge to inspire and motivate your employees to buy into the company mission and become more than an employee, but an ambassador.


2. Make Diversity and Inclusion a Priority
Some companies treat diversity and inclusion goals as a separate initiative from their primary business objective. But that misses the point.
Embedding diversity and inclusion into your main company mission can innovate your business like nothing else.
A diverse workforce accelerates business growth. We wrote a deep dive about diversity and inclusion best practices, including the latest data on how it DEIB impacts business results. Read it here.


3. Turnover is Expensive. Retention Pays Dividends
It can cost over $4000 to replace a manager-level employee. That cost skyrockets the higher up the ladder you go.
The average worker only stays at a company for 1.3 years (down from roughly 2.5 pre-pandemic).
That revolving door of employees takes much-needed capital away from productivity, ultimately slowing down growth.
Employees typically leave because of their managers. The best thing you can do is listen to your employees and create a space where everyone can thrive.
Creating a culture of acceptance and transparency will make your employees more likely to stay. And retention is crucial for companies looking to grow past their competition.


4. Protect Your Culture.
Inclusion ultimately starts at the top. It's your job as a company leader to set expectations and keep everyone accountable.
You must be willing to confront issues that create a toxic work environment.
That does not mean calling people out mid-meeting.
Instead, develop a system where you can bring up issues without disregarding anyone's psychological safety.
When your team trusts that issues will be taken care of in a caring and effective manner, they will bring them up before they fester and become larger problems.


5. Inclusion Starts with Diversity
Here at Mogul, we help companies worldwide hire diverse talent faster.
Join organizations like Amazon, Expedia, and StandlyBlack&Decker, and source from our database of 494MM Mogul members.
Use patent-pending diversity-focused search filters. Access resumes and direct content info. Build candidate pipelines at light speed. All with no search limits.