Top 4 Employee Resource Group Event Ideas in 2022

Mogul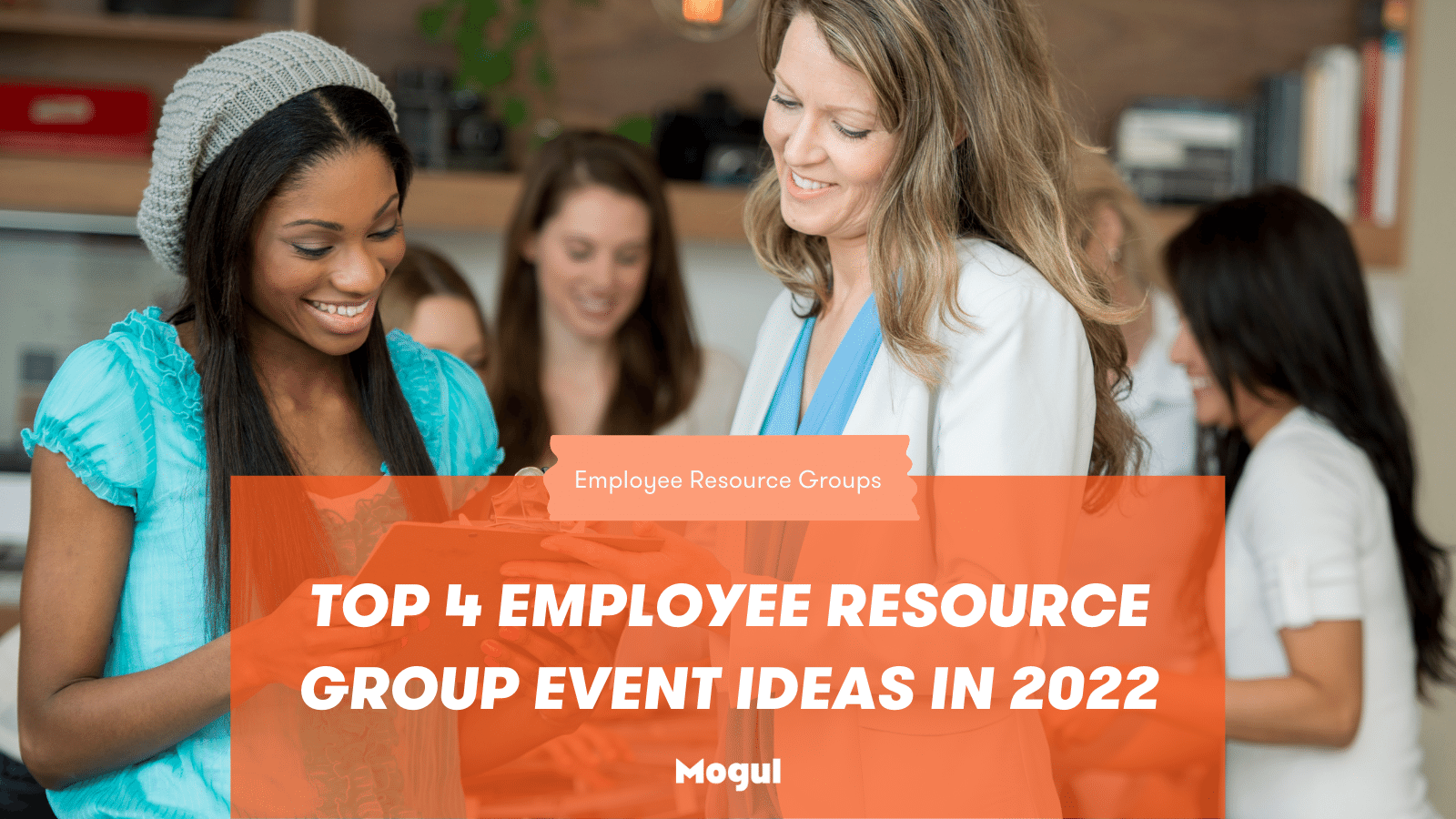 You just developed a new Employee Resource Group (ERG). You created the mission statement, received executive buy-in, and recruited your ERG leaders.
So what are the next steps?
The cornerstone of ERGs is educational events and mentorship support, whether it's hosting them or sponsoring your member's attendance.
The best ERG events are immersive, educational, and encourage participation. They should empower your members, capture the hearts of your allies, and emphasize the company's objectives.
So if you're unsure where to start, here are a few ideas.
Here at Mogul, we are proud to be the founder of International ERG Day. We created International ERG Day to celebrate and amplify the voices of ERGs globally.
Here are three event ideas to get the most out of your ERG.
Impact Your Community
There are many benefits to a community. Social impact and community events are usually in collaboration with volunteer programs, local town organizations, or the city council.
There are a number of different events your ERG can participate in:
Serve in homeless shelters

Volunteer support at local youth centers

Host a food drive, blood drive, or fundraiser

Coordinate a community street trash pick-up

Help raise awareness on key local issues
These types of events are a great way to let your local community know that you care about the world around you (and not just turning a profit).
To decide what community event to participate in, we suggest setting a meeting time for all members of your ERG to see what resonates with everyone.
Hold a member-wide vote. Then discuss member responsibilities, from outreach, promoting, to day-of-event leads.
Represent Your Diverse Consumers
The top executives understand how vital ERGs are for gaining deeper insights into the ever-evolving global consumer. An ERG can be a key asset for business growth and ensure that your products are created with inclusivity in mind.
According to the Society for Human Resource Management, 70% of organizations rely on ERGs to build a workforce that reflects the demographics of their customer base.
More than half of the companies with thoroughly developed diversity strategies use their ERGs to improve business in three ways.
They make sure employees feel valued and engaged by providing them with opportunities to own new initiatives.

They gather insight into who the company's customers are through a better understanding of what makes each one unique.

They provide knowledge about changes needed which can help guide future decision-making down a more profitable path
The way you utilize ERGs as a focus group will be dependent on your product offering. For instance, you can get together with product designers in brainstorming and feedback sessions.
ERGs are best leveraged like incubators for innovation because they can provide decision-makers with a broad perspective to help drive revenue-generating efforts for the company.
Provide Mentorship Opportunities
Ultimately, one of the best ways to support your DEI initiatives is by offering mentoring and career coaching as resources for your ERG.
Mentors act as trusted confidants who provide feedback on strengths or challenges while helping lead with their expertise. They also benefit from their personal and professional experience, and they can act as a gateway to new opportunities or connections.
The Harvard Business Review found that, on average, mentoring programs boost the representation of Black, Hispanic, and Asian-American women and Hispanic and Asian-American men by anywhere from 9% to 24%.
Additionally, a recent study by Heidrick & Struggles found that mentoring programs are especially important to women. 30% of women said their mentoring relationship was significant for their career advancement goals
When combined with other DEI efforts, coaching is a powerful and effective method that helps leaders and managers arrive at their own solutions instead of being told the steps they should take.
Conduct Career Development Events
Career development events are one of the best ways to recruit new employees, upskill current employees, and learn how to operate your ERG efficiently.
If you're doing an event in person, lunch and learning, guest speakers, or panel discussions are an exciting way to pull in a crowd. If you're hosting a virtual event, elect for a presentation or keynote speech.
These formats make learning the subject material easier for a virtual audience. If your keynote speaker brings slides as a visual aid or comes with a presentation that distills months' worth of learning material into 20 to 30 minutes, you can leave your audience with actionable takeaways.
To show how to structure your career development events, here's how we're planning this year's International ERG Day.
This year we're to host four sessions that will showcase how to get the most out of your ERG.
Session one is a deep dive into the evolution of ERGs and what's to come in 2022.

The second session takes a closer look into how to leverage ERGs during the talent acquisition process.
The third builds on the second to share best practices for launching and nurturing your own ERG.
The fourth and final session is on key metrics and measuring your ERGs impact.
Sessions one and two are panel discussions. Sessions three and four are presentations. Mixing up the format keeps attendees engaged and allows you to have a variety of speakers.
Get the Most Out of Your ERG
If you take the time to develop the perfect event to showcase your ERG and company's brand, you will unlock your workforce's greatest potential.
Join us on November 17th for International ERG Day and help us celebrate Employee Resource Groups all over the world.