Quick Quitting: The Latest Trend You Need to Know

Mogul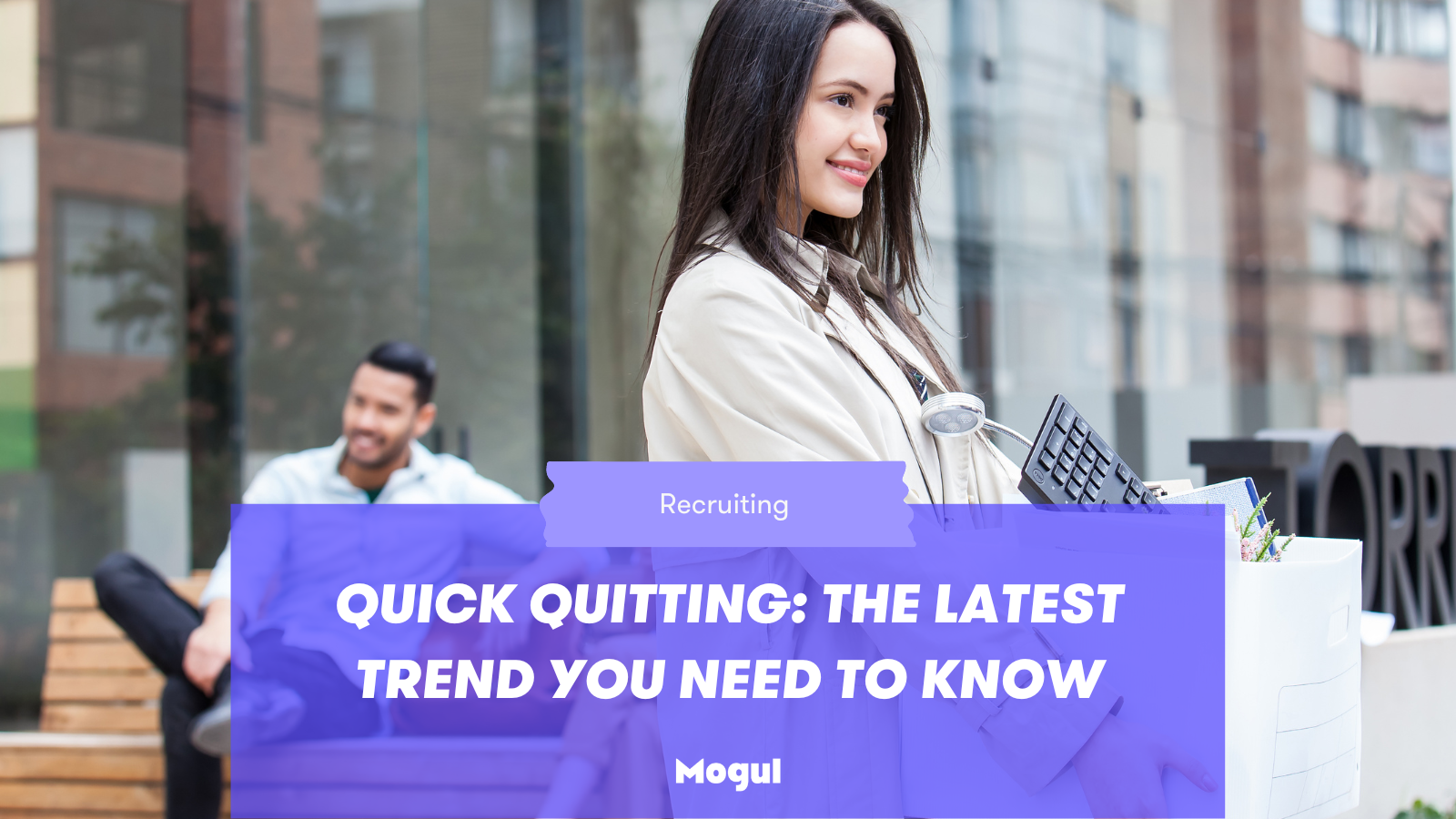 The Great Resignation was only the beginning.
It's reported that over 47 million Americans left their jobs in 2021.
That's an average of 3.98 million leaving the workforce every month from every industry –– peaking in November when 4.5 million decided working wasn't working for them.
The mass exit led to the U.S. workforce shedding 23.5% of the total workers in a single year.
Workers cited many reasons:
Wage stagnation amid the rising cost of living
Limited career advancement opportunities
Hostile work environments
Inflexible remote-work policies
Overall job dissatisfaction
But those who couldn't resign from their day job started the trend of Quiet Quitting: where employees don't outright quit their job, but "quit" the idea of going above and beyond for their employer.
Now we are seeing a new trend emerging in the workforce –– Quick Quitting.


What is Quick Quitting?
Today, employees are quitting faster than ever.
New LinkedIn data measuring short-term tenure rate shows more employees are resigning after holding a position for less than a year.
And it's not just individual contributors and managers quitting quickly. The recent data shows a 13% increase in VPs and above heading for the exits within their first year on the job.


What are the causes of Quick Quitting?
We see three main causes of Quick Quitting:
Lack of employee connection for remote and hybrid workers
Growing employee expectations for employers
Employees today expect a lot from their employers –– and rightfully so.
At the time of writing, there is a record high of two job openings for every eligible worker in the US. That means workers have a much easier time "Quick Quitting" job after job until they find one that matches their desires.
In today's globally competitive world, keeping your current and future employees engaged takes providing a first-class employment experience.
Here's how:


1. Send new hires a welcome video from senior leadership
First impressions mean everything.
We suggest recruiting a senior leader to record a personalized video welcoming your new hire before their start date (the sooner upon accepting employment, the better).
Have the senior leader take a moment to explain the company's mission and values and share their excitement to work together.
The video doesn't have to be longer than 30 seconds to a minute. But personalization is key.
A welcome video may seem small, but it will signal to your new hire that you value them as a professional and person.


2. Send an onboarding gift bag
It might seem minor, but gifts make a difference.
People love to be able to "wear" their new company on their sleeves.
Branded merch is a small investment that can go a long way in making someone feel connected and excited to hit the ground running.
Pro tip: Don't tell them a gift bag is on the way. Their surprise when the gift bag arrives will amplify their delight.


3. Find what motivates your new hires
Learning what motivates your employees is the "secret sauce" for unlocking your company's greatest potential.
During their first few days, aim to learn what inspires your new hire. Ask about their hobbies, family, or favorite foods.
Get to know them as unique individuals as you onboard them. (And make an effort to continue this relationship-building throughout their tenure.)
Learning about why people do what they do allows you to inspire them to do their life's best work.
Every person is different. But the diversity of motivations is what builds great companies. Remember, our diversity is what makes us thrive together.


4. Make it easy for new hires to connect
Many remote employees feel like they're working from an island. Especially for a new hire, the first 90 days can feel like nobody is around for support.
Research shows that people stay longer if they have a good friend at work.
Make a conscious effort to create those relationships early. Help new hires to build those early relationships by scheduling brief meet and greets with the entire company.
Make it a quick 15 to 30 minutes. Nothing too long that will overload their calendar.
If your organization is too large, schedule meetings with their immediate team.


5. Train your managers to engage often
We all know how crucial a manager's role is for employee retention.
Managers build rapport and show employees respect when they engage their direct reports outside their actual reporting.
Set aside the first 15 minutes of your one-on-one meetings to discuss life outside work.
Many workers feel the weight of corporate hierarchy. So it's important for managers to connect as people and get to know the person behind the computer screen.

Making good companies great
At Mogul, we help match workers with their perfect-fit employer, increasing employee engagement and employee retention.
Partnering with Mogul makes recruiting diverse talent easy. We provide you with the tools to demonstrate your DEIB initiatives to potential hires and give you access to recruit from our community of top diverse talent.
Learn about Mogul's talent acquisition platform and diversified search services.