How to Achieve Measurable Diversity, Equity, and Inclusion Progress

Mogul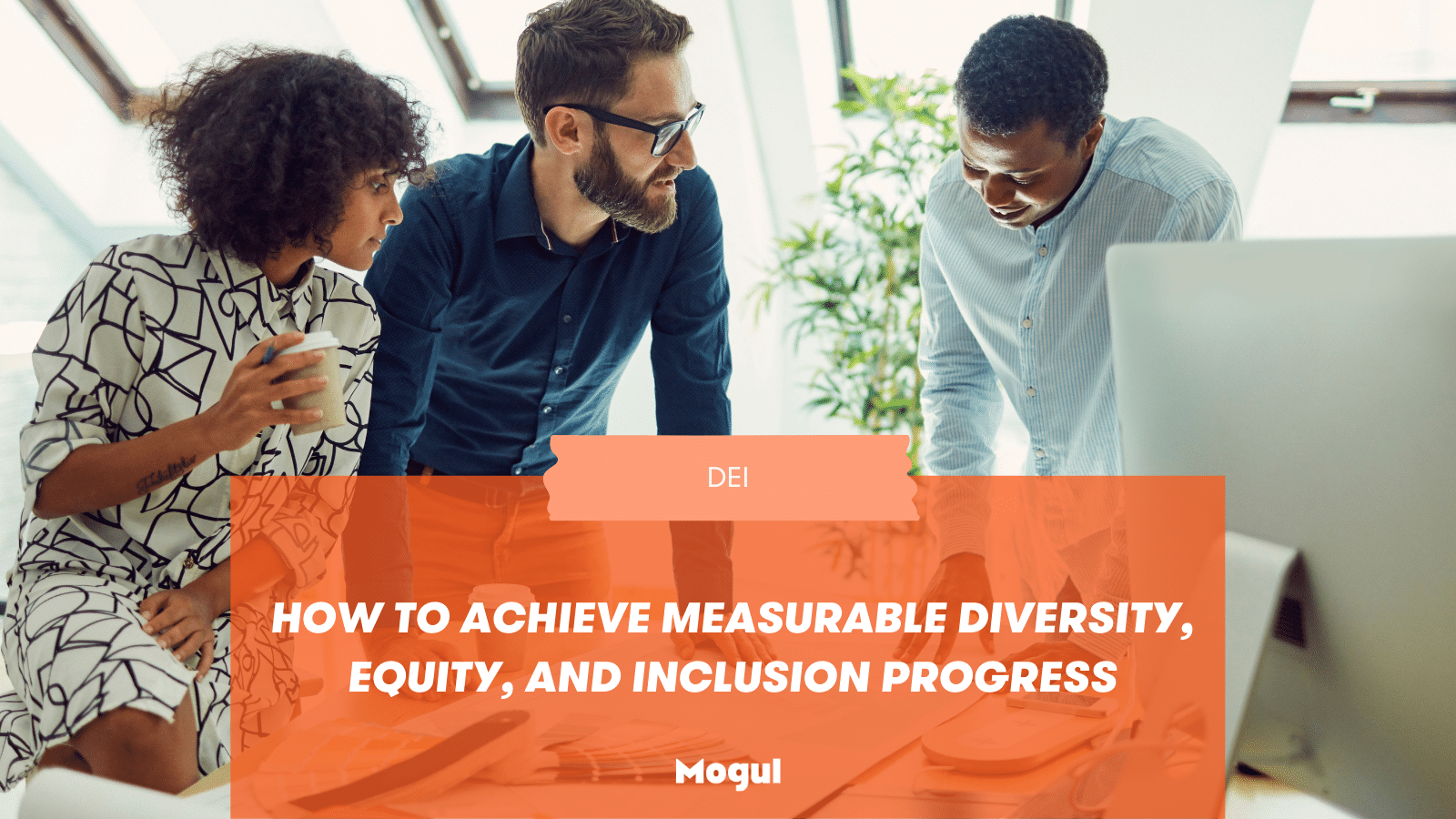 A company that puts a concerted effort into increasing diversity, promoting equity, and cultivating inclusion outperforms its competitors.
But many company leaders are unsure how to see tangible ROI from their DEI efforts. Achieving diversity is all about creating specific and measurable DEI goals.
At Mogul, we help the Fortune 1000 and fastest-growing organizations increase diverse talent in their hiring pipeline. Here are the metrics we look at when consulting with our corporate partners on DEI measures.
Diversity across functions and levels
Understanding the current makeup of your team is step one when measuring your DEI progress.
We suggest creating a three-column diversity chart. Split each row into entry-level, middle management, and senior leadership. Then gather the following information:
Column #1: race, gender, and sexual orientation.
Column #2: education, religion, and marital and caregiving status.
Column #3: job position and years with the organization
The three-column framework gives you a visual of the intersectional diversity within your organization and enables you to address specific needs across each level.
For example, if your individual contributors and middle management teams are diverse but leadership is not, this could be an opportunity to review how you promote from within. Or, if your organization as a whole lacks diversity, then likely the way you're attracting and sourcing talent is the issue. This leads us to metric number two.
Diversity in hiring pipeline vs diversity of employees
If your hiring pipeline is filled with diverse candidates but your employees skew toward a particular race or gender, you probably have bias in your hiring process.
In this case, audit your recruitment process step by step -- from how you're writing inclusive job descriptions to how you're conducting interviews -- and find where bias is seeping into your workflow.
If you find yourself struggling to have enough diversity in your pipeline, we suggest looking at where you're sourcing talent. Schedule a demo and let us help you find the right candidates faster by leveraging our diversity-focused software.
Overall job satisfaction
Satisfaction isn't synonymous with inclusion, but it can be a good gauge of employee sentiment on the matter. Keep up with how job satisfaction changes over time to analyze the effects of your inclusion efforts.
The easiest way to do so is through an annual survey. Here are ten questions that we suggest to our corporate partners use:
Rank our company's culture (between 1-5).
Do you feel connected to your coworkers?
How communicative is leadership?
Do managers value your feedback?
Do you feel valued for your work?
Do you feel management is transparent?
Do you find your work meaningful?
Does our company offer a clear road-map to promotions?
Does our company provide the necessary tools and training?
Do you feel your skills and abilities are being utilized properly?
These questions work well if answered on a scale of 1-5 or simply by having employees write their answers in a few short sentences. Make sure the survey is anonymous so everyone feels they can be open and honest with their feelings.
Employee retention
Attracting diverse talent is important, but it won't matter if you can't retain them. As a general rule, 90% is considered a good retention rate. If you're not retaining employees, here are the factors you want to watch out for:
Lack of training and development opportunities

Poor communication between leadership and contributors

Low staffing levels that aren't enough to cover the workload

A lack of recognition by managers when their work is done well

An inability to provide/receive feedback on performance issues

The need for more flexible working hours

High turnover costs associated with hiring and firing workers
Low retention is often due to more than one breakdown, so keep a close eye on how long employees stay. If you truly want to achieve measurable DEI progress, retaining diverse employees should be an ongoing priority.
Leverage Mogul's Talent Acquisition
If you're having difficulty achieving progress in your DEI initiatives, schedule a consultation with our team at Mogul now. We'll walk you through a demo of our innovative Talent Acquisition Platform to help you attract and hire top diverse talent worldwide.