How to Demonstrate Equity in Your Workplace

Mogul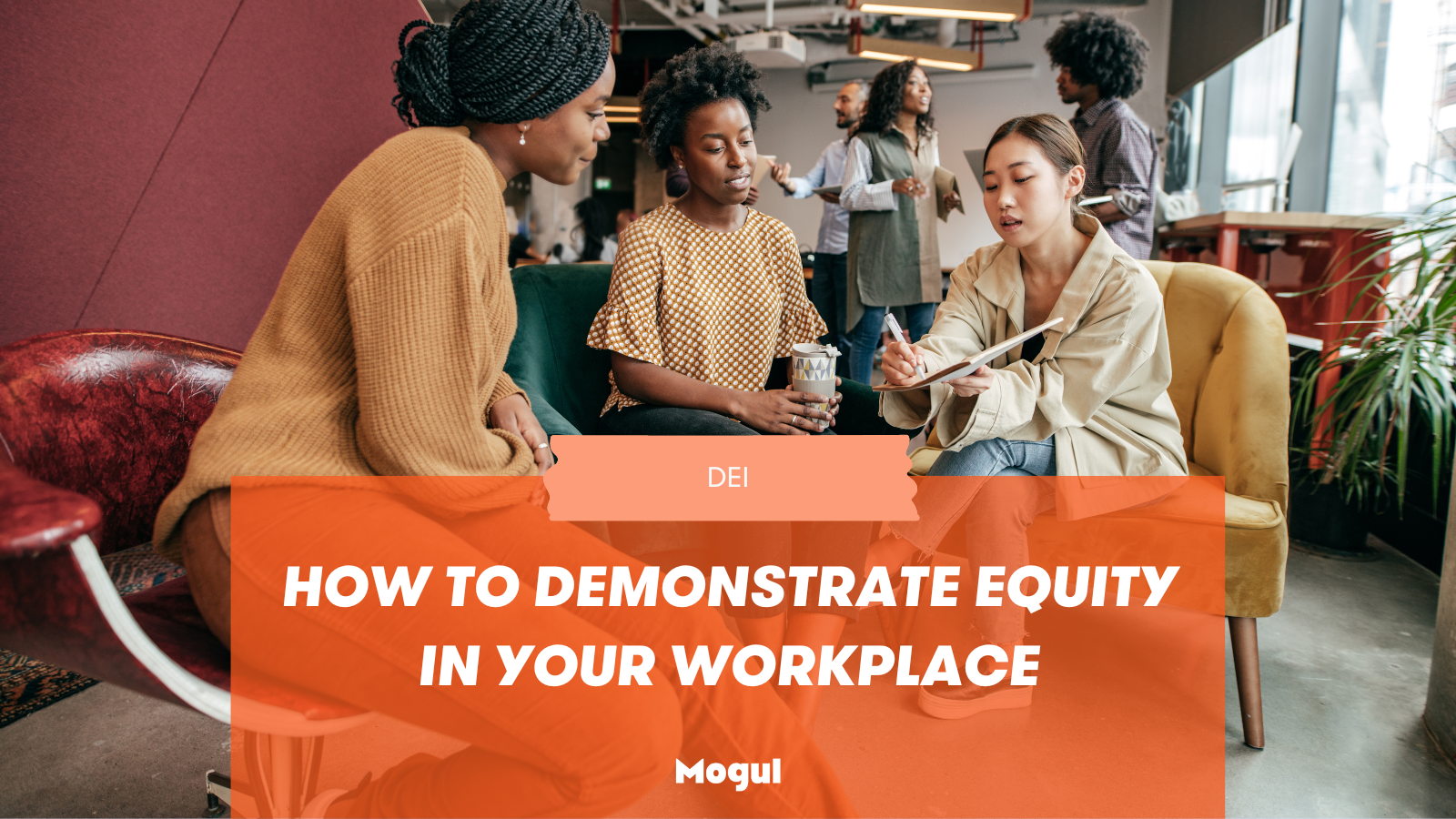 Lead with equity and unlock your employees' greatest potential
Equity is about opportunity. It's being seen for who you uniquely are and what you bring to the table.
To demonstrate equity is to provide systemic fairness in your workplace. If diversity is seeing yourself represented, then equity is giving a voice to that systemic fairness.
Diversity, Equity, Inclusion, and belonging (DEIB) are often discussed as a collective initiative. But they are anything but interchangeable.
While diversity is about representation and inclusion, fostering a sense of value and empowerment in employees, equity provides equal access and distributes resources based on individual needs.
For our latest Leading The Way webinar, we were thrilled to welcome Kiye Sakai and Josephine Moon from UBS to share their expertise on demonstrating equity in the workplace.
Here are our top five takeaways that you can use with your team today.
1. Equity begins with respect
We all have stories of a bad boss. Someone with a god-complex that treats employees like disposable workers – easily replaceable.
But true leaders respect their employees and willingly offer them a seat at the table.
Respecting an employee is to treat them as equals. It's respecting their expertise and the journey they've had leading up to their employment.
The best way to show respect to your employees is by listening.
Pay attention to their communication style. Recognize their strengths and acknowledge their accomplishments.
Value their time and understand their workload.
At the end of the day, treating them like professionals – with kindness and courtesy – goes a long way.
2. Understand your employees
The best leaders are curious. They have a healthy obsession with their employees.
Understanding your employees allows you to learn about what makes them tick. It enables you to inspire and empower them.
Understanding your employees is a prerequisite for your employees to thrive.
When you understand your employees, you can give them tasks that excite them. You can explain the why behind their work in a way that makes them come alive.
This is why taking time during 1:1 meetings to ask "get-to-know-you questions" is so important.
Be curious. Learn about their background, education, family, and hobbies. Make a concerted effort to learn more about what is stated on their resume.
Asking questions and getting to know employees ultimately builds trust.
Trust opens a mentor-like relationship and helps your employees know that you will be working side-by-side with them and always set them up for success.
3. Get data-driven
The next step in demonstrating equity in the workplace is to understand your metrics on the diversity of your company.
This will require collecting and analyzing your people data to assess the demographics of your organization.
Most organizations that track people data focus on middle management. But make sure you're including your leadership team.
Once you have the data, you can set benchmarks and metrics for the DEI goals you want to achieve.
We suggest tracking the following metrics:
The diversity of your applicant pool
The diversity of your hiring panel
Overall representation (gender and ethnicity)
Representation in leadership vs middle management
Job satisfaction (via employee survey)

Employee resource group (ERG) participation
It's difficult for a company to improve its DEIB strategies if they don't know where they're starting or what they're working toward.
Start tracking the above metrics to allow yourself to assign concise goals and develop accountability of your hiring managers and leadership team.
4. Transparency builds trust
A transparent leader is an effective leader.
Being transparent and actively listening eases people and helps them trust more when engaging with their leaders.
Transparency encourages a culture of communication and sharing. And when you're transparent, employees feel more engaged with their work.
Show transparency by explaining your decisions. Or walkthrough you're thinking when sharing new business initiatives.
As a leader, there are certainly times when it's important to keep information between members of company leadership.
But disclosing information, allowing employees to ask questions, and sharing business performance gives employees a sense of ownership of their work and builds trust within the company.
5. Invest in your employees
Today's top talent wants to know their employer cares about their personal and professional growth.
Investing time and resources in your employees have a host of benefits:
Cuts down on costly employee turnover

Easier to attract talent

Keeps employees engaged and motivated

Employees become brand ambassadors

Productivity and camaraderie increases
Consider sponsoring education opportunities for employees. Provide an annual education budget and advocate for employees to continually upgrade their skills.
Offer mentorship opportunities or create cross-functional collaborations.
The goal of your investment is to simply show your employees that working for you will enrich their careers and their lives.
Unlocking your workforce
We want to give a big thanks to Kiye Sakai and Josephine Moon from UBS.
To receive more post-event wrap-ups and resource articles right to your inbox, subscribe to Mogul Resources.
Already a subscriber? Join Mogul and let us help you unlock your greatest career potential with live access to our events.