5 Tips for Building Successful Teams

Mogul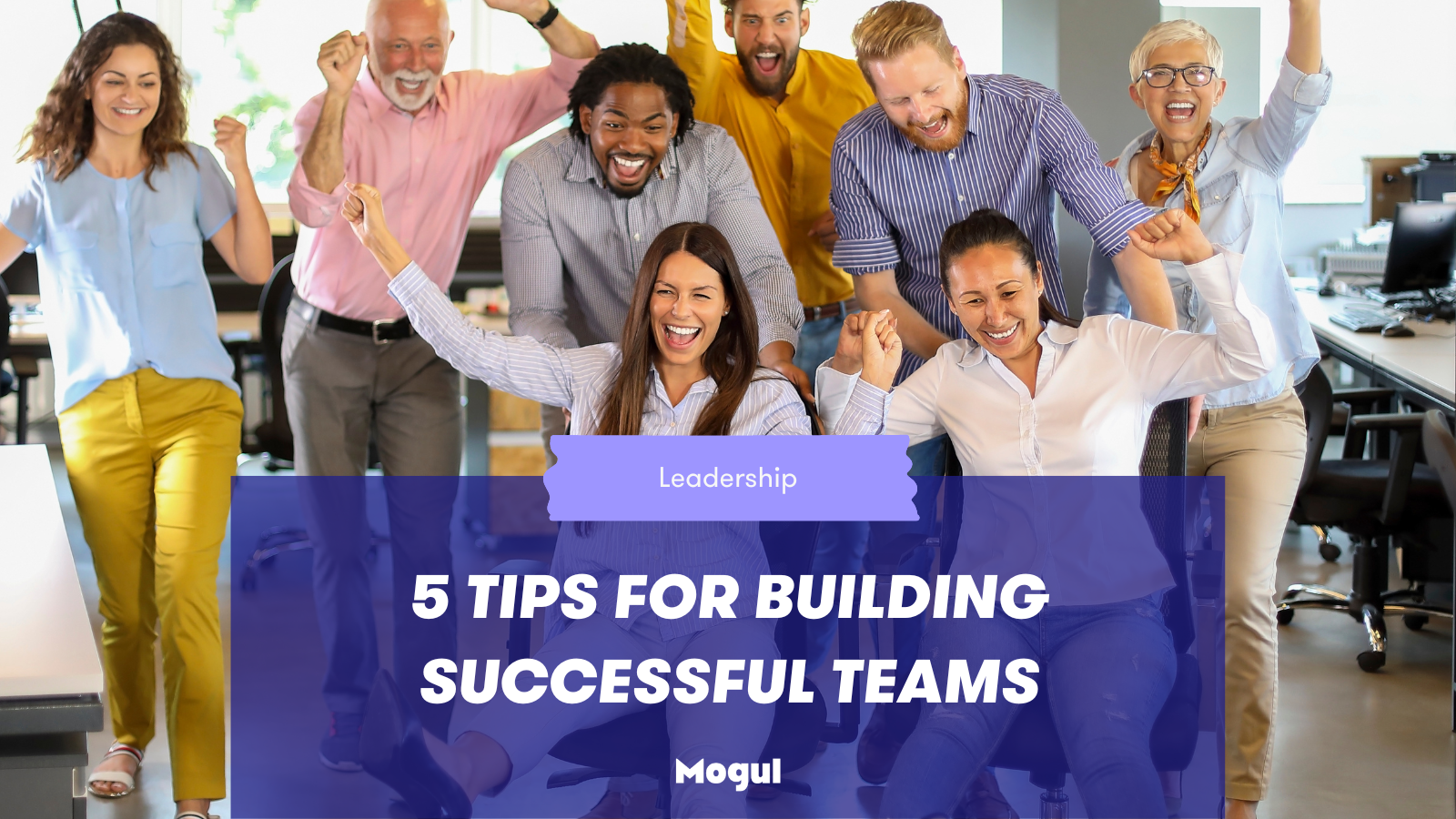 Growing a company and building successful teams are not the same.
Though you can scale a company with middle-of-the-road talent, all functions must progress toward the same goal when building a successful team.
At Mogul, we help companies like yours build better teams.
We built a state-of-the-art sourcing tool to access 430 million public profiles and scaled a white-glove diversified search service. So building successful teams is kind of our thing.
Here are our top five tips for building successful teams.
Hire for diversity
Hiring for diversity is no longer a "nice-to-have." It's now a business imperative. For any global company, diversity is the key to a successful team.
We've worked with over 500 companies and suggest seven no-fail diversity sourcing techniques to ensure your hiring process is competitive in a global market.
Earlier this year, we scoured the web and gathered the must-know data on how diversity in the workplace affects your business. If you need to convince anyone in your workplace of the importance of diversity hiring, those are the statistics you need to know.
Practice inclusion, equity, and belonging
It's one thing to be a diverse team. It's another to be an inclusive team.
Inclusion, equity, and belonging can sound like nebulous concepts. Sure, we want everyone to feel included. And we want workers to bring their authentic selves to work.
But how do you actually make DEIB a regular practice?
We answered that question in this article: How to Achieve Measurable Diversity, Equity, and Inclusion Progress
Set clear, company-wide goals
Company-wide goals are the key to being more efficient.
Companies operate optimally when leadership sets clear goals, decides how goals are delegated, and develops individual goals.
Knowing why the work matters make the work more meaningful. Setting clear goals allows individual contributors to understand how they contribute to overall company objectives.
When you set clear goals, your teams can focus on the work that actually matters. The goals should inform everything you do and report on.
Individuals with the company goal as a guiding star will have a better opportunity to see unique opportunities to make their work more impactful.
Keep everyone accountable
Even though there is a clear company hierarchy in a growing organization, remember that everyone has value to bring to the table.
Everyone should be held to the same standard, from the CEO to HR to middle management. If you don't, team camaraderie can unravel fast.
We suggest creating company values. In writing, explain your company values, how feedback is provided, and how everyone should speak to each other. Include how issues can be reported and handled in case the team becomes misaligned.
This is an effective way for HR to set the standard upon onboarding. And it helps new hires get on the same page faster.
Make time to learn about each other
With the abundance of remote-first companies today, getting to know your colleagues has become more difficult.
A remote team must consciously make time to spend time together.
At Mogul, we knew remote was the future and became a distributed team in 2019.
The core ten members who previously worked in the office certainly knew each other. But we were growing fast. So we needed a way to keep the collaborative spirit alive.
Enter the Slack initiative called a Donut.
Once a week, Slack randomly pairs colleagues from the organization for a 15-minute video call where they can have coffee (or a donut!) and get to know each other. They are purposely casual, and Donut even suggests conversation topics.
Donuts have become a crucial part of our company culture, and we suggest you give it a try.
Successful teams are more than a metric
Building a successful team is the culmination of people and products in lockstep throughout a long fiscal year.
With practice, patience, and inclusive leadership, you can build successful diverse teams that scale past your competition.
Want to learn more? Sign up to get our next resource articles right to your inbox.