Are You Using These Recruiting Time Management Techniques?

Mogul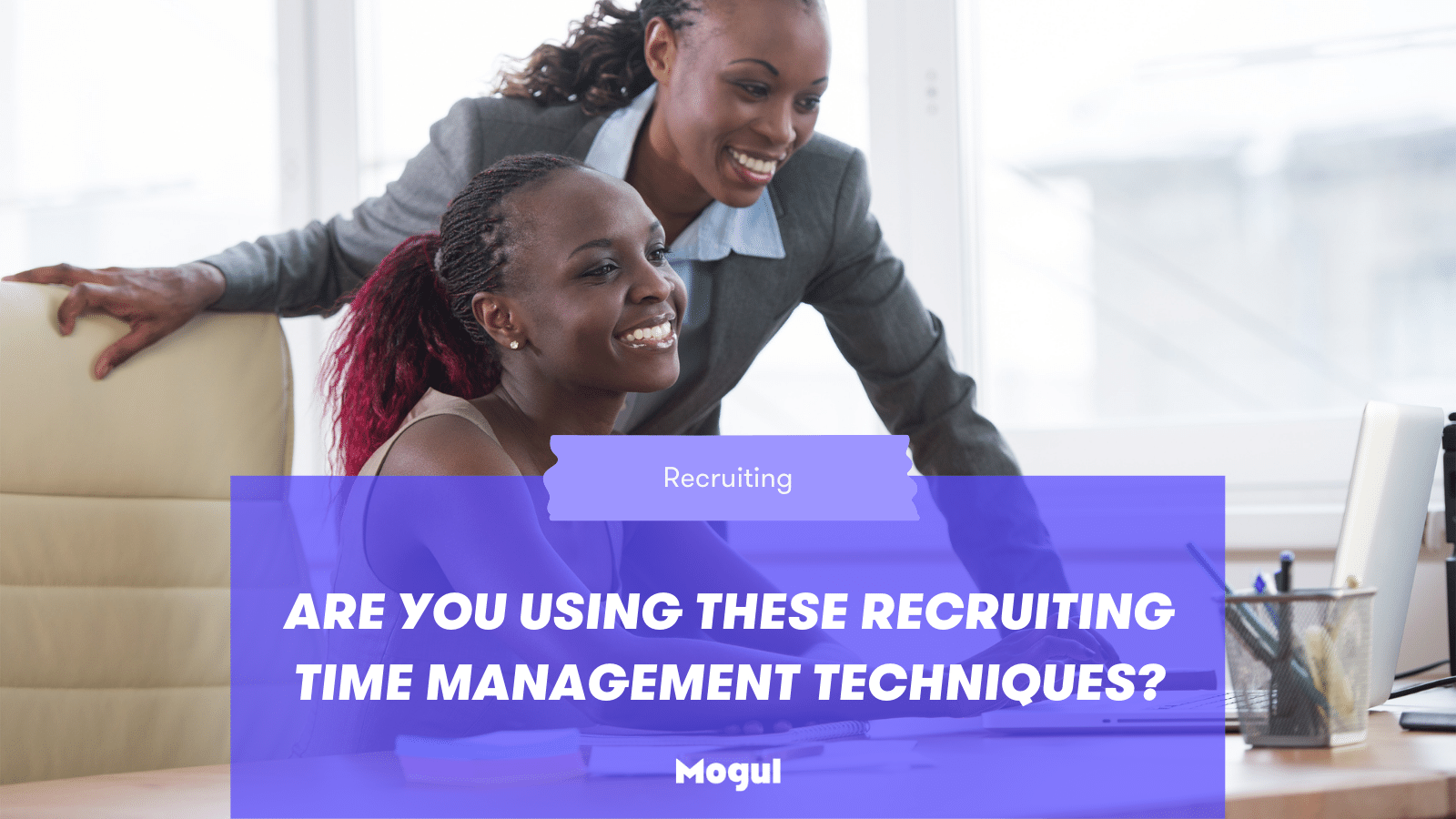 Let's face it, there are never enough hours in the day.
Between identifying hiring needs, sourcing candidates, conducting interviews, writing job descriptions, and pining for inbox-zero, you have a lot on your plate.
With so much to juggle, it can feel impossible to get everything done in a 40-hour workweek.
At Mogul, we work hard to help our clients streamline their recruiting process and maximize the returns on their time. That's why we created our Recruiter Tool.
Here are our tried and true techniques that will help accelerate your recruiting.


Measure What Matters
If you can't measure your work, it's impossible to find ways to innovate your process and make it more time-efficient.
Are you using the following metrics for your recruiting?
1. Time to fill
The average time to fill a position varies per industry, but a good rule of thumb is to expect roughly 42 days to fill a senior manager or above role.
It doesn't matter if you're above or below the time to fill average.
What matters is knowing the current state. That's what enables you to set tangible goals for your team and will inform every iteration of your process down the line.
Be wary of making the reduction of this number a goal - that can lead to cut corners and subpar results. Instead, allow its change over time to reveal the affects of your other optimization efforts.
2. Time-in-process
Time-in-process tracks a candidate's time in each hiring step: initial outreach, first contact, first interview, subsequent interviews, offer, acceptance, and onboarding.
You may find that the time from the offer letter to onboarding is taking longer than expected. Or you might have a robust interview process, but you're slow to source candidates (more on sourcing below!).
Time-in-process is a great way to get granular with each step, so you know where to start optimizing.
3. Interview to hire ratio
The interview to hire ratio is the time spent interviewing vs. how many candidates are being interviewed.
For example, let's say you interview five candidates before extending an offer. Your ratio is 5:1.
What's a good interview-to-hire ratio? It varies by department, but 5:1 is the average. You can consider 3:1 to be good.
You might be compelled to get your number down to 3:1 or 2:1 (or 1:1, for that matter). But the number of candidates you talk to matters less - what's important is that you're offering the job to the right candidate.
This ratio aims to empower you to better timeline your process by knowing your expected cadence of interviews before finding the perfect hire.
Is your number higher than average? That's a signal you may need to adjust your target candidate profile (more on that below).
4. Offer acceptance rate
Nothing is as deflating for a hiring manager as investing hours into a candidate and extending an offer, just to be turned down with a polite email.
If your offer acceptance rate is low, there are really only two things you can do.
One: you can fine-tune your offer package to be more competitive (higher salary, more equity, and mouth-watering bonuses). Or two: get your offers to candidates faster.
Depending on how low the acceptance rate is, you may need to do both.
Remember, we're living in a candidates market. The 20% best prospects are receiving 80% of the offers. So if you want to land top talent, compensation has to be competitive and land in their inbox before other offers.
Today's talent is savvy. They know how to use Google and find what companies pay in their industry or function. They know when they're being underpaid.
The best practice is to pay top talent what they're worth. Otherwise, you risk missing out on their skills and losing them to your competitors.
5. Cost to fill
Cost to fill accounts for everything from people-hours to recruiting tools and resource fees. That's on a per-hire basis.
Create a tracking system with all of your costs if you don't have one already.


Begin with an intake meeting
Intake meetings are a great way to clarify the job title, job duties, and set candidate qualification criteria.
Start with a target candidate profile. If you don't have a target candidate profile, you don't really know what your hiring manager wants. Or what they don't.
Creating a target candidate profile at the start of your hiring process will make every subsequent step faster and easier because you'll know what you're looking for.
There are four steps to creating a candidate profile:
Step 1: Describe the job
Begin by answering the following:
What job-related skills are needed to be successful in the role?
What are the specific duties and day-to-day responsibilities?
What does first-year success look like?
What type of person will complement and add to the current company culture?
These questions are crucial to writing job descriptions and communicating your needs to candidates.
By defining the job and what success looks like, you can more easily identify which candidates are right for the position.
Step 2: Use your top performers for inspiration
Ask yourself: What are the key attributes that have helped your top performers to thrive in their roles?
Spend time observing them in their role. Uncover what they do, how they do it, and what makes them stand out.
To note, observing your highest performers is not finding carbon-copies of employees, where employees share the same look or background. That isn't diverse hiring.
Observing your employees is strictly about performance and noting how they flourish in their role.
Next, schedule a brief meeting with the top performer's managers and/or direct reports. Ask for specifics on what they like most about their coworker's working style.
Finally, talk to your high performers directly. Explain what you're doing and ask about their motivations. What makes them tick? What inspires them to get up every day and crush it for the company?
Dialing this information will help frame precisely what the perfect hire will look like.
Step 3: Define must-have soft skills
As the saying goes, hard skills get you the interview. But soft skills get you the job.
In today's world of abundant information, high-quality candidates understand how to learn and can upskill fast.
Soft skills, on the other hand, are challenging to train. That's why we call soft skills the intangibles.
Write down a list of desired soft skills for this role. Note what it is about those soft skills that will help the person in this role be successful.
For example, you may want a customer success manager who is high in empathy. Specifically, empathy would be shown by actively listening to the customer, seeking to understand any issues, and professionally ensuring the issues will be resolved. All while tailoring their communication patterns so the customer feels heard.
Whichever soft skills you're looking for, make sure you can define them and what they look like in practice.
The more deliberate you can be with your interviews, the better. Learning how to measure soft skills in interviews is mission-critical for making your next the perfect hire.
Step 4: Refine nice-to-haves
Many hiring managers pick a laundry list of must-haves to pinpoint the exact type of candidate. But you may be missing out by being too strict.
Too many must-haves increase your risk of passing over a great candidate who doesn't check every single box.
Instead, limit your must-haves to the skills the candidate actually must have to survive in the role.
This opens up your candidate pool and can increase your number of diverse applicants. By doing this, you may attract candidates with extra skills that you wouldn't have thought to put on your list.
To assist as you narrow down the resumes, create a list of nice-to-haves. Your nice-to-haves list doesn't have to be advertised on a job description. But internally, it can be a checklist to help you flag candidates that stand above the rest.


Make job descriptions inclusive
Crafting inclusive job descriptions is essential for organizations that want to attract top, diverse talent.
Inclusive job descriptions, on average, fill 10% faster across all demographic groups.
We wrote a deep dive in our article The Top 5 Ways to Write Inclusive Job Descriptions to make sure you're up-to-date with the best practices.
But whatever you do, do not skip this step.
Your job descriptions are the first mode of communication with your candidates.
Showing that your company is inclusive and cares about employee belonging is one of the best ways to keep high-quality talent applying to your open roles.


Accelerate your sourcing
For hiring managers, sourcing effectively might be the most important aspect of optimizing hiring.
Now more than ever, the fastest recruiter wins.
To use a runner's analogy: sourcing is the equivalent of how fast you are out of the starting line. If you want to win the race of hiring the best and brightest, you need to be quick on the gun.
Sourcing tools are the essential tool for hiring managers. That's why we created our own
Our Recruiter Tool allows you to source through 430MM candidates rapidly. You can search by location, title, keywords, company, and industry.
Most notably, we have created diversity filters to help you accelerate diverse hirings at scale.
Schedule a demo now to see our recruiting tool in action.