5 Ways to Use Social Media to Optimize Your Recruiting

Mogul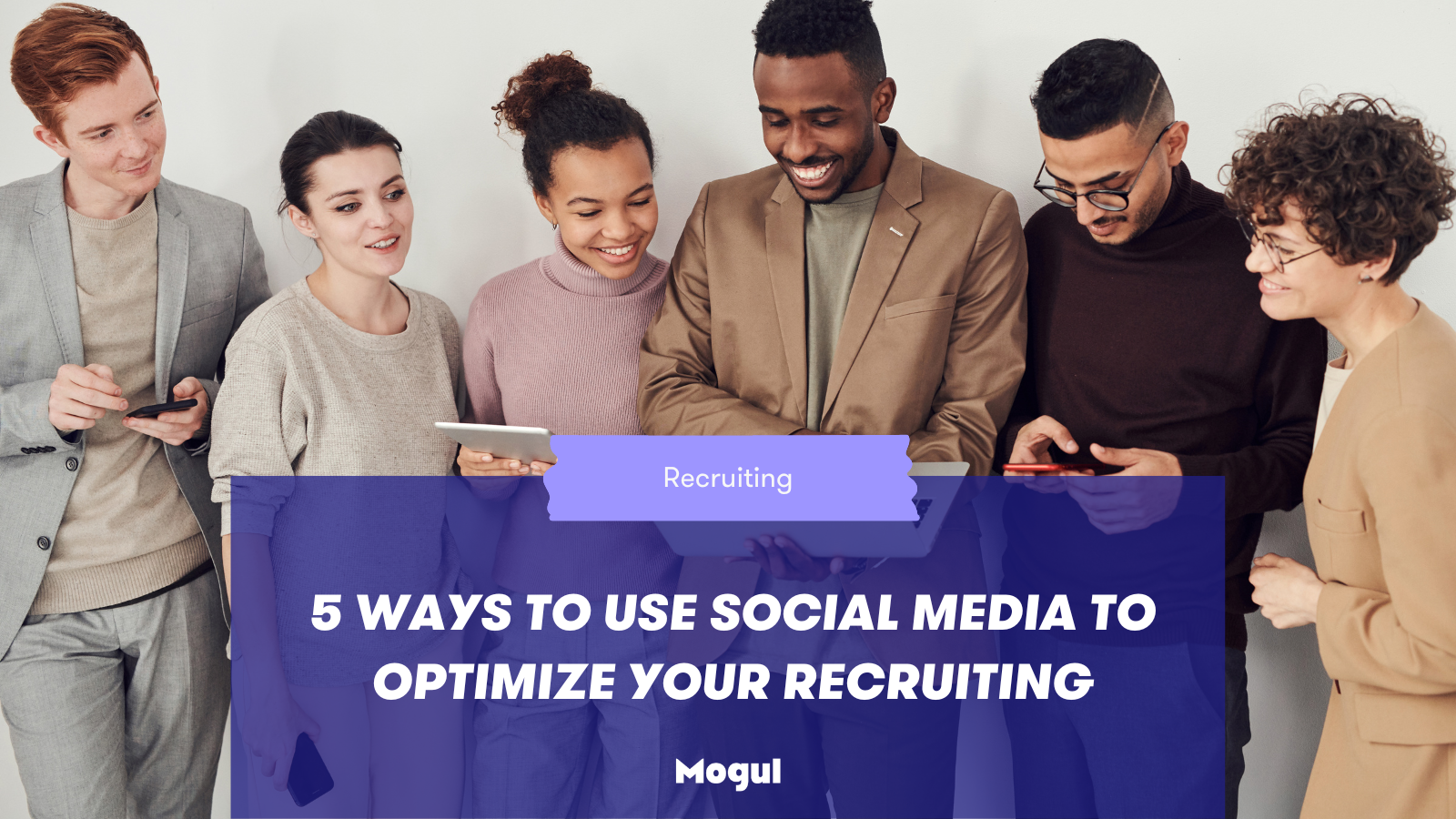 Social media is everywhere.
Roughly 4.7 billion people are constantly pinged by a device that never leaves their person.
But say what you will about social media's effects on society, the medium is now a go-to tool for optimizing your recruiting efforts. Why, you ask?
86% of job seekers use social media for their job search.
71% of hiring decision-makers believe reviewing social media profiles is an effective way to screen applicants
Social media has become a key recruiting channel across generations, skill sets, and geographies.
We invited Katelyn Armas and Heather Bradshaw from GoDaddy to share the strategies to optimize your social media and take your recruiting to the next level, and here's what they had to say.
Maintain Your Brand
The way the public perceives you have an outsized effect on your recruiting. Always have an objective pulse on the heartbeat of your brand.
Be prepared to address issues mentioned on social media. However, don't feel compelled to write back to any Twitter troll. Focus on being proactive on sites like Glassdoor, Fishbowl, and LinkedIn. And make sure your responses are authentic and professional.
Responding to issues can help bolster your brand as much as a successful marketing campaign.
Respond with kindness, compassion, and professionalism.
Employees leave feedback to feel heard. Your response will give potential applicants or customers insight into how you might treat them.
Understand Your Audience
It may seem like social media is pretty straightforward.
But there is an art and science behind leveraging social media effectively for recruiting.
Understand what platforms are most important to your ideal candidate. And learn how they communicate on the site.
Take some time during your day to linger around the platforms. Be where your audience is. That makes it substantially easier to find and interact with potential candidates.
You'll come across people who seem interesting and qualified and then cross-check their profiles on other professional platforms.
Showcase Your Uniqueness
Just like a candidate must stand out to receive an offer, organizations must stand out to receive interested candidates.
What do you offer that other businesses don't? Do you have great benefits? Do you focus on building culture and camaraderie? What is that one thing you can provide that only you can?
Whatever your answers are, show them off! Use social media as your megaphone to share loud and proud about what makes your organization a great place to work.
You will inspire active candidates to apply and passive candidates to engage.
Take the time to understand your uniqueness (part of building a brand) and create a strategy for leveraging it on social media platforms.
Keep an Open Mind
Though you may have a target demographic, don't limit the hiring process by being too exclusive in your strategy.
Be inclusive across:
Representation of URGs (under-represented groups) is critical to assembling a successful team.
Many recruiters stick too close to their ideal candidate and miss out on candidates that may not fit perfectly on paper but would be excellent for the position.
This is another way social media is great - it enables direct access to candidates that might not be seen on other platforms.
Be An Early Adopter
There are now social media platforms for every niche. And these platforms might be where your ideal candidate hangs out.
Look beyond job-specific platforms and browse Facebook groups, private Slack or Discord channels, and function-specific websites (i.e., websites for marketers, engineers, etc.).
They could be a perfect place for your brand to stand out. Recruiting is all about relationship-building. Create a profile and engage with these groups before reaching out directly about possible employment opportunities.
Your Recruiting, Diversified
Ready to take your recruiting to the next level? We help companies worldwide hire diverse talent faster.
Join organizations like Amazon, Expedia, and StandlyBlack&Decker, and source from our database of 494MM Mogul members.
Use patent-pending diversity-focused search filters. Access resumes and direct content info. Build candidate pipelines at light speed. And there are no search limits.