OFCCP Compliance: Everything Recruiters Need to Know (w/ Resources)

Mogul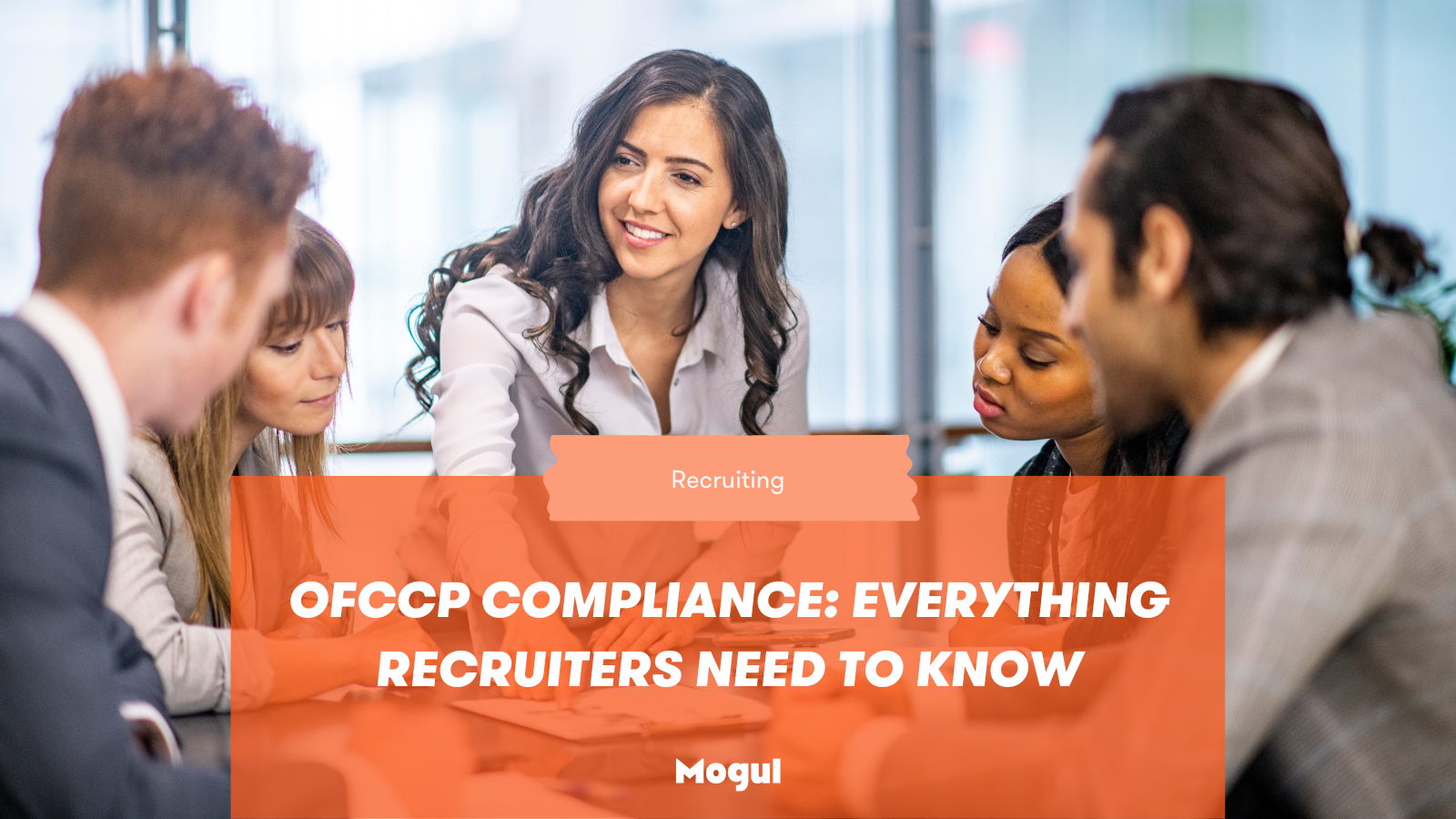 If you're a recruiter working with the government, understanding OFCCP is crucial for your business–and is a best-practice everyone should follow.
The Office of Federal Contract Compliance Programs (OFCCP) protects workers, promotes diversity, and enforces the law.
So who needs to be OFCCP compliant? The OFCCP holds contractors and subcontractors of the federal government responsible for complying with the legal requirement to take affirmative action and not discriminate based on:
Race
Sex
Gender identity
Sexual orientation
Religion
National origin
Disability
Veteran status
Here's everything you need to know about how being OFCCP compliant affects recruiters.
Table of Contents
Why Does Being OFCCP Compliant Matter?
Part of the OFCCP's job is to neutrally select groups for audit every year.
During audits, the OFCCP reviews whether contractors have engaged in discriminatory hiring, promotion, termination, or pay practices by evaluating personnel activity and compensation data about employees covered by the Affirmative Action Plan.
The OFCCP also accepts and investigates contractors based on complaints from applicants and employees that feel they have been discriminated against or failed to provide reasonable accommodations required by their contract.
When the agency's audit uncovers evidence of wrongdoing, they recover money and compensate applicants and employees for missing back pay and salary adjustments.
In 2020, The OFCCP recovered over $35MM. Between 2016 and 2020, they recovered $116MM – the most collected in any four years on record.
The Laws OFCCP Enforces

Executive Order 11246 applies to federal contractors, subcontractors, federally assisted construction contractors, and subcontractors with more than $10,000 in government contracts.
Covered supply and service contractors holding a contract of $50,000 or more must prepare a written annual affirmative action plan under this executive order.
In 2014, President Barack Obama issued Executive Order 13665, amending EO 11246 to prohibit contractors and subcontractors from discharging or discriminating against applicants or employees who discuss their compensation or compensation of others (subject to certain limitations).
The Rehabilitation Act of 1973, Section 503, covers employers with federal contracts or subcontracts that exceed $15,000, including construction contractors.
These contractors must ensure non-discrimination in employment based on disability and take affirmative action to hire, retain and promote individuals with disabilities.
Covered contractors holding a contract of $50,000 or more must prepare a written annual affirmative action plan for individuals with disabilities.\
The Vietnam Era Veterans' Readjustment Assistance Act requires federal contractors and subcontractors with contracts or subcontracts of $150,000 or more, including construction contractors, to ensure:
Non-discrimination in employment based on protected veteran status and taking affirmative action to employ
Advance in employment disabled veterans, active-duty or wartime campaign badge veterans, Armed Forces Service Medal veterans recently separated veterans (people discharged from the service in the past three years).
\Covered contractors holding a contract of $150,000 or more must prepare a written annual affirmative action plan for protected veterans.
Specific OFCCP Requirements
Employment solicitations
All federal contractors and subcontractors must state in their recruitment postings that all qualified applicants will receive consideration for employment without regard to the characteristics listed above.
Reporting Requirements
Federal contractors must compile and submit an "EEO-1" report each year.
The EEO-1 is a compliance survey requiring a contractor's workforce data to be categorized by race/ethnicity, gender, and job category to help ensure that it meets affirmative action and non-discrimination requirements.
Recordkeeping Requirements
The OFCCP also requires federal contractors to maintain records about their workforce, including descriptions of hires, promotions, transfers, terminations, and compensation.
Other information that should be retained includes:
Job descriptions
Job postings and advertisements
Records of job offers
Applications and resumes
Interview notes
Tests and test results
Written employment policies and procedures
Personnel files
Specific recordkeeping requirements apply under the laws the OFCCP enforces; employers should be familiar with them all.
These records will eventually be used to create an EEO-1 report and must also be available in the case of a compliance audit.
Requirements Under the Internet Applicant Rule
The Internet Applicant Rule is a crucial component of OFCCP compliance because most federal contractors today use online job boards or databases to source candidates.
The Internet Applicant Rule sets forth requirements for recordkeeping and solicitation of demographic information for all applicants who expressed interest in a position online, met the basic qualifications for the position, and was considered by the contractor.
For candidate searches online, employers must:
Store all resumes of job seekers who were considered for the position and met the basic qualifications.
They must be in writing, objective, noncomparative, job-related, and included in the job posting. Note: If you're using an internal database, you must store every submitted resume and date.
Save the time and date of any searches for candidates.
Save the search terms or keywords you used to search for candidates.
This includes searches that go beyond the basic qualifications.
Request demographic data from all internet applicants.
Demographic data includes race, sex, disability, and veteran status.
Store all of the above data for two years.
You must only store the data for one year if you have fewer than 150 employees or less than $150,000 in federal contracts.
Who is Considered an Internet Applicant?
There are four prongs to the OFCCP definition:
A person must submit an application or resume online or via electronic technology.
The contractor must consider that person for a particular position.
The candidate needs to possess the basic qualifications for the position.
The candidate cannot withdraw from the position before the offer is made.
Applicants are people who take an affirmative step to obtain a job by sending a resume, filling out an application, posting a resume on an external job board, or completing pre-screening questions for an employer.
The OFCCP definition effectively narrows down a larger pool of job seekers to the applicants being considered for a position.
What are the specific responsibilities of federal contractors and subcontractors?
Covered federal contractors have several responsibilities. The specific obligations vary somewhat under the three laws; however, contractors should be aware of the requirements.
Below is a list of several essential compliance requirements.
Creating a written AAP and updating it annually.
Recordkeeping, including annually collecting, maintaining, and analyzing personnel activity data on the basis of race, sex, disability status, and veteran status.
Personnel activity data includes, but is not limited to, hiring, assignments, rates of pay or other compensation, promotions, training, transfers, layoffs or terminations, recalls from layoffs, and demotions.
Incorporating the required Equal Opportunity (E.O.) clause(s).
Posting the Equal Employment Opportunity (EEO) poster and other required notices and supplements at their establishment and online if an online application system exists.
Inserting the EEO tagline into job advertisements.
When posting open positions, contractors must include an EEO tagline that states it is an Equal Opportunity Employer and that minorities, women, veterans, individuals with disabilities, and others are encouraged to apply.
Contractors can abbreviate references to protected groups in several ways.
For example, for contractors that comply with all three laws by OFCCP, one appropriate tagline might be "EOE including disability/vet."
Another example is "EOE race/color/religion/sex/sexual orientation/gender identity/national origin/disability/vet."
The intent is to provide as much possible notice about the protected groups while allowing contractors flexibility when constructing their taglines.
Additional responsibilities are:
Taking specific, documented actions to attain the aspirational 7 percent utilization goal by job group or workforce, depending on the contractor's size, for qualified individuals with disabilities.
Inviting applicants and employees to voluntarily self-identify as qualified individuals with disabilities or protected veterans.
Conducting periodic reviews of all physical and mental job qualifications to ensure that qualified individuals with disabilities are not eliminated from consideration based on disability, maintaining documentation on the results of the reviews as well as any corrective actions are taken, and removing job qualifications that are not job-related and consistent with business necessity.
Providing reasonable accommodation to qualified individuals with disabilities and disabled veterans, upon request, unless the accommodation would cause an undue hardship.
Listing all employment openings with the appropriate state or local employment service delivery system (ESDS). Examples of an ESDS are state and local employment and career agencies, state job banks, and local One-Stop Career Centers.
Establishing an annual hiring benchmark or adopting the national benchmark for hiring protected veterans and comparing the number of protected veterans who apply for jobs and the number of protected veterans hired. The benchmark is used as a measure of progress; no penalty is assessed for not reaching the benchmark.
Providing OFCCP access to records during a compliance evaluation or a complaint investigation.
Note: Generally, contractors must send their job listings to the ESDS where the job openings occur. However, this VEVRAA requirement gives contractors other listing options when jobs are 100 percent telework or remote.
What Records Must be Retained?
Online resumes and applications and any outreach to job seekers regarding interest in a position must be retained.
If internal resume databases are searched, such as the employer's applicant tracking system (ATS), then:
A record of each resume and when it was added
The position for which each search was made
The search criteria used, and the date of the search must be retained.
For external searches, any resumes that meet the basic qualifications and are considered for the position, the record of the position for each search, the search criteria, and the search date must be kept.
Most ATSs and online job databases retain the applicant data you will need.
OFCCP Compliance Resources
Here are some helpful resources. You can contact the OFCCP directly for compliance assistance. This will not trigger an audit, so don't hesitate to contact the agency directly.
OFCCP never schedules contractors for compliance evaluations because they sought compliance assistance. Federal contractors have several ways that they can obtain help and compliance support from OFCCP.
Using the 1-800 Help Desk to ask questions of OFCCP staff
Attending webinars created for federal contractors
Using the online video training library
Downloading factsheets and brochures
Using OFCCP-prepared samples and templates
Reviewing technical assistance guides
Referring to the list of "Frequently Asked Questions" or FAQs
Attending national and regional compliance assistance events
The OFCCP's Technical Assistance Guide for Supply and Service Audits provides helpful information on keeping up with your AAP between compliance audits.
The agency's Employment Resource Referral Directory helps you identify local organizations that can provide qualified applicants from minority groups to help you meet your hiring benchmarks.
Individual contractors are never "targeted," though OFCCP may focus its resources on particular industries or sectors, geographic regions, or types of employment practices.
Compliance evaluations are typically scheduled and conducted at a single establishment (i.e., location or facility). However, OFCCP may also run evaluations of corporate headquarters, corporations, and a business function or unit.
An evaluation of a business function or unit is based upon a previous agreement with the contractor, that is, a functional affirmative action program or FAAP agreement.
The agency also investigates complaints filed by job seekers and employees of federal contractors.
An individual can file a complaint, or an organization or group can file a complaint on behalf of someone who may be the victim of employment discrimination by a federal contractor.
Complaints alleging discrimination based on race, color, religion, sex, sexual orientation, gender identity, or national origin must be filed within 180 days from the alleged violation date unless the filing time is extended for a good cause.
Similarly, discrimination complaints based on compensation inquiries, discussions, or disclosures must also be filed within 180 days from the date of the alleged violation unless a good cause extension is granted.
Complaints alleging a violation based on disability or status as a protected veteran must be filed within 300 days from the date of the alleged violation unless the time for filing is extended for a good cause shown.
References