Moguls on How to Promote an Inclusive Culture in Your Workforce

Mogul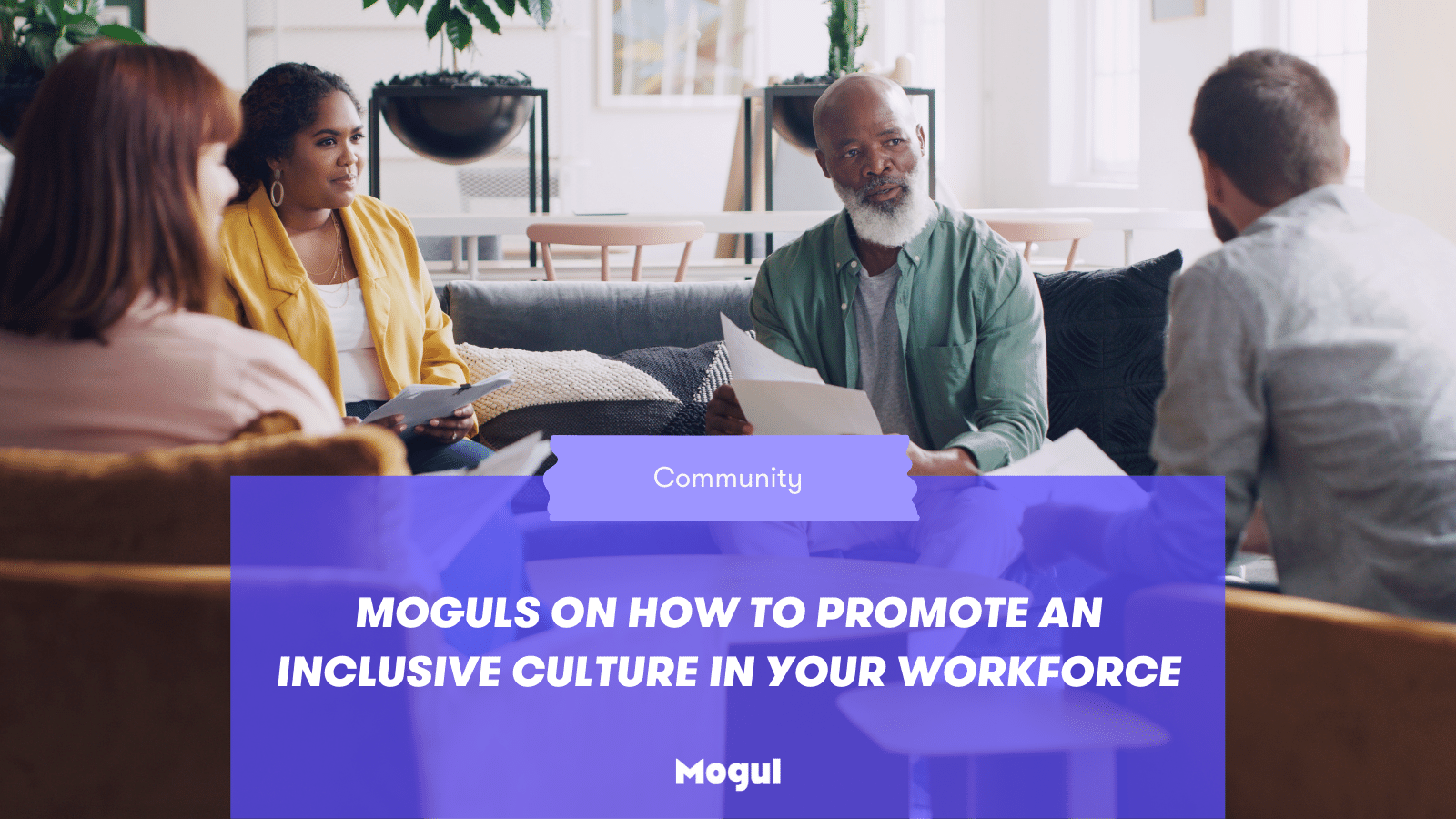 Here at Mogul, we're proud to be a platform that champions the underrepresented and underserved.
Many of our members are the top leaders and entrepreneurs worldwide.
We asked a few of our esteemed Mogul Members about what companies can do to lift underrepresented groups, bring real change to their organization, and promote an inclusive culture -- as opposed to just "checking off the boxes."
Here's what they had to say.


Take real action and avoid being performative
From Denise Carter - VP of DEI and Communications at designory:
When making real strides in DEI efforts, avoiding merely checking the box starts with ensuring all measures are intentional -- with meaningful intent and deliberate action behind them.
People know when companies are being performative, which undermines the credibility and any true work that may be done later.
For example, during Pride Month, we see many companies who have temporarily changed their logo to incorporate the rainbow flag.
But have those companies done anything substantive to signal their solidarity with the LGBTQIA+ community?
Have they sponsored an LGBTQIA+ charity? Do they have ERGs to support members of the LGBTQIA+ community within the company? Do they offer inclusive benefit policies?
If not, then the company needs to go back to these basics before adopting a rainbow logo, temporarily or not.
Creating a more inclusive corporate culture means correcting the culture along with bringing in greater diversity. Simply doing one without the other is like the old saying about building a house on sand - it's never going to hold up.


Actively mentor your diverse team members
From
Zahra Peerbhoy
- Managing Director at Ex- Credit Suisse:
While companies and senior management encourage diversity, middle management and many employees do not conduct everyday activities to promote DEI.
In many cases, leaders are not giving stretch projects to the most deserving team members, not taking a variety of people to senior meetings or client meetings, not mentoring, and not providing career advice or training to everyone.
The lack of these opportunities causes there to be a small pipeline for making senior promotions in many cases.
I think that the DEI conversation has to start much earlier. If you look at the Everyone's Invited chat here in the UK, many of the attitudes towards DEI are starting to be formed in high schools.
If students continue to behave this way in university, they are likely to carry on their behavior in the workplace- that is why the NextGen Moguls initiative is such a great idea.


Embrace dissatisfaction and accountability
From
Edena Low
- Founder and CEO, The AdviXory:
With any change or transformation, there is a need for a deep dissatisfaction with the status quo. Without this need, a vision of what success looks like and progress towards that vision will never happen.
It is, therefore, my premise that companies that only check the box are not dissatisfied enough to make meaningful progress. For dissatisfaction to drive the change you are looking for, leaders need to feel strongly dissatisfied.
In general, leaders must feel a conviction that the lack of diversity or an inclusive culture hurts business.
Many things can drive this -- from losing the competition for talent to not meeting investor, customer, or other compliance or regulatory requirements and missing the mark on goodwill/reputation.
Of course, once that conviction is felt, leaders will then do what good leaders do -- influence and impact change.
A strong top-down mandate, a vision of goals, strong accountability by everyone who is a leader in the company, and tracking meaningful metrics is a good start.


Real change starts now
We want to thank our Mogul Members for contributing to this article and for helping make Mogul the leading community for diverse professionals worldwide.
If you want to be featured in a future Mogul Member spotlight article, contact our Head of Community, Jen Durkee.
Not a Mogul member? Come join the community - we're excited to meet you!