Are You Making These 7 Mistakes When Writing Job Descriptions?

Mogul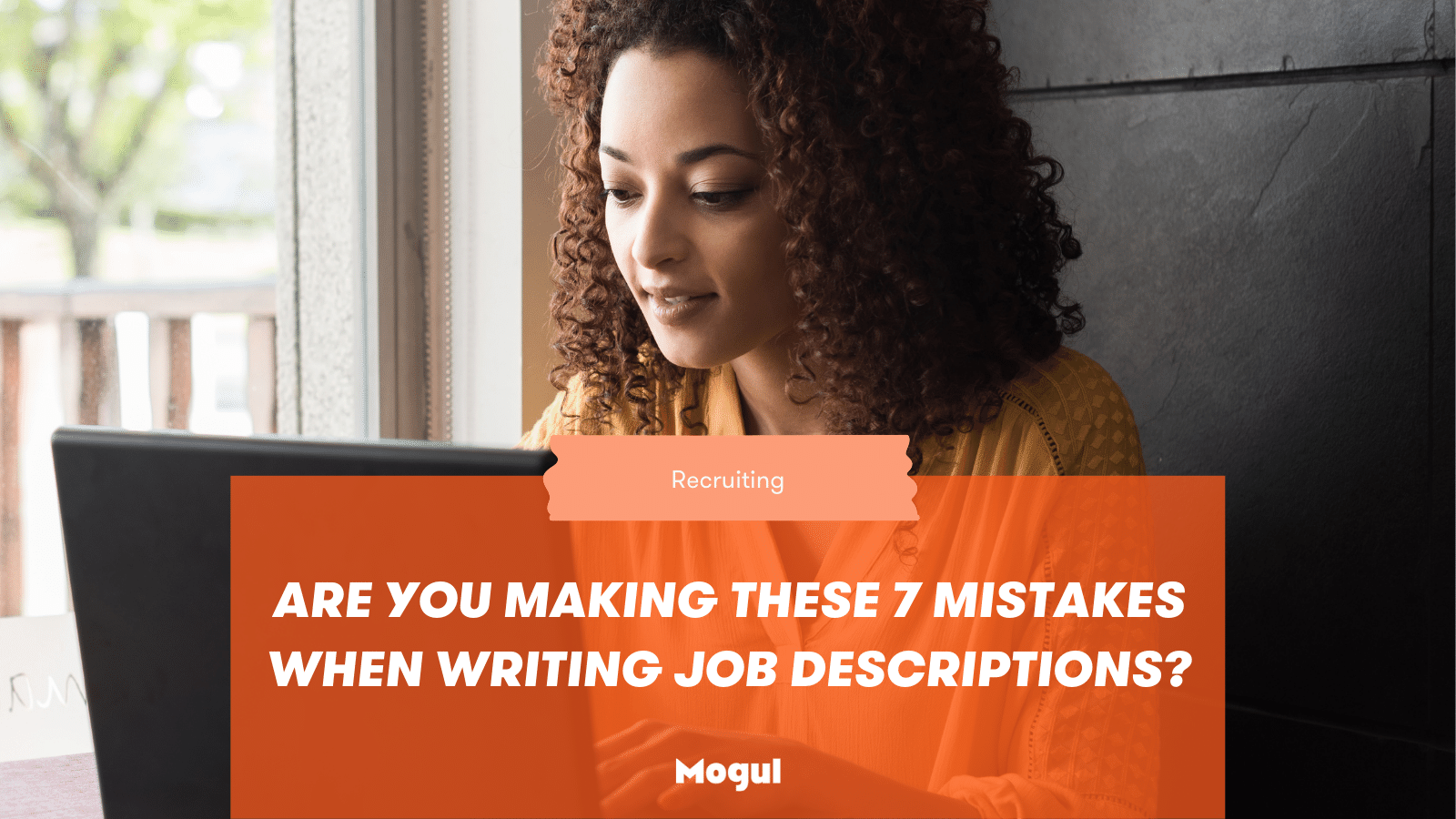 Do you know how important your job descriptions are for attracting top talent?
If you get your job descriptions right, your pipeline will flow with qualified candidates pining for an interview. Get them wrong, and… crickets.
It's your first way of communicating with potential candidates. You don't want the way you write them to discourage applicants.
At Mogul, we help the fastest-growing companies build diverse teams. One of the ways we do that is by consulting on their job descriptions.
Here are the seven mistakes that can greatly impact your talent acquisition.


1. A complicated title
Internally, your team may be looking for a Chief Awesome Officer. But not many candidates will be searching for a CAO position.
Make sure your titles are keyword search-friendly. Your job post will gain more clicks and make it easier for applicants to understand the role.


2. Specific job responsibilities
Nothing turns a candidate off more than a jargon-filled general description that does not mention specifics about a job.
Buzzwords can be a giant red flag telling candidates that your culture is out of touch. Likewise, a lack of specificity can signal that the role may not be legitimate.
Plus, how are applicants supposed to know if they can do the work if the job description is so general that it could apply to any job?
Take the time to list out the specific responsibilities of the role, and what success looks like. This will allow the candidate to compare their skill set to your needs and decide if the position is right.
It will save time for everyone involved.


3. No information about working options
The future of work is flexible – and it's here to stay. Top talent wants to know what their work-life balance will look like if they receive employment.
Today, most corporate workers can perform their duties from anywhere in the world with a wifi connection and take time off to ensure real-life responsibilities don't suffer.
Flexible work environments aren't possible for all positions. But sharing your flexible options helps the candidate decide if your company will fit into their lives.
Don't label a role as 'remote' if it requires them to go into the office, even part-time. That's what hybrid work is for.


4. Gendered language
Top Talent wants to work with an inclusive company that allows them to show up to work as their authentic selves.
Gendered language only attracts a certain kind of applicant. Take out any words that can be seen as cultural slang, like "rock star," "wizard," or "guru."
Instead of using pronouns like "he" or "she," speak directly to your potential candidate in the job description by using second-person, "you." More gender-inclusive and more enticing for applicants.


5. No emphasis on DEI
A company that emphasizes diversity, equity, and inclusion practices will gain a much higher range of diverse, qualified candidates.
If you want your candidates to know your company champions DEI, you can best tell them that in your job descriptions.
Write a paragraph or two in the job description about your DEI initiatives and explain why DEI is important in your organization.
You may wish to explicitly state that you encourage applicants to apply if they meet the minimum qualifications. This can keep applicants from self-selecting out of the process before even applying.


6. Non-inclusive of age or disability
Thirty-five percent of workers were born before the internet. But we see more and more job descriptions with ageist language.
We often see phrases like "digital natives," "young talent," and "go-getters." Organizations that do this miss out on applications from tenured professionals.
The same goes for candidates with disabilities. We suggest avoiding phrases like "must walk, stand, and lift 50lbs." If you include such a statement, use more inclusive words like "must move, be upright, and hold up to 50lbs."


7. Writing in the third person
We see job descriptions time and again written in the third person. Reading what "they" are looking for feels impersonal, to say the least.
Speak directly to your candidates like yourself, the representative behind the company. That will help candidates feel more comfortable and connected to you, their potential next employer.


Your path toward better hires
Following these tips will elevate your job descriptions and give you a chance to land to increase your applicants
Consider auditing your job descriptions before you post your next role. If you need help hiring top, diverse talent, schedule a demo and let us show how we can optimize your recruiting process.